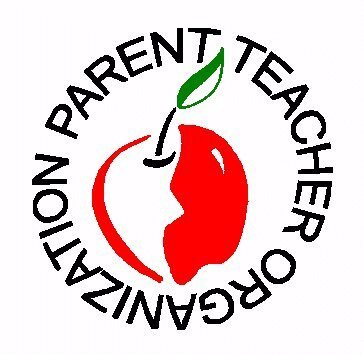 FOR SOPHOMORE PARENTS/GUARDIANS...TOMORROW! Please join the MHS guidance counselors (virtually) on Wednesday, March 3rd at 12:00 noon for a webinar about career exploration, course selection, finding balance in high school and beyond, and a future planning preview. The webinar will be recorded and shared with families who are unable to attend at that time. The webinar link will be sent via email from the guidance office closer to the date.

To all MHS students... Are you interested in being part of the creation of epic work of art in your community? Medfield Cares About Prevention (MCAP), Medfield Outreach, the Cultural Alliance of Medfield (CAM), and Medicine Wheel Productions are excited to announce a new, FREE program open to all high school-aged Medfield youth. "Reaching Into Medfield" is a unique program that brings Medfield youth together with artists from Medicine Wheel Productions to explore the place where art, community, and youth voices collide. APPLICATION DEADLINE: Friday, Feb. 26th @ 5:00 pm First Program Session: Thursday, March 4, 2021, @ 2:00-4:00 pm via Zoom. Last Program Session: Thursday, June 3, 2021, @ 2:00-4:00 pm Below are the links to learn more about the programming as well as a link to the application. Slideshow:
https://docs.google.com/presentation/d/1snneeUYs-l9euPUsbQNCCY92p9FZQdO3LGeQXv0T5Ck/edit?usp=sharing
Application:
https://docs.google.com/forms/d/e/1FAIpQLSc_kUhDy4Rg8621axJBGHBtr3ThEyvkG-FWd7N7CSky0VmGVg/viewform
Please reach out to Meri Haas,
mhaas@medfield.net
, with any questions.


ROLL OUT THE RED CARPET...and ALERT THE PAPARAZZI! (Virtually, of course!) The Medfield High School Theatre Society presents "The Tell-Tale Heart" by Edgar Allan Poe and "Mary Rose" by J.M. Barrie, premiering this THURSDAY, FEBRUARY 11th at 6:15 pm! The premiere can be watched on Comcast Channel 8, Verizon 47, or on
www.medfield.tv/watch
. Both films will be available on the Medfield TV YouTube afterwards. DON'T MISS OUT!
https://medfielddrama.weebly.com/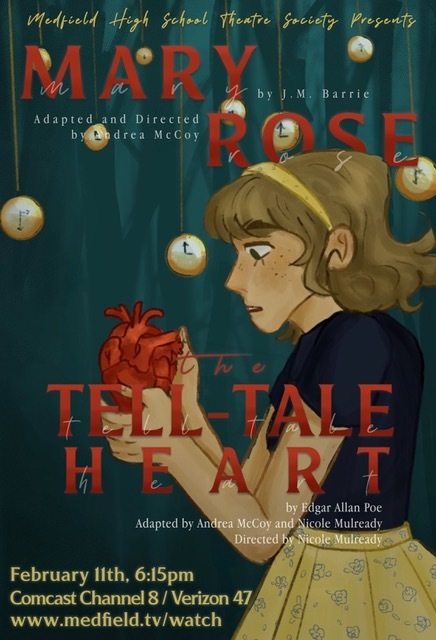 On THURSDAY, February 4th at 7:00 pm, a NEW Medfield Talks presentation will debut. Please join us for a discussion on navigating a crisis, featuring a panel of medical and education professionals. "WHAT TO DO WHEN YOUR CHILD NEEDS HELP", will feature Christi Barney of B&W Hospital, Kathy McDonald of Medfield Outreach and David Worthley of the Medfield Public Schools. For more information, click on the image below. Specific Zoom information was emailed to all MHS parents this morning. DON'T MISS OUT!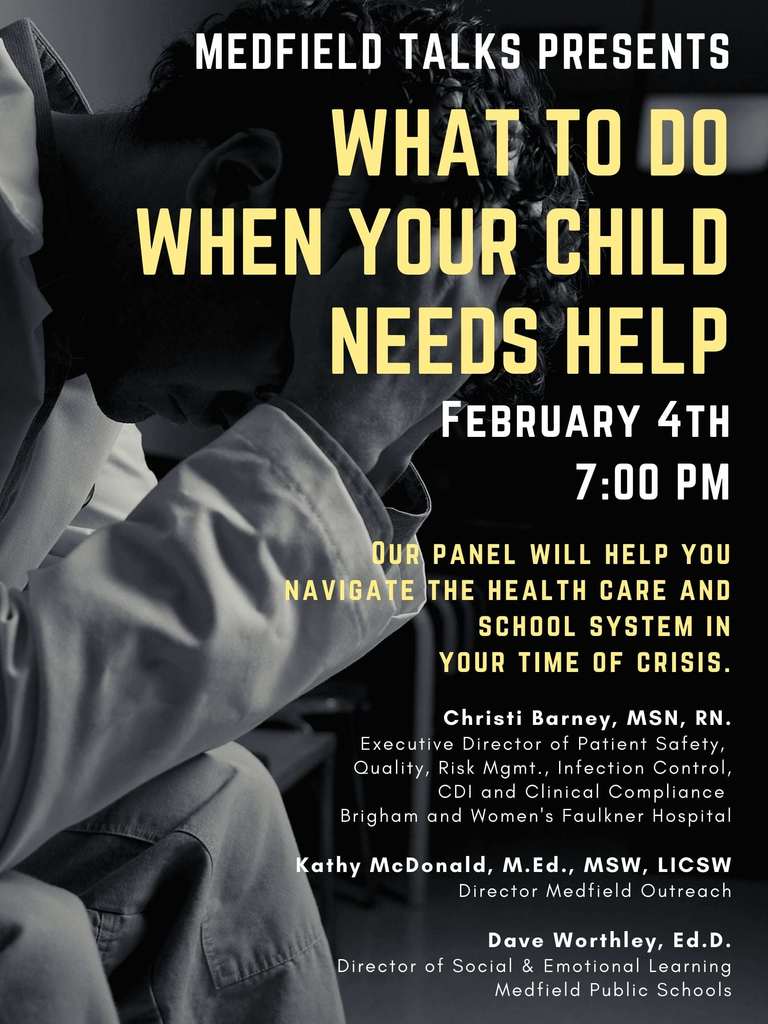 MEDFIELD TALKS with SARAH WARD MONDAY, January 11th @ 7:00 pm MCPE, in partnership with SEPAC, the Medfield High School PTO, K-8 PTO, Challenge Success and MCSP, is pleased to sponsor the Medfield Talks series. This year's series will be held virtually so that Medfield families can continue to learn with us! On Monday, January 11th from 7:00 - 8:30 pm, Sarah Ward will present a community talk on executive functioning, particularly focusing on strategies to support students and families in our current hybrid learning environment. Follow this link:
https://5il.co/obmc
to view flyer with the Zoom link and a response form.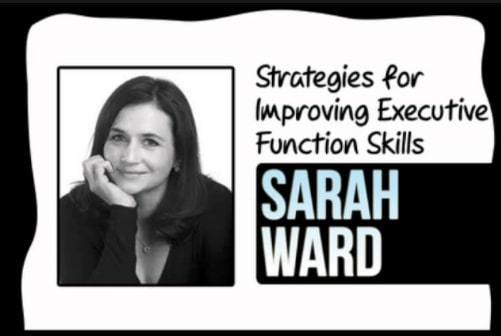 JUNIORS & JUNIOR PARENTS! Check this out... The MHS Guidance Department will be sharing a series of weekly screencasts about future planning. Topics each week include: Week 1: Making the most of Naviance Week 2: A Guide to Standardized Testing Week 3: Application Terminology & The Common Application Week 4: Differentiating the Process as an Athlete, Musician, or Seeking Support Week 5: Mental Health Resources at the College Level The WEEK 2 screencast was shared via email yesterday and posted in the Class of 2022 Google classroom. Should you have any questions, please reach out to your guidance counselor.

FRESHMEN PARENTS! Don't miss this... TODAY at NOON (Thursday, Nov. 5th) , join the Guidance Dept. to find out what to expect over the next four years of high school. Please look for the Zoom invite we sent via email yesterday, Wednesday, November 4th. We hope to see you there!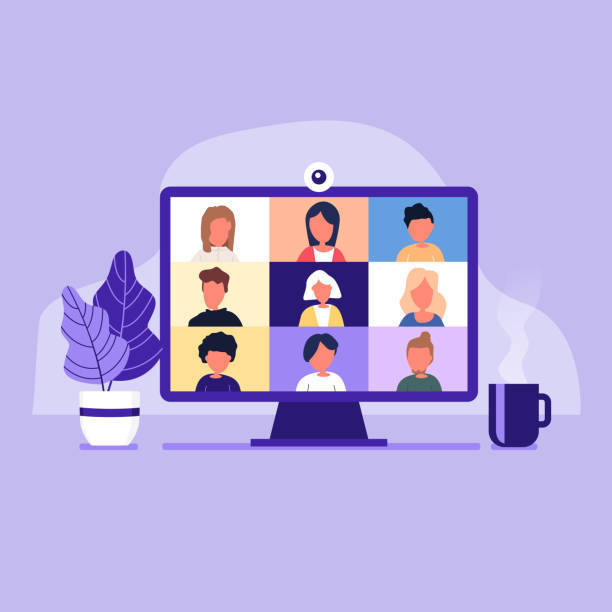 JOIN THE MHS PTO MEETING (virtually!) TONIGHT WEDNESDAY, OCTOBER 21ST The MHS PTO meeting is scheduled for TONIGHT, October 21st at 7:00 PM (via Zoom). Robert Parga will be in attendance for the Principal's Report and to answer your questions. All MHS parents/guardians are invited to attend. We hope you can join us! Join Zoom Meeting
https://us02web.zoom.us/j/86706203723
Meeting ID: 867 0620 3723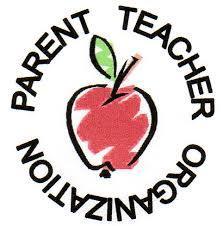 DON'T MISS the MHS Parent Information Webinar scheduled for this THURSDAY, September 24th beginning at 6:30 pm! HS administration and several department chairs will go into further detail regarding the schedule, expectations, course load, impact on the college process and other related topics of interest. Please refer to the email sent to all MHS families today for details and the link to the THURSDAY'S Zoom meeting.

ATTENTION, CLASS OF 2021! The MHS Guidance Dept. has invited all seniors and their parents/guardians to join them on Tuesday, September 15th from 12:00 - 1:00 PM for a College Planning webinar. With a different start to the school year, we have a lot of information to share. Among other things, we'll be sharing information on the transcript and recommendation request process. The webinar link was sent to all senior families on Monday and the webinar will be recorded for any family that is unable to join us at that time.
DON'T FORGET! Optional Student Orientation Sessions are scheduled as follows: FRIDAY, SEPT. 11th - OPEN HOUSE FOR COHORT B 9th grade students- 8:00AM - 11:00AM All other students- 9:00AM - 11:00AM MONDAY, SEPT. 14th - OPEN HOUSE FOR COHORT A 9th grade students- 8:00AM - 11:00AM All other students- 9:00AM - 11:00AM

FROM THE MHS ATHLETIC DIRECTOR On Tuesday (7/21) the MIAA (Massachusetts Interscholastic Athletic Association) Board of Directors unanimously voted to delay the start (try-outs/practices) of fall athletics until Monday, September 14th. This date will ensure athletics do not begin until schools are back in session. While the MIAA has announced this start date, this too may change based on yet-to-be released guidelines and direction from the EEA (Executive Office of Energy and Environmental Affairs, the DESE (Department of Elementary and Secondary Schools), and Governor Baker's office. We are told that sometime in early August, we can expect what (and when) fall sports (if any) can be played at the high school and middle school level. This report will follow transportation guidance for schools from the DESE expected to be released later this week. Please stay tuned for updates that we will disseminate as we receive them.

IMPORTANT INFORMATION for ALL GRADE 9-11 STUDENTS regarding material return next week. Be sure to complete both steps outlined in the attached document: use the SignUp Genius to reserve your return time slot and then complete your material inventory on the Google Form.
https://5il.co/gycf

COME ZOOM WITH US, TONIGHT! Junior Parent Zoom, May 27, 2020 @ 6:30 pm Please join the guidance department for a virtual presentation about future planning on Wednesday, May 27, 2020 at 6:30 pm. The zoom meeting invitation will be shared with all who have registered by following this LINK:
https://docs.google.com/…/1FAIpQLSdpMCOQugAPdZVxNL…/viewform
.

A reminder for PARENTS OF SOPHOMORES... Sophomore Parent Night is TONIGHT (Thursday, March 5th) at 6:30 pm (PLEASE NOTE TIME CHANGE). Join the Guidance Department and learn about career exploration, future planning, course selection, mental health, and finding balance. Hope to see you there!

MHS parents/guardians...PLEASE NOTE: the PTO meeting originally scheduled for TOMORROW, Wednesday, March 4, 2020 has been CANCELLED. For more information on the meeting now rescheduled to Tuesday, March 10th, check the email that was sent to all families this afternoon.

REMINDER! The MHS SPRING ATHLETICS meeting is TONIGHT (March 2) beginning at 6:00 pm!

IT'S FINALLY HERE! Borchers Trust Law presents the third annual Medfield A Cappella Night TONIGHT at 7:00 pm in the MHS auditorium! Come hear featured group, Berklee College's On the Vox, as well as Medfield's own MHS Soundwaves, the Junior Jazz Choir, and groups from Newton North, Xaverian Brothers, Westwood, and Montrose High Schools. Tickets can be purchased at medfieldmusicassociation.com or will be sold at the door.