Medfield HS Jazz Ensemble and Concert Band Winter Concert
THIS WEEK:
December 12 - Day 7 A-B-D-G-E
December 13 - Day 8 B-Flex-D-C-F
December 14 - Day 1 C-A-Flex-E-G
December 15 - Day 2 E-B-D-G-F
December 16 - Day 3 A-Flex-D-F-C
LOOKING AHEAD:
December 19 - Day 4 B-A-Flex-G-E
December 20 - Day 5 C-B-D-F-G
December 21 - Day 6 E-A-Flex-C-F
December 22 - Day 7 A-B-D-G-E
December 23 - A-G 11:10 am Dismissal
NOTABLE DATES:
Open Gradebooks from December 12-14th
MHS Winter Choral Concert - December 14th
MHS Winter Orchestra Concert - December 21st
December 26 - January 2 - December Recess
---
FROM THE GUIDANCE OFFICE
ATTENTION SENIORS!
Looking for scholarship money? Thirty (30) new scholarships, with awards ranging from $500 - $50,000 were added to the Guidance Website! Each scholarship has its own deadline - many are not due until December, January, or even March.
Check out these scholarship opportunities on the Guidance Website!

---
FROM CULINARY ARTS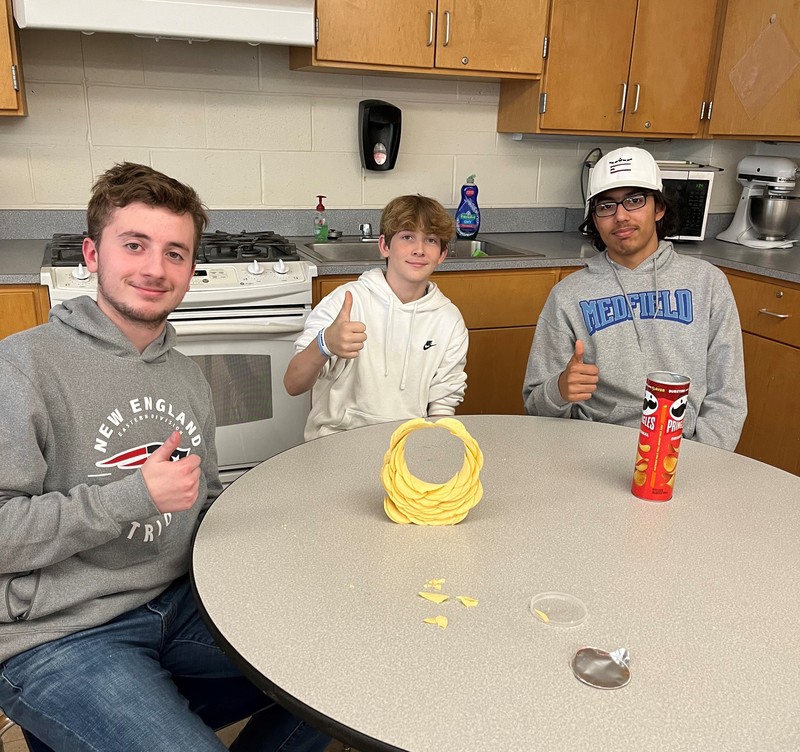 In Culinary Arts, as a class, we discussed strategies and what it takes to be a good team leader. Each group was to complete the STEM pringles challenge. Out of the 25 groups, six were able to complete the challenge. The students learned about each group member being valuable, clear communication and delegation, group trust and encouragement, having a clear idea of what is needed to accomplish the goal, and encouraging listening and brainstorming.
---
FROM THE MHS PTO
THANK YOU to everyone who participated in the MHS PTO Online Auction. Your generous support helps the MHS PTO continue to enhance High School experiences.
Thank you to the community members who gave up, either their time or products:
Bonnie Wren-Burgess
Oral Berry
Dr. Colby Reilly
Michael Cowell
Heather Mandosa
Brenda Hagan
Karen Shaffer
Maura Fitzgerald
Heather Harrington
It's not too late to contribute if you haven't already:
Pay by PayPal: www.medfieldhspto.com
Pay by Venmo: http://www.venmo.com/u/Medfield-HSPTO
---
EMPTY BOWLS
MHS Clay Club presents Empty Bowls, a collaborative community dinner of soup and bread to raise money for Medfield Food Cupboard. Come make or buy a bowl and join us for a soup dinner Thursday 3/9/23. All proceeds benefit Medfield Food Cupboard!
Sign up here: https://t.co/kQ8OtFIru6
---
FROM THE ALUMNI ASSOCIATION
Looking for the perfect gift for the holidays? Our Alumni shirts are back in stock and ready to ship!
We also have future alumni shirts in youth sizes! Limited quantities so get yours before they sell out!
All proceeds go towards our scholarship programs!
Please reach out to info@medfieldalumni.org with any questions!
https://form.jotform.com/223328237287056
---
MHS WRITING CENTER TERM 2 NEWS
Your MHS Writing Center remains available for tutoring appointments during Flex periods.
For Seniors:
Are you a procrastinator and still need to start and finish your college essay? Or maybe you will feel better if you review your common app college application essay one more time? Just make a Writing Center appointment, and we'll help get you to the next step. Regular admission deadlines for fall 2023 admission are generally the first week of January. (This year January 3, 4, or 5.)
In addition, between Thanksgiving and the beginning of January, many seniors choose to apply to additional colleges, and that can mean more supplements to write. Make appointments in the Writing Center so we can help you start, write, and polish these challenging prompt responses.
Or perhaps you would like some help in creating and/or polishing your resume? Again, the Writing Center is here to help you!
For All MHS Students:
In Term 2 there are often important writing assignments in a variety of classes. So remember: it always helps to use the Writing Center!
Some areas the Writing Center can help:
getting started on writing assignments
help when students are stuck in the midst of writing assignments
review of finished writing assignments
Perhaps you are applying to summer programs and/or internships? They often have writing prompts as part of their applications. Or do you need to write a cover letter? (Tip: you do!) Again, the MHS Writing Center can assist you with all kinds of writing, at any stage of the process.
If anyone is having a hard time scheduling a Writing Center appointment, please reach out via your school email to Bonnie Wren-Burgess (bwren-burgess@email.medfield.net) and we can often help you now that we have an excellent Student Peer LinK program tutor along with Honors Writing Seminar peer tutors.
The MHS Writing Center is a judgement free zone. In the Writing Center we all just want to help you with any of your writing!
WRITING CONTEST
Your MHS Writing Center wanted to share the news with you that this year's John F. Kennedy Profile in Courage Essay Contest ™ is now open!
Sponsored annually by the John F. Kennedy Presidential Library, this contest is a way for high school students across the country to share inspiring stories of brave leaders from years past, while also uplifting President Kennedy's lessons of political courage. Participants can win up to $10,000 for college by submitting an essay.
Please Note: deadline for submissions is January 13, 2023!
Contest Topic and Information: The John F. Kennedy Library Foundation invites U.S. high school students to describe and analyze an act of political courage by a U.S. elected official who served during or after 1917, the year John F. Kennedy was born. The official may have addressed an issue at the local, state, or national level.
Resources, links to some past winning essays, as well as all the specifics on preparing and submitting your entry are available here:
https://www.jfklibrary.org/learn/education/profile-in-courage-essay-contest
I can also be your sponsoring teacher, or will be happy to work with your Social Studies and/or English teachers to help them sponsor your submission.
WB, Ms. Wren-Burgess
English Teacher and Writing Center, Room 224
bwren-burgess@email.medfield.net
---
Now is a great time to pre-order the 2023 yearbook! Please act fast to ensure you get a copy before the price goes up to $100 in the spring...if there are even any left at that point, as they sold out last year. Just click on this LINK.
Also, please review this DOC for answers to frequently asked questions, especially if you are a parent of a Senior wondering how and when to order a recognition ad (AKA baby ad). Jostens recently set that deadline as January 31...if you are interested, as it is a fun but optional tradition. Thanks!
---
COMMUNITY NOTICES
Please visit our district website for community notices and announcements.
https://www.medfield.net/o/medfield-public-schools/browse/103792
To submit items to the MHS WEEKLY NEWS UPDATE, please email Maura Fitzgerald at mfitzgerald@email.medfield.net by 8:00 AM on Monday mornings. If you would like to submit photos or flyers, please convert to .jpg files.