Congratulations to our 2022 All-State Vocalists, Neva Fuller and Mia Remington, who continued on to audition for the 2022 All-National Honors Chorus. These exceptional students were selected and performed this past weekend under the renowned choral conductor, Francis Fonza. Over 575 students from across the United States participated in the All-National Honors Ensembles. Congratulations to Neva and Mia for their dedication and for representing Medfield High School in this way!
---
THIS WEEK:
November 14 - Day 6 E-A-Flex-C-F
November 15 - Day 7 A-B-D-G-E
November 16 - Day 8 B-Flex-D-C-F
November 17 - Day 1 C-A-Flex-E-G
November 18 - Day 2 E-B-D-G-F
LOOKING AHEAD:
November 21 - Day 3 A-Flex-D-F-C
November 22 - Day 4 B-A-Flex-G-E
November 23 - HALF DAY - 11:10 DISMISSAL
November 24 - NO SCHOOL - THANKSGIVING
November 15 - NO SCHOOL - THANKSGIVING BREAK
NOTABLE DATES:
Winter Athletics informational meeting TONIGHT - Monday, November 14th at 6pm in the Medfield HS gym.
MHS Theatre Society Fall Play: November 18th and 19th. Keep reading for details and links!


Date Change: MHS PTO Meeting - next meeting is now Tuesday, November 29th at 7pm in the MHS LMC (originally scheduled for 11/22).

---
FROM THE GUIDANCE OFFICE
ATTENTION JUNIORS & SENIORS!
We are thrilled to announce that all college and military representative visits at MHS will be IN-PERSON this year! All information sessions will be held in the Guidance Office, unless otherwise noted.
The following schools and/or organizations will be visiting MHS this week. Students - please log in to your Scoir account to register your visit. NOTE: if the information session is during FLEX period, you must also sign up in MFL for either "College Visits Flex A" or "College Visits Flex B".
Tuesday, November 15, 2022 @ 2:15 PM
Massachusetts College of Liberal Arts
Wednesday, November 16, 2022 - Flex period
US Navy
Thursday, November 17, 2022 @ 2:15 PM
Ohio Wesleyan University
PARENTS AND GUARDIANS OF THE CLASS OF 2024
Parents and guardians of juniors are invited to join the guidance counselors on Thursday, December 1st from 6:30 - 8:30 pm to kick off conversations about the future planning process. Counselors will share information about future planning options, the college search, SCOIR, the Common Application, standardized testing, mental health resources at the college level, and more. We hope you can join us!
---
FROM THE ATHLETIC OFFICE
Registration for Medfield High School winter athletics is now open on FamilyID.com. There is a direct link off the Athletics page (under Activities) on the Medfield High School School site. To complete registration, payment for $225, $250, or $300 (depending on the sport) is also required. If paying by check, please make it out to "Town of Medfield." Payment can also be made online at FamilyID with UniPay Gold.
There will be an informational meeting TONIGHT - Monday, November 14th at 6pm in the Medfield HS gym. After a brief introduction and overview for the winter athletics, there will be sport-specific meetings run by all the varsity coaches.
Please see this DOCUMENT from Athletic Director, Eric Scott for more information.
---
FROM THE MHS PTO
The MHS PTO provides luncheons twice a year to show all our appreciation of their dedication towards giving our students the best education. Please donate today to help us fund these events, to sponsor scholarships and grants to help enhance our student's studies.
Pay by PayPal: www.medfieldhspto.com
Pay by Venmo: http://www.venmo.com/u/Medfield-HSPTO
---
FROM THE THEATRE SOCIETY
The MHS Theatre Society invites you to join us this weekend, November 18th and 19th at 7pm at the MHS Auditorium for our upcoming production of Radium Girls. Inspired by a true story, Radium Girls tells the story of a group of female workers in a 1920's factory. The women spend their days innocently painting the faces of watches with luminous radium paint while unwittingly exposing themselves to the dangerous effects of radium poisoning. Will the girls be able to expose the Radium Corporation's negligence and bring them to trial before they succumb to radium's deadly effects? Join us to find out.
Radium Girls is an educational drama appropriate for all ages, but best suited for grades 4 and above. Tickets are $12 and can be purchased ONLINE or at the door. Radium Girls is produced by special arrangement with THE DRAMATIC PUBLISHING COMPANY of Woodstock, Illinois.
---
FROM THE CLASS OF 2024
The Class of 2024 is busy fundraising for future class events! These phone wallets make excellent holiday gifts. Questions or to order without using Instagram: Contact Olivia Stanton (omstanton2024@email.medfield.net)
Speaking of the holidays - the Class of 2024 is also selling wreaths!
These wreaths are the perfect way to decorate your house and front door, or give as a gift to your friends and family! Welcome the holiday season and the new year with these wreaths. There will be free delivery for homes in Medfield and pickup at MHS will also be available. (These are REAL wreaths).
Order forms need to be completed BY December 1st. Cash or checks (made out to the Town of Medfield) need to be received at Medfield High School attention Class of 2024 (88R South St) for $35 by December 1st to ensure your order is placed. Any questions can be directed to Olivia Stanton (omstanton2024@email.medfield.net).
---
Now is a great time to pre-order the 2023 yearbook! Please act fast to ensure you get a copy before the price goes up to $100 in the spring...if there are even any left at that point, as they sold out last year. Just click on this LINK. Thanks for your interest and support!
---
THE ANGEL RUN IS COMING!
Starting at 12:30 pm on December 4th, over a thousand runners and walkers will pass your home as they participate in the 17th annual Angel Run, a holiday-themed 5K family run/fun-run/walk! The Angel Run organizers invite you to participate in this Medfield tradition by decorating your yard in the spirit of the season, displaying motivational signs, and/or simply cheering on the participants as they pass by. Of course, you and your family are welcome to walk or run in the Angel Run yourselves — registration and additional information can be found on our website, https://www.medfieldfoundation.org/mfi-angel-run.
If you have any questions, you may also contact us at angelrun@medfieldfoundation.org.
Thank you in advance for helping to make the Angel Run a fun and festive event for the entire Medfield community!
With gratitude,
The Angel Run Organizers
---
FROM THE MEDFIELD MUSIC ASSOCIATION
Please see this DOCUMENT for all the details about the MMA Annual Wreath & Amaryllis Fundraiser! Order by Thursday, November 17, 2022. Delivery will be on Saturday, November 26 (following Thanksgiving) in Medfield.
---
FROM THE MCPE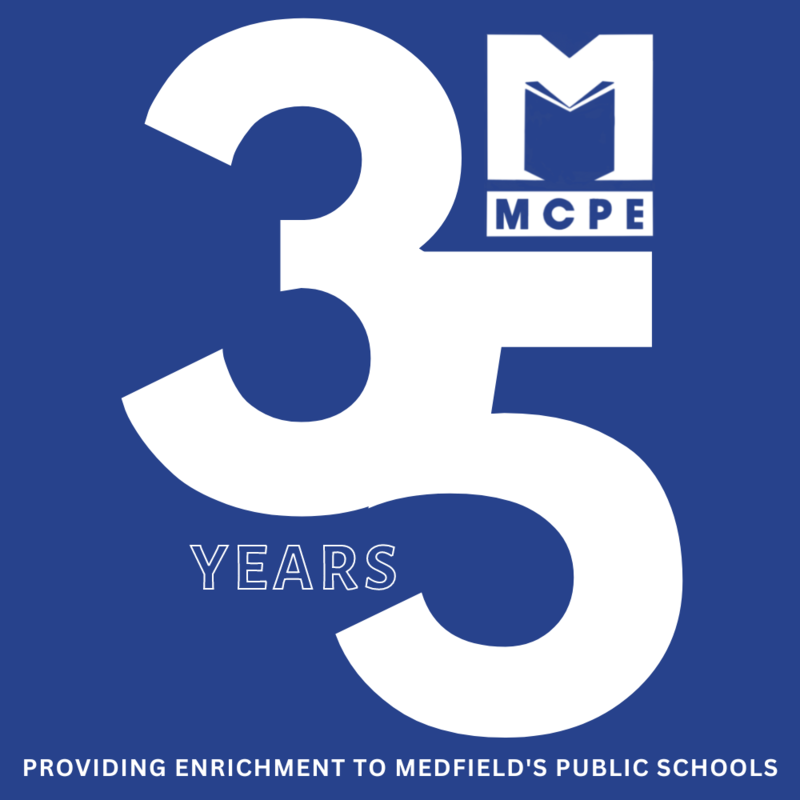 THANK YOU to those of you who attended the 2022 MCPE Fall Ball. What a party!
At the Fall Ball, MCPE announced its 35th Anniversary Appeal - a special campaign that happens every five years to raise additional funds for Medfield Public Schools. This year, we're asking the Medfield community to come together in raising $100,000 to support each school's "Reach for the Stars" projects. Check out this video that features the administrators of all five Medfield schools discussing these special projects. MCPE, through the generosity of the Medfield community, has spent the past 35 years supporting the Medfield Schools - we cannot wait to make the five ideas in this video a reality with your help! We hope that we'll have your support as we work toward our goal of funding all five of these important and much-needed improvements to our schools. Please consider donating today.
THANK YOU!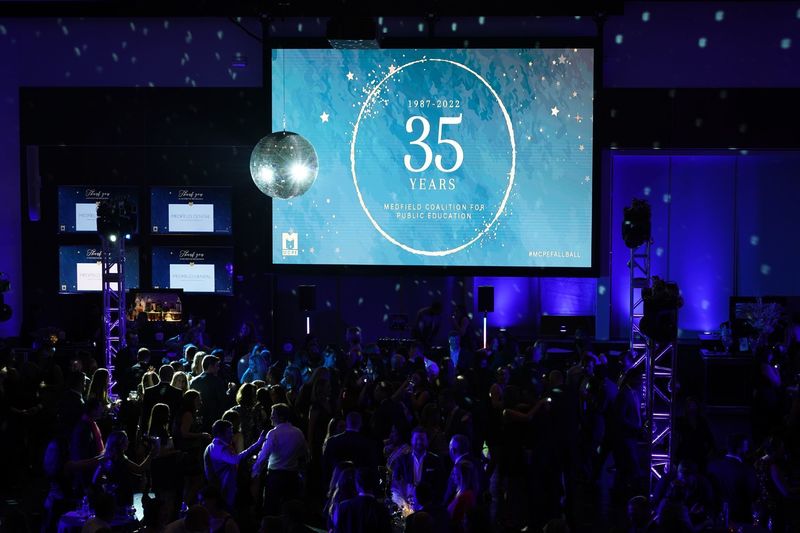 ---
COMMUNITY NOTICES
Please visit our district website for community notices and announcements.
https://www.medfield.net/o/medfield-public-schools/browse/103792
To submit items to the MHS WEEKLY NEWS UPDATE, please email Maura Fitzgerald at mfitzgerald@email.medfield.net by 8:00 AM on Monday mornings. If you would like to submit photos or flyers, please convert to .jpg files.