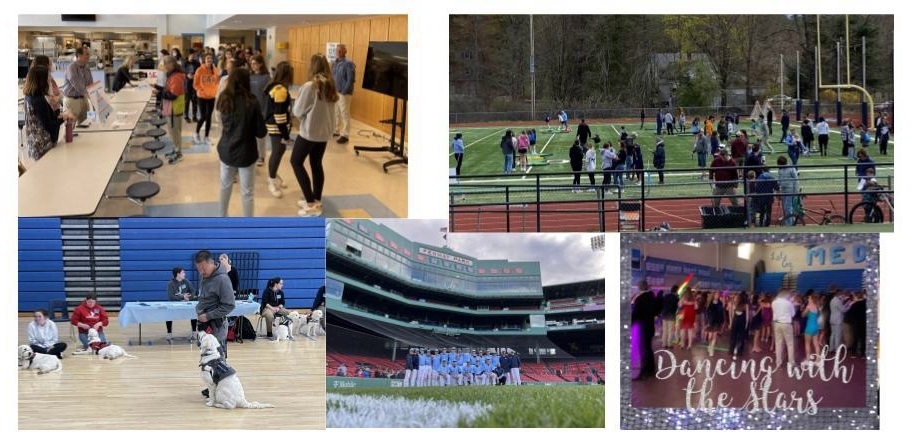 News Update - May 2, 2022
Medfield High School
Monday, May 02, 2022
It's been busy at MHS! Medfield Connects: a student organized Wellness Fair; baseball at Fenway Park; Student Council's Dancing with the Stars semi-formal and Putting for Patients Dana Farber fundraiser. Way to go Warriors!
NOTABLE DATES:
May 2-13: AP Exams
May 6: MHS Jazz Night
May 7: Medfield After Dark Performances
May 10: MHS PTO Meeting
May 13: MHS Prom @ Gillette Stadium
UPCOMING SCHEDULES-
THIS WEEK:
May 2 Day 3 A-Flex-D-F-C
May 3 Day 4 B-A-Flex-G-E
May 4 Day 5 C-B-D-F-G
May 5 Day 6 E-A-Flex-C-F
May 6 Day 7 A-B-D-G-E
LOOKING AHEAD:
May 9 Day 8 B-Flex-D-C-F
May 10 Day 1 C-A-Flex-E-G
May 11 Day 2 E-B-D-G-F
May 12 Day 3 A-Flex-D-F-C
May 13 Early Dismissal: Periods A-G
---
FROM THE GUIDANCE OFFICE
The Office of Congressman Jake Auchincloss will be hosting a Virtual U.S. Service Academy Orientation on Tuesday, May 24 from 7:00 PM – 8:30 PM. Staff from our office will be joined by representatives from the five U.S. Service Academies to discuss the Congressional nomination process and the programs offered by each Academy. The event is open to students currently in grades 9-11 who reside in the Massachusetts 4th Congressional district, families, and school officials. To RSVP to the event, please click HERE or the link in the attached flyer. Our office is sharing this information with superintendents, principals/heads of schools, guidance counselors, Veterans Service Officers, and city/town officials across our district. If you know of any students interested in attending a U.S. service Academy, please share this information with them.
Attendees:
The Office of Congressman Jake Auchincloss (MA-04)
U.S. Military Academy at West Point
U.S. Naval Academy
U.S. Coast Guard Academy
U.S. Merchant Marine Academy
U.S. Air Force Academy
---
ATTENTION JUNIORS AND SENIORS!
PROM BUS TICKETS ON SALE!
Coach buses will be available to transport the students to and from prom on Friday, May 13th. Due to the generosity of Medfield Outreach, the cost of the bus is significantly discounted and available for just $4 each. Students are highly encouraged to leverage this transportation to arrive safely and in style! Tickets will be available this week during all lunches May 2-4. Cash, Venmo, or Check (payable to MHS PTO) accepted.
---
FROM THE THEATRE SOCIETY
Medfield After Dark is a comedy variety show written and directed by Medfield High School students. Jam packed with energy and jokes, MAD is sure to entertain.
Proceeds benefit the David E. Medeiros Scholarship and the MHS Theatre Society.
Join us for a night of laughs while supporting two great causes!
Saturday, May 7th at 7:00 pm in the MHS Cafeteria
$10 per ticket (Limited Seating)
Tickets available online - coming soon!
---
ON THE RECORD!
Welcome
By: Joe Nickerson, Senior Editor
School newspapers are a fixture of any school. I mean, in every high school movie drama, there's some school newspaper laying around, making it seem— just like acne cream— a high school necessity.
So, walking the halls of Medfield High School, you probably have found yourself wondering why we don't have our own newspaper. Well, we did have one, called the Kingsbury Chronicle, but it's been inactive for the past few years. This year, under the guidance of English Department Chair Ms. Sancher and English teacher teacher Ms. Chamberlain, we've decided to let the phoenix rise out of the ashes and restart the newspaper.
Welcome to "On the Record."
---
NEWS FROM OUR CLUBS & ACTIVITIES
DECA:
Congrats to the following 5 students who traveled to Atlanta GA last week to compete with about 15,000 other HS business students in their chosen global DECA events:
Megan Colleran marketing
Pranit Shah & Nina Paguio both did finance
Claire Teany & Ava LaRowe were an entrepreneurship team
These students prepared, competed and had a blast! We are proud of our ENTIRE Deca chapter and so happy these 5 students made it to the International level! Megan Colleran earned a silver medal for her marketing scenario. Way to go Megan, and congrats to everyone!
MHS CHESS CLUB:
The MHS Chess Club came in 1st place in the Charles River Interscholastic League! Congratulations! Check out their hardware!
---
FROM THE WRITING CENTER
The Writing Center is here to help with ALL your writing!
Over the past couple of months, students made Writing Center appointments for help with a wide variety of writing including:
English essays for all grades
other subject essays/writing assignments
applications for internships
letters for jobs
letters of continued college interest after being wait listed
resumes
other essays for summer programs
entrance essays
and more!
Coming to the Writing Center during Flex periods always helps, and never hurts to try!
Just schedule your appointment through My Flex.
If you're having a hard time with some writing, finding it difficult to start, or want to review a whole piece, the Writing Center can help.
Questions about the Writing Center? Stop by Room 224 or
email bwren-burgess@email.medfield.net
---
Time and yearbook copies are running out! There are only 50 or so left, and once they sell out that's it. If you haven't ordered one yet, please click on this link: BUY A YEARBOOK. Thanks in advance for your support!
---
FROM THE MEDFIELD MUSIC ASSOCIATION
Jazz Night is Back! Join us on Friday, May 6th at 7pm to listen to the cool sounds of Alex Lee-Clark on trumpet. Medfield High Schools' Jazz Band, Ensemble and Choir along with the Blake Middle School Junior Jazz Choir and Junior Jazz Band will be joining Alex on stage at the MHS Lowell Mason Auditorium. It's going to be a great night. Get your tickets today at http://www.medfieldmusicassociation.com
---
ATTENTION FORMER STUDENTS OF MRS. SINGER
Hello High School Families!
Mrs. Singer, a long-time and beloved reading specialist at Memorial School, is retiring at the end of the school year. If your child was fortunate enough to work with Mrs. Singer when he/she was in kindergarten or first grade, we'd love to hear from you!
Your family is invited to share your well wishes or a memory with Mrs. Singer by clicking on this link to submit a short video/photo message! This is a SURPRISE so please don't tell Mrs. Singer!
Mrs. Singer has loved inspiring so many emerging readers over the years. She would love to hear from past and present families!
Please submit your video message by May 20th! Thank you for considering!
---
FROM THE PTO and ANGP
The MHS PTO has two open board positions for the 2022-2023 school year. If you are interested in the co-president or secretary role, please email mhs.pto1@gmail.com
ANGP: Attention all Seniors and Senior Parents/Guardians!
The online registration deadline for the All Night Grad Party was Friday, April 29th. Please complete the parent/guardian form and remind your senior to complete their form ASAP. Completion of these forms are required for entrance to the All Night Grad Party
PARENT/GUARDIAN FORM
STUDENT FORM
We also need your videos of the Class of 2022, either full class or grade events from Kindergarten to Senior year. No individual videos please. Please upload to the Medfield TV DROPBOX.
---
FROM MEDFIELD OUTREACH
Join Medfield Coalition for Suicide Prevention on Wed. 5/4 at 7pm at St. Edward Parish in Medfield for a free QPR suicide prevention training! No registration required. Recommended for ages 18+. Learn how to spot the signs of someone who may be struggling & how to know what to do.
---
FROM MONTROSE SCHOOL
Chris Herren: The First Day
A presentation for middle and high school students and their parents
Monday, May 2 at 7:00 PM
Montrose School, 29 North Street, Medfield
Free and open to the public
Register now
---
BOX TOPS FOR EDUCATION
Box Tops are still being collected and the money raised will benefit Blake Middle School. If you have any box tops that you cut out, NOT the new scanning type, please have your student drop them off in the box in the main office of the High School. There is also a collection box at Shaws on the window sill at the self check out end.
Any questions? Email lizsandeman@gmail.com Thank you!
---
CLICK HERE:
COMMUNITY NOTICES
Please visit our district website for community notices and announcements.
https://www.medfield.net/o/medfield-public-schools/browse/103792
To submit items to the MHS WEEKLY NEWS UPDATE, please email Maura Fitzgerald at mfitzgerald@email.medfield.net by 8:00 AM on Monday mornings. If you would like to submit photos or flyers, please convert to .jpg files.