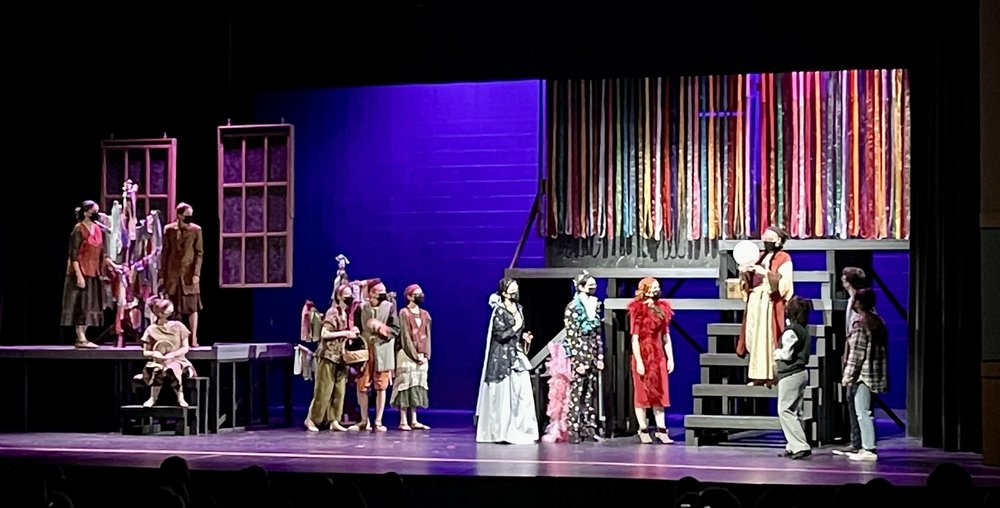 News Update - November 22, 2021
Medfield High School
Monday, November 22, 2021
Bravo to the MHS Theatre Society for two great performances of A Wrinkle in Time over this past weekend. Congratulations!
---
MARK YOUR CALENDARS:
November 25 - Football @ DS High School 10am

November 29 - Winter Athletics Begin

December 2 - Junior Future Planning Night with the Guidance Department
UPCOMING SCHEDULES-
THIS WEEK:
November 22 Day 2 E-B-D-G-F
November 23 Day 3 A-Flex-D-F-C
November 24 Early Release - 11:10am dismissal
November 25 NO SCHOOL - Thanksgiving Recess
November 26 NO SCHOOL - Thanksgiving Recess
LOOKING AHEAD:
November 29 Day 4 B-A-Flex-G-E
November 30 Day 5 C-B-D-F-G
December 1 Day 6 E-A-Flex-C-F
December 2 Day 7 A-B-D-G-E
December 3 Day 8 B-Flex-D-C-F
PLEASE SEND YOUR STUDENT TO SCHOOL WITH A MASK. We are finding that many students are arriving at school each day without a mask and our supply is running very low.
SKI CLUB: The ski and snowboard club still has several spots open. The club runs six Thursday afternoons after the winter break. Grab a friend or two and come enjoy skiing or riding at Wachusett!!
---
FROM THE GUIDANCE OFFICE
Interested in The U.S. Military Academy at West Point or Norwich University? Two Medfield alumni will be visiting MHS on Tuesday, November 23rd during Flex period to talk with students about military opportunities from their perspectives. Please email Mrs. McGrory if interested! gmcrory@email.medfield.net
TAKE ADVANTAGE OF FLEX TIME!
PARENTS AND GUARDIANS OF THE CLASS OF 2023
You are invited to join the guidance counselors (in person!) on Thursday, December 2nd from 6:30 - 8:30 pm for our Junior Parent Future Planning Night. We will share information with parents/guardians about college admission timelines and factors, utilizing Naviance in the college search, the Common Application, standardized testing, and mental health resources at the college level. We hope you can join us and we can't wait to see you in person.
---
DECA NEWS
DECA is Medfield's competitive business club. Students pick an area of interest and compete at District IV with 14 other local high schools. To practice before our districts, about 20 students attended a mock DECA competition at Burlington HS on a recent Saturday morning. Seven students even earned trophies! Cheers to Aryav, Claire, Eva, Kelsey, Nate, Tamlyn & Zina for their trophies and to all who came to practice & develop!
At Districts on Dec. 9th almost 50 Medfield HS DECA members will compete with about 700 other students. Go Warriors as you develop your business acumen, encourage leadership and have some fun!
---
ASC
Medfield High School's Academic Success Center is open! The Center is a resource available to all students on a drop-in or referral basis. The Center is located in Room 100 and is available to students during their Flex period on Days 3 and 8.
The Academic Success Center helps students improve academic strategies and executive functioning skills across all content areas. Assistance may include time management strategies, study skills, prioritizing assignments, and organizing materials.
If you have a specific individual in mind who would benefit from this support, please refer that student to Linda Grolnic via email. If you have any questions or suggestions please contact Linda at lgrolnic@email.medfield.net.
---
FROM THE ANGP
ATTENTION ALL SENIOR PARENTS!
The time is approaching for the All Night Grad Party Committee to start planning the Senior Celebration of the Year!! We are really hoping the party can return back to its original all nighter inside the High School, but we need to understand the COVID rules and regulations nearer the time. HOWEVER like the previous two years, there will definitely be a celebration of sorts and we can't do it without the generous support from all the community, especially the Senior Parents. The average cost of the party per student is over $100. In order for EVERY senior to be included, we make the event ticketless and rely solely on donations and fundraising initiatives. Please consider making a donation for your Senior to experience what has been described as the best experience of their Senior Year.
As a thank you for your donation - your senior will receive a Class of 2022 Car Magnet!
Please donate at www.medfieldangp.com
THANK YOU and here's to a fantastic Senior Year for our kids!!!
---
FROM MCPE
Join MCPE for a virtual wreath making class just in time for winter.
MCPE has partnered with Pistil Floral Design, a local business owned and operated by Medfield mom Allyson Hart, to bring this private fundraising workshop to your home just in time for winter! Visit www.medfieldcoalition.org for details and to sign up for this exclusive virtual class. Tickets are $65 and we are limited to 100 tickets - so sign up now! This event will take place on Tuesday, December 7th at 8:00 PM.
---
NEWS FROM THE CULTURAL ALLIANCE OF MEDFIELD (CAM)
---
BOX TOPS FOR EDUCATION
Box Tops are still being collected and the money raised will benefit Blake Middle School. If you have any box tops that you cut out, NOT the new scanning type, please have your student drop them off in the box in the main office of the High School. There is also a collection box at Shaws on the window sill at the self check out end.
Any questions? Email lizsandeman@gmail.com Thank you!
---
CLICK HERE:
COMMUNITY NOTICES
Please visit our district website for community notices and announcements.
https://www.medfield.net/o/medfield-public-schools/browse/103792
To submit items to the MHS WEEKLY NEWS UPDATE, please email Maura Fitzgerald at mfitzgerald@email.medfield.net by 8:00 AM on Monday mornings. If you would like to submit photos or flyers, please convert to .jpg files (if possible).