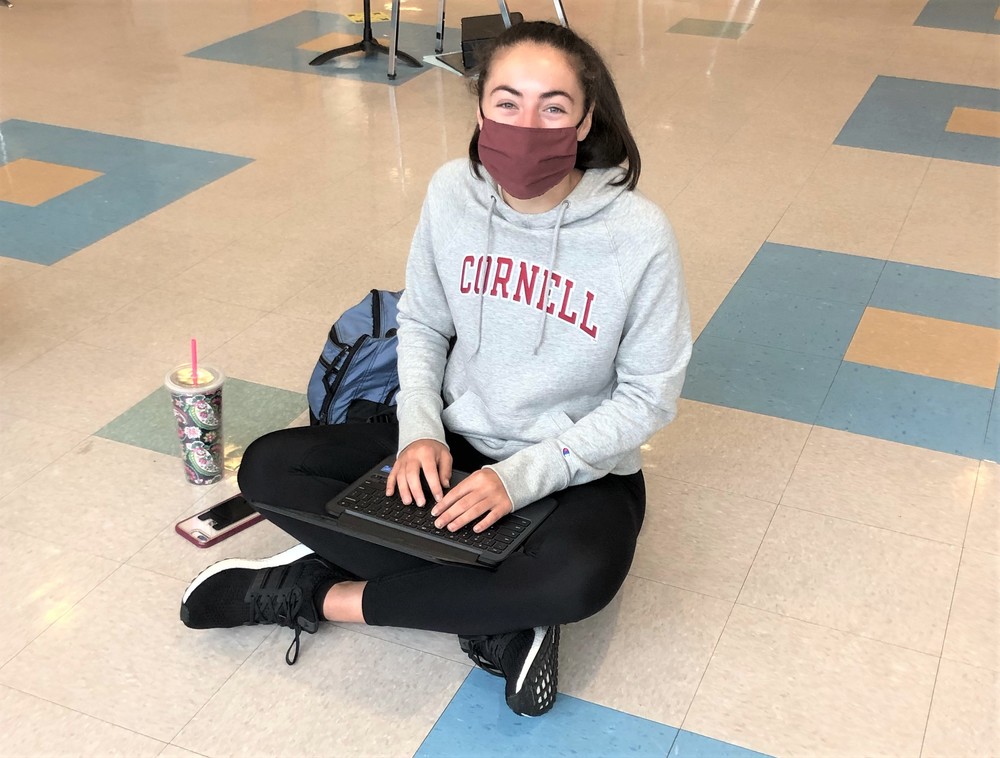 News Update - May 10, 2021
Medfield High School
Monday, May 10, 2021
MARK YOUR CALENDARS!
THIS WEEK:
May 14 Teacher Professional Day - Early Dismissal @ 11:10 AM
May 14 SENIOR PROM @ Gillette
LOOKING AHEAD:
May 16 - 21 HS Art Show
May 17 - 19 Term 4 - Open gradebooks for gr. 9 - 11 (via Aspen portal)
May 18 - 19 MCAS ELA for grade 10 students - (May 20 - Make up day)
May 18 Spring Choral Concert @ 7:00 PM (HS gym)
May 20 Spring Band Concert @ 7:00 PM (HS gym)
May 21 LAST DAY of CLASSES for SENIORS
---
THE 2021 ALL NIGHT GRADUATION PARTY COMMITTEE PRESENTS…
A ROLLING RALLY & PARTY IN THE PARK!
VOLUNTEERS NEEDED for the day of the PARTY
Sign-up HERE to help us set-up, clean-up and volunteer during the event of the year….The Class of 2021 Party in the Park. We can't do it without you! Senior parents/guardians are not allowed to volunteer during the party, but can help with set-up and clean-up. Thank you!
SENIOR PARENTS/GUARDIANS - ANGP Rolling Rally & Party in the Park
June 5th will be here before you know it. We have a few things we need you to do as senior parents/guardians.
1. FORMS - Complete the PARENT/GUARDIAN REGISTRATION FORM and have your student complete the SENIOR REGISTRATION FORM. Students can not enter the party without both of these forms completed before June 4th.
2. PHOTOS - The Senior Video is in the works. If you have not sent photos, please do so by Friday, May 14th. If your senior goes to prom, please send 1 or 2 pictures by Monday, May 17th. If you or your neighborhood has a banner up for seniors, please send a picture.
Please do not send screenshots of social media accounts.

Please do not send blurry images.

Please send photos that are large in size/high quality.

No tiny images.
Send all photos to Wendi Ayer wendiayer@mac.com
3. DONATE- If you haven't had a chance to donate and would like to do so, please DONATE HERE.
Please checkout our website https://www.medfieldangp.com/ for all the information on the Class of 2021 Rolling Rally & Party in the Park.
---
ATTENTION: Families of Medfield...I need your help!
My name is Mimi Orio and I'm currently working on a project in partnership with the Social Emotional Learning (SEL) committee. The goal is to construct a short video showcasing the silver lining of this year. We have all been through so much hardship due to this pandemic and I think highlighting some positives, whether it be spending more time with family, or picking up a new hobby would be a much appreciated breath of fresh air. I am currently a high school senior and because of that I know seniors, and not too many other people. That's why I need your help!
I have some things in the works with schools already but I would love some submissions from families. I want this video to include the whole community, even parents:) If you feel you would like to be a part of this please send in a brief video answering one or two of your favorites of these questions :
What did you watch?
What did you cook?
Where did you walk?
What did you read?
What did you build?
What did you listen to?
What will you miss about quarantine?
(or anything else you would like to share)
Thank you so much for taking the time to read this, if you have any questions or video submissions (Fingers crossed you do ;)) my email is: morio2021@email.medfield.net
---
MHS BOYS VOLLEYBALL HOSTS ITALIAN GROCERIA FUNDRAISER!
Take a night off from cooking and support the MHS Boys Volleyball team! On TUESDAY, MAY 11th from 5:00-8:00 PM, Italian Groceria on Main Street in Medfield will donate a portion of their sales to Medfield High School's Boys Volleyball Team. All food, drink, and gift card purchases will help support the team.
---
---
MEDFIELD COALITION FOR PUBLIC EDUCATION
Celebrate Blue Ribbon Day 2021 and recognize a special teacher or staff member for making a difference in a student's life!
This year, each student participating in our Blue Ribbon Recognition Program will receive a limited edition 2020/2021 "I did it with the help of my Blue Ribbon Teacher" t-shirt along with two blue ribbon note cards for students to write a note of thanks to teachers, bus drivers, specialists, or other staff members who have made a difference in their year. On May 28, students are encouraged to wear their shirts to school to celebrate Blue Ribbon Day and deliver their handwritten notes. Price for participation is $10 per student.
**This event is sponsored by Warren & Fontana, Attorneys at Law.**
---
As a way to bring our community together in celebrating Asian American and Pacific Islander Heritage Month, Medfield Together has created our second Knowledge Quest. In windows or doors of various businesses - and schools! - around town, there are portals featuring accomplishments and contributions of AAPI individuals.
To participate, find portal locations, enter for a chance to win a gift card to Park Street Books, and get additional information, please visit www.medfieldtogether.com.
We hope you have fun celebrating Asian American and Pacific Islander Heritage Month with us!
---
METROWEST COMMISSION ON THE STATUS OF WOMEN
MHS freshman, Mia Remington, is a part of a youth advisory council called the Athena Council with the Metrowest Commission on the Status of Women. The council aims to amplify and advocate for the voices of young women in our area on important social issues and causes that impact their daily lives. To this end, they are hosting an event on Sunday, May 16th from 7:00-8:30 PM via Zoom where they would like to welcome members of the Asian American Pacific Islander (AAPI) community and their allies, to come together to discuss the impact of recent events and how we can work together to support and uplift this community. The MetroWest Commission on the Status of Women represents 28 towns in eastern Massachusetts.
---
PROJECT 351 & CRADLES TO CRAYONS CLOTHING DRIVE
As part of her leadership and service projects as an ambassador for the Massachusetts Project 351, Blake Middle School eighth grader, Greta Krauss, has organized a clothing drive at Blake Middle School and the Memorial School to support the non-profit organization, Cradles to Crayons, which
provides essential items to children in homeless or high risk economic situations.
(For more about the Cradles to Crayons organization, CLICK HERE.)
What is needed…
CHILDREN'S CLOTHING:
Please donate new, "like new" or gently used clothing. Any socks or pajamas have to be new.
WHEN & WHERE:
Blake Middle School
Bins will be taken inside after 2:10 PM, so please donate during school hours May 10-14. During the weekend of May 15 and 16 there will be volunteers outside of the schools for a direct drop-off. May 15th (Saturday) from 11:00 AM-12:00 PM and 1:00-2:00 PM volunteers will be at the front entrance to Blake Middle School to take donations.
Memorial School
On May 16th (Sunday) volunteers will be at the front entrance to Memorial School from 11:00 AM-12:00 PM and 3:00-4:00 PM to take donations.
ANOTHER WAY TO SHOW SUPPORT:
If you don't have clothes to donate to the clothing drive, you can always make a monetary donation! Use the website (on the flyer) below to make your donation online. If you want to donate via check, just mail to Project 351! Thanks so much for your support!
TO FIND OUT MORE ABOUT PROJECT 351, CLICK HERE.
---
CHECK OUT THIS ART CLASS AT THE MPL!
THURSDAY, MAY 13TH, 7:00 PM
POP UP ART SCHOOL - CLAY SLOTH SCULPTURE!
REGISTER FOR SUPPLY KIT AND ZOOM LINK: http://www.eventkeeper.com/mar...
Chill out with Pop up Art School and sculpt a friendly sloth with air dry clay. Build the sloth using basic forms and add texture to bring your sloth to life. Finish your sloth during the class with acrylic paint on wet clay.
MUST REGISTER TO GET SUPPLIES AND ZOOM LINK!
---
TO CHECK OUT THE DAILY ANNOUNCEMENTS!
---
To submit items to the MHS WEEKLY NEWS UPDATE, please email MJ Ingram at mingram@email.medfield.net by 8:00 AM on Monday mornings. If you would like to submit photos or flyers, please convert to jpg files (if possible).