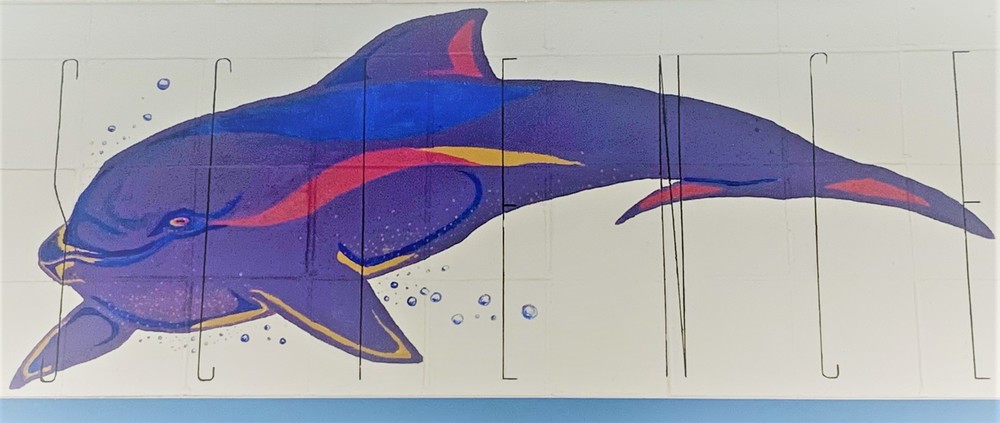 News Update - May 3, 2021
Medfield High School
Monday, May 03, 2021

Art work by GABBY CHRISTO (AP Art & Design)
---
THIS WEEK:
May 3-14 AP Exams
May 4 MHS PTO mtg (Zoom) @ 7:00 PM
May 5 MHS Site Council mtg (Zoom) @ 3:00 PM
May 6-7 Open gradebooks for SENIORS ONLY (via Aspen portal)
---
LOOKING AHEAD:
May 14 Teacher Professional Day - Early Dismissal @ 11:10 AM
May 14 SENIOR PROM @ Gillette
---
SENIOR PROJECT 2021
Senior Project 2021 is underway! We have 42 seniors working on 32 projects, and they have all gotten off to a great start! These awesome kids have chosen a wide range of topics to explore during their final quarter of their school year from shadowing a dentist, to designing an eco friendly fashion line, to researching and writing a family history to working with a local representative at the Massachusetts State House and more. If you'd like to get a better sense of what these students are up to, please check out their blogs. Special thanks to the amazing teachers listed below for supporting these kids by being inside mentors. Their work is incredibly valuable, especially during such a difficult year.
Ms. Toubman Ms. Luczak
Mr. Barrows Ms. Shaffer
Mr. Cotter Mr. Irwin
Mr. Heim Mr. Mandosa
Mr. Faust Ms. Drew
Mr. Becker Ms. Garcia
Mr. Reynolds Ms. Randolph
Mr. Brown Ms. Chamberlain
Ms. Lynch Ms. Thompson
Ms. Tremblay Ms. Lohan
Ms. Jones Ms. Pollard
Ms. Thibeault Ms. Tevis-Finn
Ms. Higger Ms. Hutsick
A FEW PHOTOS from some of the projects currently in progress…
Nicole Mulready working in her home "studio" on an original music album.
Angelina and Antonia Rijo Zooming with their family to
gather material for the family history they are writing.
Sophia McAvoy and Lauren Plonski's mural in progress.
Molly Goonan at work on her "Humans of Medfield" Podcast.
---
MHS SITE COUNCIL meeting on WEDNESDAY, MAY 5th
The next Site Council meeting is scheduled for WEDNESDAY, May 5th @ 7:00 PM** via Zoom. The main focus will be a review of the Student Parent Handbook with Assistant Principal, Jeff Sperling. ** PLEASE NOTE TIME CHANGE**
Join HS Site Council Zoom Meeting:
https://medfield-net.zoom.us/j/88196632911?pwd=UlNkZVdnelRZVkpLbElSYW4raDloZz09
Email mingram@email.medfield.net for meeting password.

---
MHS PTO MEETING
Please join us on Tuesday, May 4th at 7:00 PM (via Zoom) for the last PTO meeting of the 2020-21 school year. If you would like to attend, please email Kim Price kimprice73@gmail.com for the log-in details.
---
THURSDAY, MAY 6TH is YOUR LAST CHANCE to order a Medfield Flag!
The MHS Class of 2024 is holding a fundraiser to raise money to support the class' activities. Please consider supporting this fundraiser by showing your Medfield spirit and purchasing a flag!
Flags are perfect for…
Seniors who want to show their spirit during the Rolling Rally!

Hanging outside and showing your town pride!

Decorating the walls of kids bedrooms, playrooms, basements or hang out rooms

Decorating a classroom

To bring to games and cheer on your favorite Medfield team

Great coaches gifts, graduation gifts or birthday gifts!
Flags are 3 x 5 ft (standard flag size). They are made of durable polyester fabric. The printing is on both sides of the flag and is recommended for both indoor and outdoor use.
Flags cost $25.00. Please order your flag today by scanning the QR code at left and filling out the order form or follow the link directly to the order form HERE. Checks should be made out to the Town of Medfield and delivered to Medfield High School 88 R South Street no later than Thursday, May 6th. A box will be left inside the main doors. If the payment is not received by May 6th, we will not be able to place the order. Questions? Please email Kelly Blake at keblake2024@email.medfield.net.
---
SENIORS: Prom Bus tickets sale extended until
THIS FRIDAY, May 7th!
This year, more than ever, we are fortunate to have a prom! Join your friends and classmates for a SAFE, FUN, INCLUSIVE, AFFORDABLE, and STYLISH ride to the prom. Coach busses will depart for Gillette on May 14th from the high school. SPACE IS LIMITED and tickets will be sold on a FIRST COME, FIRST SERVED basis. Don't miss out on this school tradition and all the fun! If you have any questions, please contact Simone Lee ksjslee@gmail.com. See specific details below.
Cost: $23 per seat

Accepted Payment:

(preferred) Venmo: @SimoneLee22 (include name of each student being paid for)

Check payable to Medfield High School PTO can be dropped off in the front office. (include name of each student being paid for)

Check your school email account for information regarding bus time, location, and COVID protocol in boarding the bus in the days prior to prom.

Last day to purchase tickets is THIS FRIDAY, May 7, 2021 (date extended)!
---
THE 2021 ALL NIGHT GRADUATION PARTY COMMITTEE PRESENTS…
A ROLLING RALLY & PARTY IN THE PARK to HONOR THIS YEAR'S SENIOR CLASS!
Parents/Guardians/Seniors - You received an email last week containing the registration form and party guidelines for the Rolling Rally and Party in the Park. Complete these forms ASAP. Seniors will not be allowed to enter the party without them. Please check out our website for more detailed information about the Rally & the Party at: https://www.medfieldangp.com/2...
---
MEDFIELD COALITION FOR
PUBLIC EDUCATION
Celebrate Blue Ribbon Day 2021 and recognize a special teacher or staff member for making a difference in a student's life!
This year, each student participating in our Blue Ribbon Recognition Program will receive a limited edition 2020/2021 "I did it with the help of my Blue Ribbon Teacher" t-shirt along with two blue ribbon note cards for students to write a note of thanks to teachers, bus drivers, specialists, or other staff members who have made a difference in their year. On May 28, students are encouraged to wear their shirts to school to celebrate Blue Ribbon Day and deliver their handwritten notes. Price for participation is $10 per student.
---
NEW TEEN PROGRAMS TO BE OFFERED AT THE MEDFIELD PUBLIC LIBRARY
WEDNESDAY, MAY 5TH, 7:00 PM
ON THE ROAD TO DRIVING
REGISTER FOR ZOOM LINK: http://www.eventkeeper.com/mar...
A FREE online program for students in 7th-12th grade (and their parents!)
presented by Parkway Driving School (Walpole). Topics will include:
What is Driver Education?

What is the Process for Obtaining a Permit?

How Do I Obtain My Junior Operator License?

How Do I Pass My Road Test?

What Are the Rules for Licensed Drivers Under 18?
THURSDAY, MAY 13TH, 7:00 PM
POP UP ART SCHOOL - CLAY SLOTH SCULPTURE!
REGISTER FOR SUPPLY KIT AND ZOOM LINK: http://www.eventkeeper.com/mar...
Chill out with Pop up Art School and sculpt a friendly sloth with air dry clay. Build the sloth using basic forms and add texture to bring your sloth to life. Finish your sloth during the class with acrylic paint on wet clay.
GRADES 5 & UP; MUST REGISTER TO GET SUPPLIES AND ZOOM LINK!
---
TO CHECK OUT THE DAILY ANNOUNCEMENTS!
---
To submit items to the MHS WEEKLY NEWS UPDATE, please email MJ Ingram at mingram@email.medfield.net by 8:00 AM on Monday mornings. If you would like to submit photos or flyers, please convert to jpg files (if possible).