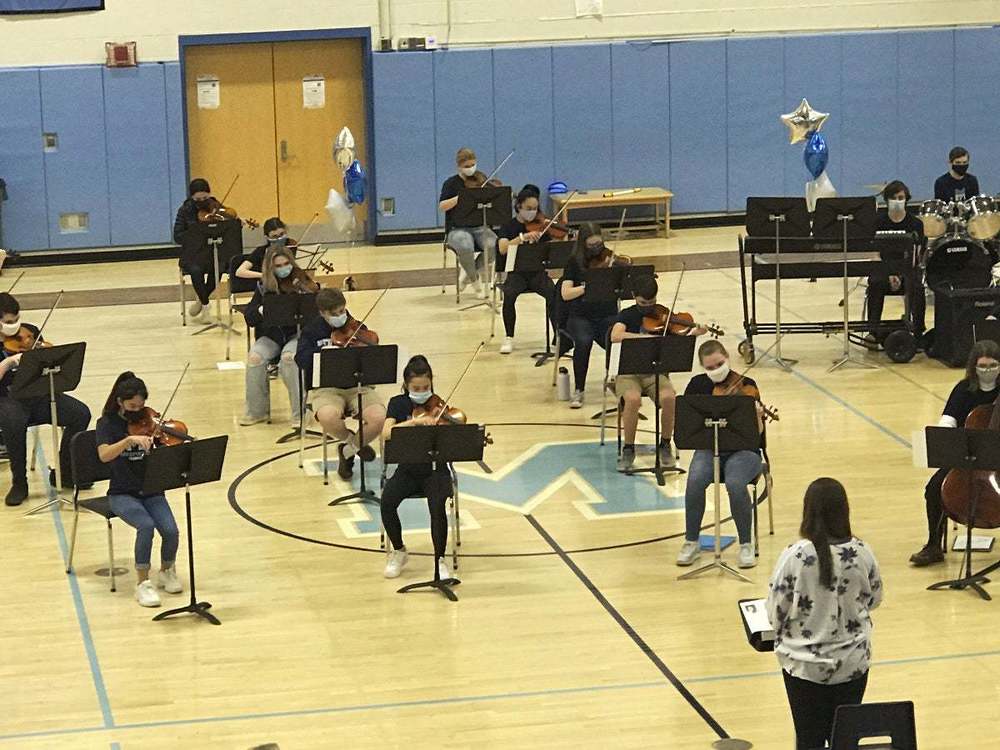 News Update - April 26, 2021
Medfield High School
Monday, April 26, 2021
THIS WEEK:
April 26 Classes resume
April 26 Spring sports begin
April 30 Term 3 report cards - via Aspen portal (end of day)
LOOKING AHEAD:
May 4 MHS PTO mtg @ 7:00 PM
May 5 MHS Site Council mtg (via Zoom) @ 3:00 PM
May 6-7 Open gradebooks for seniors
---
FROM THE VISUAL ARTS DEPARTMENT
The AP Art & Design Exhibit features selected works from each AP artist's portfolio. Students in the AP Art class thoughtfully curate display panels to reflect their unique artistic voice.
The AP Art & Design portfolio requires students to demonstrate an in-depth investigation of a chosen theme or area of interest. The underlying visual idea is demonstrated in a series of 15 pieces of artwork, in which students must demonstrate an astute awareness of the formal principles of art & design.
The exhibit is being held from Monday April 26th through Friday April 30th in the main lobby of the high school.
Artwork Top Row L to R: Avery Ayer, Nigel Lau
Bottom Row L to R: Emery Swirbalus, Grace O'Donnell
---
MHS WRITING CENTER APPOINTMENTS UPDATE
Now that all students are back in school 5 days a week, you will have the option to meet in person or via Zoom.
Students who sign up for Writing Center after school tutoring may choose to meet with WB either in room 219 or via Zoom. Students will have this choice for both the 1:25 PM and 1:50 PM tutoring appointments.
Remember, students can sign up for a Writing Center tutoring appointment for any stage in their writing process: from getting started with ideas, to help with where to go in the midst of your assignment, to complete review of the final writing product.
Emails to the school with the Writing Center Sign Up Genius are sent to all students at the end of each week.
---
MHS Site Council meeting on WEDNESDAY, MAY 5th
The next Site Council meeting is scheduled for WEDNESDAY, May 5th @ 3:00 PM via Zoom. The main focus will be a review of the Student Parent Handbook with Assistant Principal, Jeff Sperling.
Zoom information will be available to you as we get closer to the meeting date.
---
* * * SENIORS: Prom Bus tickets on sale!!! * * *
This year, more than ever, we are fortunate to have a prom! Join your friends and classmates for a SAFE, FUN, INCLUSIVE, AFFORDABLE, and STYLISH ride to the prom. Coach busses will depart for Gillette on May 14th from the high school. SPACE IS LIMITED and tickets will be sold on a FIRST COME FIRST SERVED basis. Don't miss out on this school tradition and all the fun! If you have any questions, please contact Simone Lee ksjslee@gmail.com.
Cost: $23 per seat

Accepted Payment:

(preferred) Venmo: @SimoneLee22 (include name of each student being paid for)

Check payable to Medfield High School PTO can be dropped off in the front office. (include name of each student being paid for)

Check your school email account for information regarding bus time, location, and COVID protocol in boarding the bus in the days prior to prom.

Last day to purchase tickets is April 30, 2021
---
With this lovely spring weather all around us, now is a good time to order the 2020-2021 yearbook! Please do so now before it is too late. Just click on this secure link: http://jostensyearbooks.com/?R....
Thanks in advance for your support!
---
ALL NIGHT GRADUATION PARTY 2021 UPDATE
Please help us make the Class of 2021 graduation celebrations ones to remember and recognize their amazing achievements and resilience. It's a decades-long tradition and we rely on the community to 'pay it forward' so when it's your senior's time to celebrate we have the resources to do so.
Please make a donation to the All Night Grad Party (ANGP). There are no tickets to purchase. Instead, we rely on your tax-deductible donations to help all seniors regardless of their means to celebrate together.
To make a donation please visit: https://www.medfieldangp.com
Volunteer? Please sign up HERE if you are interested in decorating part of the Rolling Rally route.
Questions? Contact Kim Price & Janie Boylan at angpmedfield@gmail.com
---
Celebrate Blue Ribbon Day 2021 and recognize a special teacher or staff member for making a difference in a student's life!
This year, each student participating in our Blue Ribbon Recognition Program will receive a limited edition 2020/2021 "I did it with the help of my Blue Ribbon Teacher" t-shirt along with two blue ribbon note cards for students to write a note of thanks to teachers, bus drivers, specialists, or other staff members who have made a difference in their year.
On May 28, students are encouraged to wear their shirts to school to celebrate Blue Ribbon Day and deliver their handwritten notes.
Price for participation is $10 per student.
This event is sponsored by Warren & Fontana, Attorneys at Law
---
TO CHECK OUT THE DAILY ANNOUNCEMENTS!
To submit items to the MHS WEEKLY NEWS UPDATE, please email MJ Ingram at mingram@email.medfield.net by 8:00 AM on Monday mornings. If you would like to submit photos or flyers, please convert to jpg files (if possible).