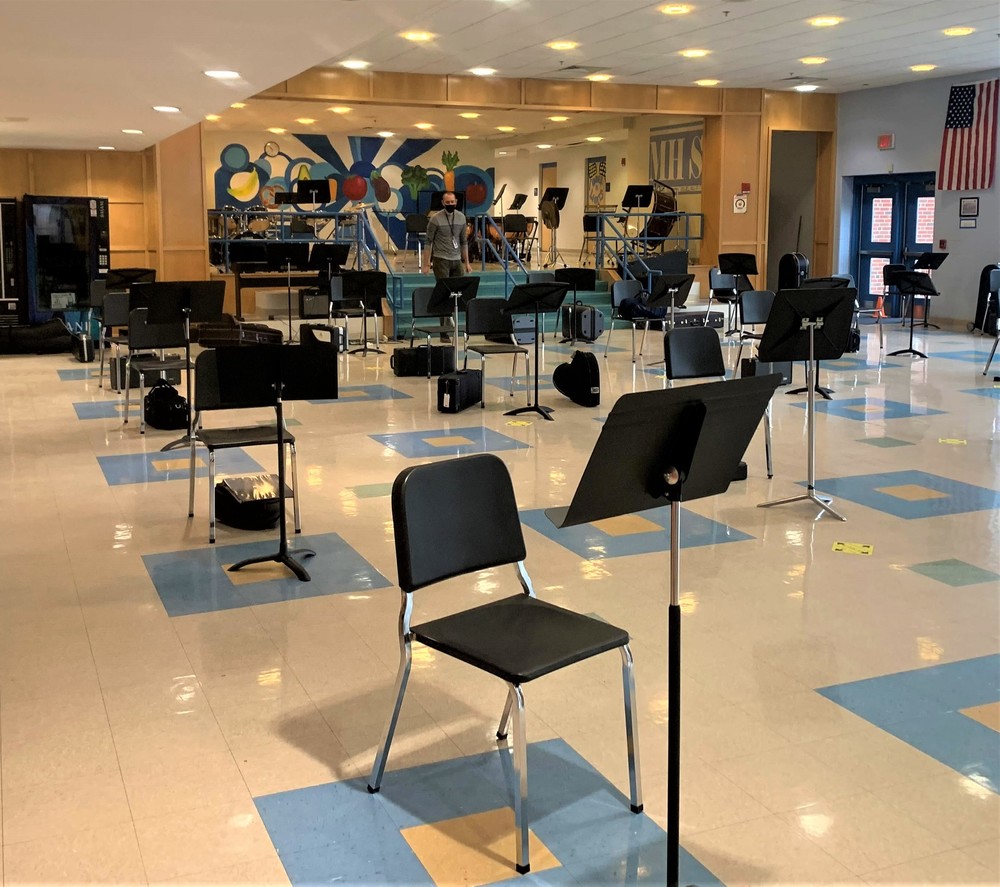 News Update - March 22, 2021
Medfield High School
Monday, March 22, 2021
MARK YOUR CALENDARS
THIS WEEK:
March 22 Cohort A in person/B Remote - ALL SYNCHRONOUS
March 23 Cohort A in person/B Remote - ALL SYNCHRONOUS
March 23 Harmony Day
March 24 SAT Day at MHS for registered JUNIORS -
ALL others REMOTE CLASSES
March 24 MHS PTO meeting (via Zoom) @ 7:00 PM
March 25 Cohort B in person/A Remote - ALL SYNCHRONOUS
March 26 TEACHER PROFESSIONAL DAY - NO SCHOOL FOR STUDENTS
---
LOOKING AHEAD:
March 29 Cohort A in person/B Remote - ALL SYNCHRONOUS
March 30 Cohort A in person/B Remote - ALL SYNCHRONOUS
March 30 HS Site Council mtg (via Zoom) @ 3:00 PM
March 31 Cohort B in person/A Remote - ALL SYNCHRONOUS**
**11:10 AM ADVISORY**
April 1 Cohort B in person/A Remote - ALL SYNCHRONOUS
April 2 NO SCHOOL - Good Friday

---
DECA (Business) CLUB MEMBERS GO INTERNATIONAL!
This month, over 7,000 MASS DECA high school members competed at the state level of DECA. Each student picks a written event like a business plan or marketing campaign or situational role plays and an exam. Students can DECA individually or in a team. 33 MHS DECA students competed at districts (versus 14 other local high schools). 18 of our chapter members made it to the next level, DECA States.
Eight of our MHS DECA members placed high enough in their events to move onto International DECA!
HUGE congratulations to:
Joseph Nickerson & Deeya Yadapadithaya — 1st Place in Marketing Management Team Decision Making

Kenny Manning — 4th Place in Principles of Finance and #1 top scorer on the Finance exam

Kelsey Quint & Anna Schulman — 5th Place in Hospitality Team Decision Making

Bella Gangemi & Morgan Reilly — 5th Place in Integrated Marketing Campaign for a product

Kathryn Buckley — 6th Place in Principles of Business Administration
Also, congratulations to Medfield DECA members who were named finalists (top 12) for their events:
Kailey Chen & Caroline Brand, Noah Epstein, Pranit Shah, and Aryav Yadapadithaya!
GO Medfield! Best luck @ International DECA next month and thank you to all 33 members exploring and sharpening their business acumen!
---
FROM THE MHS HEALTH OFFICE…
In a 'normal' year, the school nurses would be screening students for vision, hearing, scoliosis, height/weight and BMI. This year's screenings have been put on hold due to the pandemic. However, please send an email to the school nurses if you'd like your child to be screened for anything listed.
We are happy to do it!
Liz Bennett, ebennett@email.medfield.net & Brittany Hardiman, bhardiman@email.medfield.net
---
MHS CLUB NEWS
HARMONY
Harmony Day is a voluntary show of support for our friends in the LGBTQ community, started in 2007 by a student who wanted to raise awareness of how many of us have an LGBTQ person in our life. We chose green to represent springtime and hope for positive change. This year, Harmony Day is Tuesday, March 24th. With all due respect to Kermit the Frog, it's easy being green!
NATIONAL HONOR SOCIETY
NHS members are planning an egg-citing egg-stravaganza and fundraiser (as detailed on the flyer below). Celebrate spring and support the NHS, by placing an order TODAY! Hop on over to this LINK and order your eggs TODAY!
---
HAVE YOU SEEN IT YET?! The 2021 MAD Theatre Society Winter Showcase is here!
For a half hour of fabulous student-created performances from the comfort of your own home, simply click: https://youtu.be/gyEC-AzZgsE
A list of student participants can be found here. There is no cost involved to watch, just click the link and enjoy the show!
---
Painting by Grace O'Donnell Flower arrangement by Nancy Jones
FROM THE VISUAL ARTS DEPARTMENT…
Every Spring, the Medfield Garden Club collaborates with Medfield High School artists to create an annual exhibit--Art 'N Bloom. Ordinarily, this is an art show that takes place in the public library, but this year, we have gone virtual.
This exhibit features 24 pieces of student artwork interpreted in floral designs by Garden Club members. This slideshow is best viewed in 'Presenter Mode'. Simply click on the individual works of art to learn the details of each piece. Click HERE to view the show. Enjoy!
---
GUIDANCE OFFICE NOTES
The Guidance Department is hosting a Gap Year Panel webinar on Wednesday, April 7th at 12:30 PM. All students and parents are welcome to attend. Representatives from Dynamy, City Year, and Where There Be Dragons will be in attendance. The webinar will be recorded for those unable to attend. Please RSVP using the link below:
https://docs.google.com/forms/d/e/1FAIpQLSeQbo8fCFHB1pGhp1r3ynXMbRTkL-qhgXRRA7Is3t-ggRUvcg/viewform?usp=sf_link
IT'S FINALLY HERE!
SAT DAY for MHS JUNIORS is THIS Wednesday, March 24th
JUNIORS!
In preparation for the SATs this Wednesday please adhere to the following protocols and abide by the following directions.
REPORT TIME: 7:45 AM
COHORT A enters through Main Entrance (DOOR 1)
COHORT B enters through GYM Entrance (DOOR 2)
TESTING LOCATIONS:
COHORT A: MATH/ENGLISH WING (2nd floor).
COHORT B: LMC/HISTORY WING (1st floor).
Rooms & Rosters will be posted by the entrances.
ITEMS TO BRING:
#2 Pencils, calculator, ID, MASK.
Snacks are allowed, but only during breaks.
TIMING:
7:45 AM Report time. 8:00 AM testing begins.
Testing times will range between 4.5-6 hours.
LOGISTICS:
Cell phones will be collected; feel free to leave them at home/in car.
Due to COVID protocols you cannot switch from essay to no essay and vice versa.
ATTENDANCE:
If you decide to NOT test on Wednesday, March 24th, you are expected to report to all scheduled school zooms. Those taking the SAT are excused from class zooms. If you feel ill, please do not report to the SAT session on Wednesday.
If you have any questions regarding the upcoming SAT on Wednesday, March 24th, please contact your guidance counselor.
---
FROM ASSISTANT PRINCIPAL, JEFF SPERLING...
New option for paying class dues online debuts at MHS!
I want to provide some additional information about the transition to My School Bucks as well as a general overview of class dues. Class dues are $20/year and are used to offset the cost of class events. Those funds can also be used by the class to seed additional fundraising efforts. Later in high school, the funds are used to purchase a cap and gown for each graduating senior and have been used for class gifts and to reduce the cost of prom senior year.
We have received some excellent questions about the My School Bucks process. Here are the responses to some of the more common questions:
Can the money I have in the Food Services account be transferred to class dues or other non-lunch-related items?
Unfortunately, not. Those are two separate accounts, and the money is not transferable.
Can I make one up-front payment into My School Bucks, and draw from that throughout the year?
Also, unfortunately not. Each item that is posted (invoiced or through their storefront feature) is a stand alone transaction. This is also due in part to the payments being deposited in various accounts.
What additional items will My School Bucks be used for in the future?
At this time we are only using My School Bucks for class dues. We have also encumbered the transaction fee this year, so you will only be charged the $20 dues amount. In the future, we will use My School Bucks for things like field trip payments, club/activity fees, dance/event tickets, school apparel and gear sales, etc.
Many schools have used online payment services for years, and we are excited to advance our procedures as well. Thank you for your patience as we roll this out in more depth in the coming months.
---
MHS SITE COUNCIL to meet (virtually via Zoom) TUESDAY, March 30th
The next SITE COUNCIL meeting is scheduled for Tuesday, March 30th at 3:00 PM via Zoom. Meeting information will be posted in next Monday's NEWS UPDATE.
---
PARENT TEACHER ORGANIZATION NEWS
NEXT MEETING- Please join us this Wednesday, March 24th at 7:00 PM via Zoom for our March PTO meeting. Robert Parga will be giving his Principal's report. Please send an email to kimprice73@gmail.com to receive the password to the meeting if you would like to join.
TOPIC: MHS PTO Meeting 3/24/21
TIME: March 24, 2021 07:00 PM Eastern Time (US and Canada)
LINK TO MEETING: https://us02web.zoom.us/j/9284782763
PASSCODE required: email kimprice73@gmail.com
TREASURER NEEDED - Please email mhs.pto1@gmail.com if you are interested in joining the 2021-22 MHS PTO board as our new Treasurer.
---
2021 ALL NIGHT GRADUATION PARTY UPDATE
THE ANGP COMMITTEE HAS A REALLY BIG ANNOUNCEMENT!
The ANGP Committee is excited to announce the Class of 2021 Rolling Rally & Party in the Park on June 5th! This will be a safe, supervised and substance-free celebration.
Please sign-up HERE if you'd like to volunteer at this event. You don't need to be creative, just have fun working with friends decorating either the Town or the Party in the Park. There are many opportunities available. There are no tickets to purchase. This event is dependent solely on donations from our generous community. Any level of contribution will be greatly appreciated.
Donations can be made HERE.
Don't forget to send in photos of your Senior. You can find all the details HERE at the bottom of the page.
Please follow us on Facebook and visit our website https://www.medfieldangp.com/ for important updates and information as it becomes available.
---
TO CHECK OUT THE DAILY ANNOUNCEMENTS!
---
THE MEDFIELD COALITION FOR PUBLIC EDUCATION PRESENTS…
Murder, Mystery, Intrigue and Scandal:
The Dark Side of Medfield
Join us for a virtual history talk given by Medfield Town Historian, Richard DeSorgher,
coupled with delicious pre-ordered pickup meals from Basil.
Wednesday, April 7th at 6:00 PM
𝐂𝐎𝐌𝐈𝐍𝐆 𝐒𝐎𝐎𝐍! MCPE is launching a new fundraising initiative- #𝙊𝙣𝙚𝙈𝙚𝙙𝙛𝙞𝙚𝙡𝙙𝙊𝙣𝙬𝙖𝙧𝙙
5 days of funding starting March 29 to cover needs that have emerged as a result of the COVID-19 pandemic.
All year, you have asked how YOU CAN HELP get our kids back into the classroom as safely as possible, and now is the time to come together and make it happen! Stay tuned for more details about this campaign and how you can help!
LINK to latest MCPE NEWSLETTER
---
To submit items to the MHS WEEKLY NEWS UPDATE, please email MJ Ingram at mingram@email.medfield.net by 8:00 AM on Monday mornings. If you would like to submit photos or flyers, please convert to jpg files (if possible).