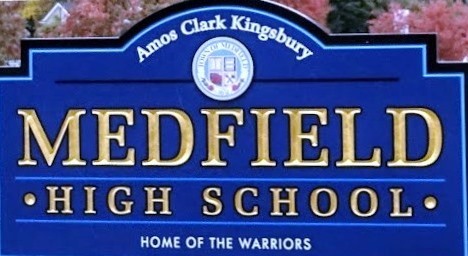 News Update - February 8, 2021
Medfield High School
Monday, February 08, 2021
THIS WEEK:
Feb. 8 Cohort A in person/B Remote - ALL SYNCHRONOUS
Feb. 9 Cohort A in person/B Remote - ALL SYNCHRONOUS
Feb. 10 Cohort B in person/A Remote - ALL SYNCHRONOUS
Feb. 11 Cohort B in person/A Remote - ALL SYNCHRONOUS
Feb. 11 MHS Theatre Society premiers two student-produced films:
The Tell-Tale Heart by Edgar Allen Poe @ 6:15 pm (Medfield TV)
Mary Rose by J. M. Barrie @ 7:00 pm (Medfield TV)
Feb. 12 Cohort B in person/A Remote - ALL SYNCHRONOUS
---
LOOKING AHEAD:
Feb. 15 - 19 SCHOOL VACATION WEEK
Feb. 19 FALL SPORTS Season 2 REGISTRATION DEADLINE **
Feb. 22 Classes resume (Cohort A in person/B Remote - ALL SYNCHRONOUS
Feb. 23 Cohort A in person/B Remote - ALL SYNCHRONOUS
Feb. 23 HS Site Council @ 3:00 pm (via Zoom)
Feb. 24 Cohort A in person/B Remote - ALL SYNCHRONOUS
Feb. 25 Cohort B in person/A Remote - ALL SYNCHRONOUS
Feb. 26 Cohort B in person/A Remote - ALL SYNCHRONOUS
---
2021 SCHOLASTIC ART AWARDS
The Visual Arts department is proud to announce the MHS students who were recently recognized for their outstanding submissions to the 2021 Scholastic Art Awards competition.
Gold Key: Emery Swirbalus, No Justice, No Peace, Acrylic Painting (1)
Silver Key: Nigel Lau, Botox Buddha, Oil Painting (2)
Honorable Mention: Nigel Lau, Me, Illustration (3)
Emery Swirbalus, Run Rabbit, Mixed media (4) &
Life in the Dream Haus, Sculpture (5)
Anna Zhang, All I See is Red, Acrylic Painting (6)
(1) (2) (3)
(4) (5) (6)
---
** FROM THE ATHLETIC DIRECTOR'S OFFICE...
The Fall Sports "2" (aka Wedge) season online registration is now open for MHS football and volleyball. Please register online at FamilyID.com, make sure you have a current/valid physical (good for 13 months), and the user fee ($250 to Town of Medfield) to Mr. Scott by the deadline of FRIDAY, FEBRUARY 19, 2021.
---
FROM THE MHS MUSIC DEPARTMENT...
After a very successful few month of audition, several MHS students were selected to the following music festivals:
Eastern District Junior Music Festival: Samantha Duggan, Alexander Mazurenko, Lukas Subaks, Maggie Tucker
Eastern District Senior Music Festival: Andie Brown, Neva Fuller, David Jones, Nimai Kini, Tristan Marble, Nicole Mulready, Paul Narkewich, Mia Remington, Sadie Rothstein, Julia Wall
Massachusetts All-State Music Festival: Andie Brown, Neva Fuller, David Jones, Nimai Kini, Nicole Mulready, Paul Narkewich
CONGRATULATIONS to all...and GO WARRIORS!

---
MHS CLUB NEWS
There's a new club in town! Across the Aisle, a student-created and student-run website, is a timely and unique web-based political forum. It is open to all MHS students. If you're into politics or just want to find out more, be sure to check out their website at www.acrosstheaisleusa.com for details and join the discussion!
---
MHS DECA (BUSINESS) CLUB MEMBERS TO PARTICIPATE IN STATE COMPETITION
With over 3700 high school chapters, DECA "prepares emerging leaders and entrepreneurs in marketing, finance, hospitality and marketing in high schools and colleges around the globe." Club advisor and MHS business teacher, Karen Shaffer is happy to announce that 19 club members are moving on to the state competition. Congratulations to:
Caroline Brand, Andie Brown, Kathryn Buckley, Kailey Chen, Megan Colleran, Casey Deigan, Noah Epstein, Peter Faust, Jackson Foscaldo, Bella Gangemi, Kenny Manning, Joseph Nickerson, Kelsey Quint, Morgan Reilly, Anna Schulman, Pranit Shah, Anna Trotter, Aryav Yadapadithaya, Deeya Yadapadithaya
---
ROLL OUT THE RED CARPET...and ALERT THE PAPARAZZI! (Virtually, of course!)
The Medfield High School Theatre Society presents The Tell-Tale Heart by Edgar Allan Poe and Mary Rose by J.M. Barrie, premiering on Thursday, February 11th at 6:15 pm! The premiere can be watched on Comcast Channel 8, Verizon 47, or on www.medfield.tv/watch. Both films will be available on the Medfield TV Youtube afterwards. DON'T MISS OUT! https://medfielddrama.weebly.com/
---
GUIDANCE NEWS & NOTES
FOR SOPHOMORE PARENTS/GUARDIANS...
Please virtually join the MHS guidance counselors on Wednesday, March 3rd at 12:00 noon for a webinar about career exploration, course selection, finding balance in high school and beyond, and a future planning preview. The webinar will be recorded and shared with families who are unable to attend at that time. The webinar link will be sent via email from the guidance office closer to the date.
---
Photo courtesy of Trinity College (Hartford, Ct.)
COLLEGE DECODED WORKSHOPS TO BE OFFERED BY TRINITY COLLEGE
Students beginning their college search process are invited to join any of the workshops listed below, hosted by Trinity College Office of Admissions.
February 10 at 6:30 PM
"Admissions in the Context of COVID-19"
February 17 at 8:00 AM & 6:30 PM
"What's the Big Deal About Small, Liberal Arts (and Sciences) Colleges?"
March 3 at 8:00 AM & 6:30 PM
"In 650 Words or Less: Taking on The College Essay"
March 10 at 8:00 AM & 6:30 PM
"Understanding the Importance and Role of Demonstrated Interest"
For details and to register, click here.
---
AP EXAM INFORMATION
All students enrolled in an AP course(s) have been receiving invoices for AP exams beginning in January. The invoices will explain the format/instructions for payment.
Cost for each exam: $100
Payment window: January 4th--February 15th, 2021
Late Fee: $15 per test if paid AFTER 2/15/21
As we get closer to the May exam dates we will be meeting with students to explain:
-The AP exam schedule
-Sending scores to colleges
-Eligibility for extended time
-Potential conflicts with exam
If paying for AP exams presents a hardship of any kind, please speak to your child's guidance counselor. For students taking a high volume of exams we can set up monthly payment plans if necessary. If you have any questions regarding the AP exams, please contact the guidance office.
---
There is still time to reserve a copy of the 2020-2021 yearbook! Please do so now before it is too late. Just click on this link: http://jostensyearbooks.com/?REF=A01095588. Thanks in advance for your support!
---
In celebration of Black History Month, Medfield Together invites you to join us on our Black History Knowledge Quest. Families and individuals are challenged to visit various locations throughout Medfield to find Black history portals. Each portal features a placard highlighting the achievements and contributions of either a past or present figure in Black history - several have connections to Medfield!
(Hint: While most portals are displayed in windows of downtown businesses, don't forget to check outside the Medfield schools too! Each portal will be marked with the logo above.)
Knowledge Quest participants will also have the opportunity to win a gift card to Park Street Books.
For more details and to sign up for the Knowledge Quest, visit https://www.medfieldtogether.com/bhkq. We hope you have fun celebrating Black History Month with us!
---
On January 11th, Sarah Ward presented a Medfield Talks program about "Strategies for Improving Executive Functioning Skills". The program was well received by those who had the opportunity to see it. If you missed it, Medfield TV will broadcast the presentation on Tuesday, February 9th on the EDU Channel Comcast 12 and Verizon 36 as well as the Watch Page www.medfield.tv/watch at 10:00 am and again at 9:00 pm. If you have any questions or feedback, please feel free to reach out to Kristen Careau kristencareau@gmail.com.
---
MAKE A DIFFERENCE. BE PART OF OUR TEAM!
The Medfield Coalition for Public Education (MCPE) is looking for new board members-men and women from the Medfield community with various skill sets and interests who want to have a voice in the improvements that reach our classrooms! Board members do not need to have kids currently in the school system—just a desire to support and enrich the Medfield Schools. Board members will serve a 3-year term and attend meetings one evening a month during the school year. The time commitment required to join the Board can be organized to fit the schedules of both stay-at-home and working parents. Interested? We'd love to hear from you! Apply here by March 8th: https://www.medfieldcoalition.org/volunteer-application-form
---
CLICK HERE, TO CHECK OUT THE DAILY ANNOUNCEMENTS!
---
To submit items to the MHS WEEKLY NEWS UPDATE, please email MJ Ingram at mingram@email.medfield.net by 8:00 AM on Monday mornings. If you would like to submit photos or flyers, please convert to jpg files (if possible).