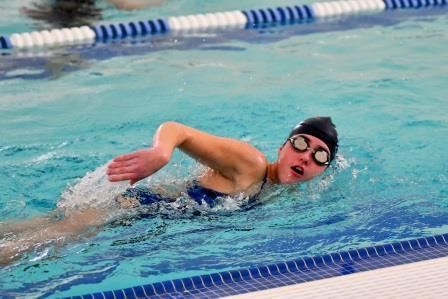 News Update - January 26, 2021
Medfield High School
Tuesday, January 26, 2021
THIS WEEK:
Jan. 25 Cohort A in person/B Remote- ALL SYNCHRONOUS
Jan. 26 Cohort A in person/B Remote- ALL SYNCHRONOUS
Jan. 26 Navigating School during Uncertain Times @ 7:00 pm
Jan. 27 ALL REMOTE (Advisory @ 11:40 am)
Jan. 27 MHS Boys Basketball fundraiser - Italian Groceria 5:00 - 8:00 pm
Jan. 27 A College Admission Information Webinar @ 6:00 pm
Jan. 27 MHS PTO meeting @ 7:30 pm (PLEASE NOTE TIME CHANGE.)**
Jan. 28 Cohort B in person/A remote-ALL SYNCHRONOUS
Jan. 29 Cohort B in person/A remote-ALL SYNCHRONOUS

---
Feb. 1 Cohort A in person/B Remote- ALL SYNCHRONOUS
Feb. 2 Cohort A in person/B Remote- ALL SYNCHRONOUS
Feb. 2 Term 2 ends
Feb. 3 ALL REMOTE
Feb. 3 Term 3 begins
Feb. 3 8th Grade MHS Parent Info. Night 6:30 - 8:00 pm (via Zoom)
Feb. 4 Cohort B in person/A remote-ALL SYNCHRONOUS
Feb. 4 MEDFIELD TALKS - What to do when your child needs help PANEL DISCUSSION @ 7:00 pm (details on flyer below)
Feb. 5 Cohort B in person/A remote-ALL SYNCHRONOUS
---
MHS PTO will meet THIS WEDNESDAY night at 7:30 pm
Please join us on Wednesday, January 27th at 7:30 pm for the next MHS PTO meeting. HS administrators Principal Robert Parga, and Assistant Principals, Heather Mandosa and Jeff Sperling will discuss the new 21/22 school schedule.
You will need to email Kim Price at kimprice73@gmail.com to RSVP and receive the passcode.

You must use your full name on your zoom profile to join the meeting.
Join Zoom Meeting
https://us02web.zoom.us/j/88517293123?pwd=VTBlZTA5SmlmNXdzN3Z5YUttb1h1QT09
Meeting ID: 885 1729 3123
Passcode: (see info above)
---
FROM THE ATHLETIC DIRECTOR'S OFFICE...
The Fall Sports "2" (aka Wedge) season online registration is now open for MHS football and volleyball. Please register online at FamilyID.com, make sure you have a current/valid physical (good for 13 months), and the user fee ($250 to Town of Medfield) to Mr. Scott by the deadline of Friday, 2/19/21.
---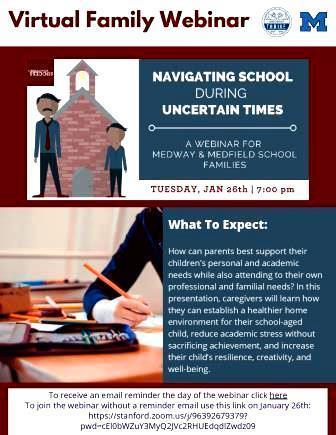 ---
MHS THEATRE SOCIETY PRESENTS...
The Medfield High School Theatre Society presents The Tell-Tale Heart by Edgar Allen Poe and Mary Rose by J.M.Barrie, premiering on Thursday, February 11th at 6:15 pm! Details on how to view the Youtube premiere will be released soon. DON'T MISS OUT! https://medfielddrama.weebly.com/
---
GUIDANCE NEWS & NOTES
JUNIORS & JUNIOR PARENTS/GUARDIANS!
Please join the MHS guidance counselors on Wednesday, January 27th at 6:00 pm (PLEASE NOTE TIME CHANGE!) via Zoom, as they host an informative webinar program with college admission representatives. Admission representatives from the following schools will be in attendance:
UMass Amherst
University of Vermont
College of the Holy Cross
Northeastern University
Clemson University
The discussion will provide information including: an overview of each school, application timelines and components, standardized testing, financial aid, and how the covid pandemic has impacted the admission process. Should you have any questions, please reach out to your guidance counselor.
Zoom meeting information will be sent via email from the guidance office the week of January 25th.
---
8TH GRADE PARENT INFORMATION NIGHT
Welcome to MHS
Please mark your calendars for a Welcome to MHS webinar on Wednesday, February 3, 2021 at 6:30 pm via Zoom. Students and parents will hear about academic offerings, high school culture, expectations, timelines, and more! The Zoom link will be shared via email prior to the event.
---
MHS to offer SAT SCHOOL DAY on Wednesday, March 24, 2021
JUNIORS! Given all the uncertainty about college testing and with Covid-19 safety protocols in mind, the March 13th SAT and SAT Subject Tests scheduled at Medfield High School have been cancelled.
MHS will be offering an SAT School Day Test for all Medfield High School juniors on Wednesday, March 24th, 2021. Registration for the SAT will open up on January 6th. You can visit https://aptsusa.com/medfield/ to register and pay for the test.
Here are some facts about SAT School Day:
You will pay & register to take the exam through AP TEST SERVICES, not through College Board.

If you are looking for a refund or to switch payment from the March 13th SAT to another SAT you need to contact College Board directly at 866-630-9305.

Only the SAT with essay or SAT no essay are offered on SAT School Day. College Board prohibits subject tests on SAT School Day.

If you have an SSD number and receive testing accommodations, you will be able to test on SAT School Day.

If you were NOT registered for the March SAT in Medfield you can still take the test. Registration information will be available later this week.

The deadline to register for SAT School Day here in Medfield will be February 19th, 2021.

The district will do a deep clean on the Tuesday night prior to the test and again on Wednesday after testing.

Students will be split up on test day by cohort. More information will be provided as we get closer to March 24th.

If financial need is an issue, please reach out to your child's guidance counselor.
We are excited to offer the SAT to all Medfield juniors! If you have any questions about the SAT Test Day protocols, please contact your guidance counselor at 508-359-2482.
---
MHS WRITING CENTER UPDATE!
Make Your WRITING CENTER Tutoring Appointments for: Essays, Projects, Lab Reports, College Supplements, College Resumes, Scholarship Applications Writing TODAY! With all the writing assignments that January brings as Term 2 concludes on February 2, this is your reminder that the Writing Center is available to all students.
PLEASE NOTE: Due to all classes live streaming, Writing Center tutoring appointment times have changed to after school at 1:25 and 1:50 pm.
Making an appointment is EASY! Students just email the Writing Center (mhswritingcenter@email.medfield.net), click on the Sign Up Genius to fill in their names for the tutoring appointment time that works best for them in the coming week. Then...
Students receive an email from either Ms. Garcia or WB confirming their appointment day and time, together with a link for the zoom meeting, and a request for the student to share their writing with the teacher.
If you have questions or concerns about the Writing Center, please feel free to reach out to Ms. Garcia (mgarcia@email.medfield.net and/or WB at bwren-burgess@email.medfield.net
---
FROM THE YEARBOOK STAFF
Now is a great time for families and friends to order/design recognition ads (AKA baby ads) to honor the graduating seniors. Jostens, in charge of that online process, has set the deadline for January 31. Here is the link: https://www.jostens.com/apps/store/ybAdDesigner/1549546/-/2020070904243269054/CATALOG_SHOP/. If you have any questions, please let Jostens know. Their recognition ad phone line is 800-358-0800.
On a separate note, if you have any photos you can submit to fit certain themes (senior sunsets at Hospital Hill, freshman fun outside of school, grade-by-grade random candids during the past several months, and senior throwbacks), please label them as such and upload them via this private link: https://images.jostens.com/415464605. If you get a screen asking you for a User ID, type in this number: 415464605.
Finally, if you want to order a copy of the yearbook, please use this link: http://jostensyearbooks.com/?REF=A01095588.
Thanks in advance for your support!
---
---
BUY A TOWEL... AND HELP SUPPORT THE MHS SWIM & DIVE TEAM!
TO ORDER YOURS, CLICK HERE!
---
THE MEDFIELD COALITION FOR PUBLIC EDUCATION NEEDS YOU!
Join us! MCPE is looking for new board members-men and women from the Medfield community with various skill sets and interests who want to have a voice in the improvements that reach our classrooms! Board members do not need to have kids currently in the school system—just a desire to support and enrich the Medfield Schools. Board members will serve a 3-year term and attend meetings one evening a month during the school year. The time commitment required to join the Board can be organized to fit the schedules of both stay-at-home and working parents. Interested? We'd love to hear from you! Apply here by March 8th: https://www.medfieldcoalition.org/volunteer-application-form
---
CLICK HERE, TO CHECK OUT THE DAILY ANNOUNCEMENTS!
To submit items to the MHS WEEKLY NEWS UPDATE, please email MJ Ingram at mingram@email.medfield.net by 8:00 AM on Monday mornings.