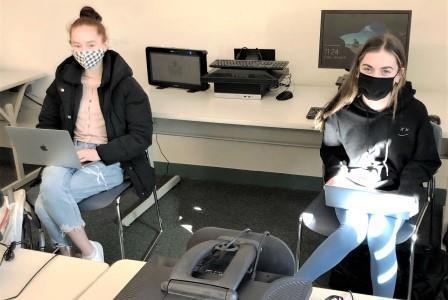 News Update - January 11, 2021
Medfield High School
Monday, January 11, 2021
THIS WEEK:
Jan. 11 Cohort A in person
Jan. 11 Medfield Talks: Sarah Ward @ 7:00 pm**
Jan. 12 Cohort A in person
Jan. 12 Boys Indoor Track fundraiser at Italian Groceria 4:00-8:00 pm
Jan. 13 ALL REMOTE
Jan. 14 Cohort B in person
Jan. 15 Teacher Professional Day - NO SCHOOL for STUDENTS
---
LOOKING AHEAD:
Jan. 18 NO SCHOOL - Martin Luther King, Jr. Day
Jan. 19 Cohort A in person
Jan. 20 ALL REMOTE
Jan. 21 Cohort B in person
Jan. 22 Cohort B in person
---
ATTENTION ALL MEDFIELD HIGH STUDENTS!
We have an opportunity for two MHS students to be selected to participate in a National Leadership Training Program. Do you have a passion for a safe, healthy, and drug-free community? Young people have become so influential in creating change in their communities, and we are looking for two MHS students who would like to gain lifelong leadership skills and use those skills to advocate for a safer Medfield community.
This training will be held virtually in early February, but the application deadline is this Friday, January 15th. Participants will have excused absences from school, and will get to become an asset to the community. Want to learn more? Check out the informational poster HERE, click HERE to view specifics about the training session, and if you are interested, submit your application! Any questions, email Meri Hass, Medfield's Substance Use Prevention Coordinator at mhaas@email.medfield.net.
---
ACTIVE MINDS CLUB DEBUTS AT MHS
---
MEDFIELD TALKS with SARAH WARD - MONDAY, January 11th @ 7:00 pm**
MCPE, in partnership with SEPAC, the Medfield High School PTO, K-8 PTO, Challenge Success and MCSP, are pleased to sponsor the Medfield Talks series. This year's series will be held virtually so that Medfield families can continue to learn with us! TONIGHT (January 11, 2021), Sarah Ward will present from 7:00 - 8:30 p.m. Sarah spoke in Medfield last year, and it was a huge hit. This year she will present a community talk on executive functioning particularly focusing on strategies to support students and families in our current hybrid learning environment. Click HERE to view the flyer with the Zoom link and a response form.
---
MHS CHALLENGE SUCCESS STUDENT GROUP presents...
The MHS Challenge Success Student Group is sponsoring an event on Thursday, January 14, 2021, at 7:00 pm via Zoom. Ronnie Glenn, former student and professional athlete, will be speaking on the topic of balance and plans to provide meaningful advice to students trying to manage their schedules.
This meeting is open to all students in grades 9-12. Information will be emailed directly to students with information about how to attend and ask questions.
---
BOYS INDOOR TRACK HOSTS FUNDRAISER this TUESDAY!
Take a night off from cooking! On Tuesday, January 12, from 4:00 - 8:00 pm, Italian Groceria (on Main Street in Medfield), will donate a portion of their sales to the MHS Boys Indoor Track program. All food, drink, and gift card purchases made during this time will help the team. Thank you for your support!
---
GUIDANCE NEWS & NOTES
JUNIORS & JUNIOR PARENTS/GUARDIANS!
Please join the MHS guidance counselors on Wednesday, January 27th at 6:30 pm via Zoom, as they host an informative webinar program with college admission representatives. Admission Representatives from the following schools will be in attendance:
UMass Amherst
University of Vermont
College of the Holy Cross
Northeastern University
The discussion will provide information including: an overview of each school, application timelines and components, standardized testing, financial aid, and how the covid pandemic has impacted the admission process. Should you have any questions, please reach out to your guidance counselor.
MORE...FOR JUNIORS
For the past four weeks the guidance department has been sharing a series of weekly screencasts about future planning. Topics have included: making the most of Naviance; a guide to standardized testing; college application terminology & the Common Application; and differentiating the process as an athlete, musician, or seeking support. The series culminates THIS WEEK with the final topic: Mental Health Resources at the College Level.
Information on how to connect to the program will be emailed to you from the guidance office.
---
MHS to offer SAT SCHOOL DAY on Wednesday, March 24, 2021
JUNIORS! Given all the uncertainty about college testing and with Covid-19 safety protocols in mind, the March 13th SAT and SAT Subject Tests scheduled at Medfield High School have been cancelled.
MHS will be offering an SAT School Day Test for all Medfield High School juniors on Wednesday, March 24th, 2021. Registration for the SAT will open up on January 6th. You can visit https://aptsusa.com/medfield/ to register and pay for the test.
Here are some facts about SAT School Day:
You will pay & register to take the exam through AP TEST SERVICES, not through College Board.

If you are looking for a refund or to switch payment from the March 13th SAT to another SAT you need to contact College Board directly at 866-630-9305.

Only the SAT with essay or SAT no essay are offered on SAT School Day. College Board prohibits subject tests on SAT School Day.

If you have an SSD number and receive testing accommodations, you will be able to test on SAT School Day.

If you were NOT registered for the March SAT in Medfield you can still take the test. Registration information will be available later this week.

The deadline to register for SAT School Day here in Medfield will be February 19th, 2021.

The district will do a deep clean on the Tuesday night prior to the test and again on Wednesday after testing.

Students will be split up on test day by cohort. More information will be provided as we get closer to March 24th.

If financial need is an issue, please reach out to your child's guidance counselor.
We are excited to offer the SAT to all Medfield juniors! If you have any questions about the SAT Test Day protocols, please contact your guidance counselor at 508-359-2482.
---
MHS WRITING CENTER NEWS
Make Your WRITING CENTER Tutoring Appointments for:
Essays
Projects
Lab Reports
College Supplements
College Resumes
Scholarship Applications Writing
With all the writing assignments that January brings as Term 2 concludes on February 2, here's a reminder the MHS Writing Center is available to all students again this year.
Ms. Garcia and Ms. Wren-Burgess (WB) have been meeting with students to work on essays and projects, college supplements and resumes, scholarship application writing, plus other writing assignments for classes.
Signing up for a tutoring appointment is the same as it has been for several years: via the weekly Writing Center email, students simply click on the Sign Up Genius to fill in their names for the tutoring appointment time that works best for them in the coming week.
Then...
Students receive an email from either Ms. Garcia or WB confirming their appointment day and time, together with a link for the zoom meeting, and a request for the student to share their writing with the teacher.

Typically, students sign up for writing center appointments during their remote cohort days, and anyone can sign up for Wednesday Writing Center appointments.
Remember! Students don't need to wait until they have a finished paper to make an appointment...Students who want help getting started, need help with their writing in the midst of their writing, as well as those who want to review finished pieces before submission, are all welcome to make appointments for the Writing Center!
If you have questions or concerns about the Writing Center, please feel free to reach out to Ms. Garcia (mgarcia@email.medfield.net and/or WB at bwren-burgess@email.medfield.net).
---
This year, the senior class will be taking the AAPPL test in early February in order to qualify for the state seal of biliteracy. For students in the class of 2021 who are enrolled in French, Mandarin, or Spanish classes levels 4 or 5 are scheduled to take the test on February 9th for cohort A and February 11th for cohort B. Students have already been informed about the test and about available practice materials. These students will be excused from regular classes that day in order to take the AAPPL. Latin students will be taking the ALIRA reading test in order to qualify for the state seal during their class time.
The Class of 2020 was the first class at Medfield High School to graduate with the Massachusetts state seal of biliteracy. The seal was signed into law by Governor Baker in 2017. The World Languages and Cultures Department in Medfield has been established as a proficiency based program and therefore aligned with goals of the Seal of Biliteracy for several years. However, we adopted the program and the assessment in 2019.
Last year in our first year of awarding the seal, Medfield recognized 39 seal recipients. In the fall, the state Department of Education recognized Medfield as one of 23 high performing districts. All 23 districts that were recognized awarded the seal to at least 10% of their graduating seniors. We were proud to award the Seal of Biliteracy to 19.2% of last year's graduating class. The World Languages and Cultures department in Medfield is encouraged and excited by the enthusiasm that the Seal of Biliteracy has created for the value of bilingualism and the study of languages and cultures.
---
Medfield High School PTO to meet Wednesday, January 27th @ 7:00 pm
Please join this month's MHS PTO meeting to learn about the new MHS 21/22 schedule plans that helps address student/teacher/parent survey feedback. Zoom meeting information will be available the week of January 25th.
---
---
Now is a great time for families and friends to order/design recognition ads (AKA baby ads) to honor the graduating seniors. Jostens, in charge of that online process, has set the deadline for January 31. Here is the link: https://www.jostens.com/apps/store/ybAdDesigner/1549546/-/2020070904243269054/CATALOG_SHOP/. If you have any questions, please let Jostens know. Their recognition ad phone line is 800-358-0800.
On a separate note, if you have any photos you can submit to fit certain themes (senior sunsets at Hospital Hill, freshman fun outside of school, grade-by-grade random candids during the past several months, and senior throwbacks), please label them as such and upload them via this private link: https://images.jostens.com/415464605. If you get a screen asking you for a User ID, type in this number: 415464605.
Finally, if you want to order a copy of the yearbook, please use this link: http://jostensyearbooks.com/?REF=A01095588.
Thanks in advance for your support!
---
CLICK HERE, TO CHECK OUT THE DAILY ANNOUNCEMENTS!
---
---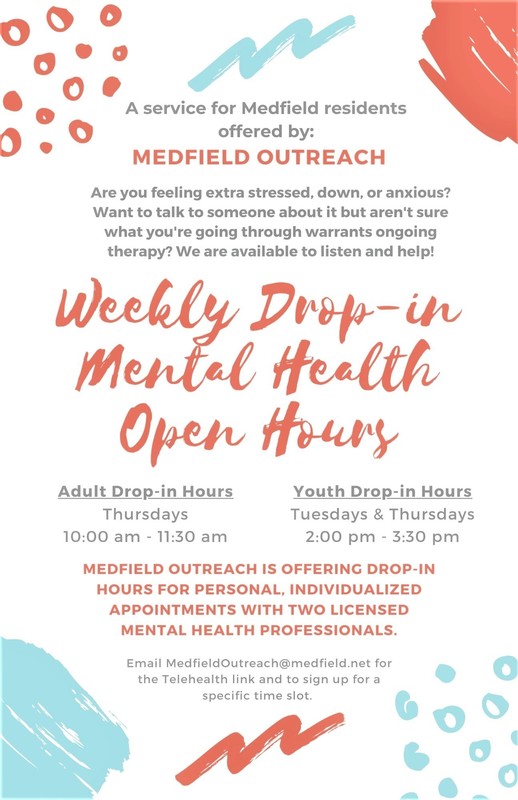 ---
MEDFIELD COALITION FOR PUBLIC EDUCATION (MCPE)
With most of our traditional events unable to happen this year, we're thrilled to bring you our annual Trivia Night! Join a team of 4-8 people on January 30 at 8:00 pm for a full pub trivia experience...without having to leave your couch! To sign up and learn more about how this virtual event will run, click here: https://www.medfieldcoalition.org/trivia-2021 #OneMedfield
Thank you to West Street Veterinary Clinic for sponsoring this event!
To submit items to the MHS WEEKLY NEWS UPDATE, please email MJ Ingram at mingram@email.medfield.net by 8:00 AM on Monday mornings.