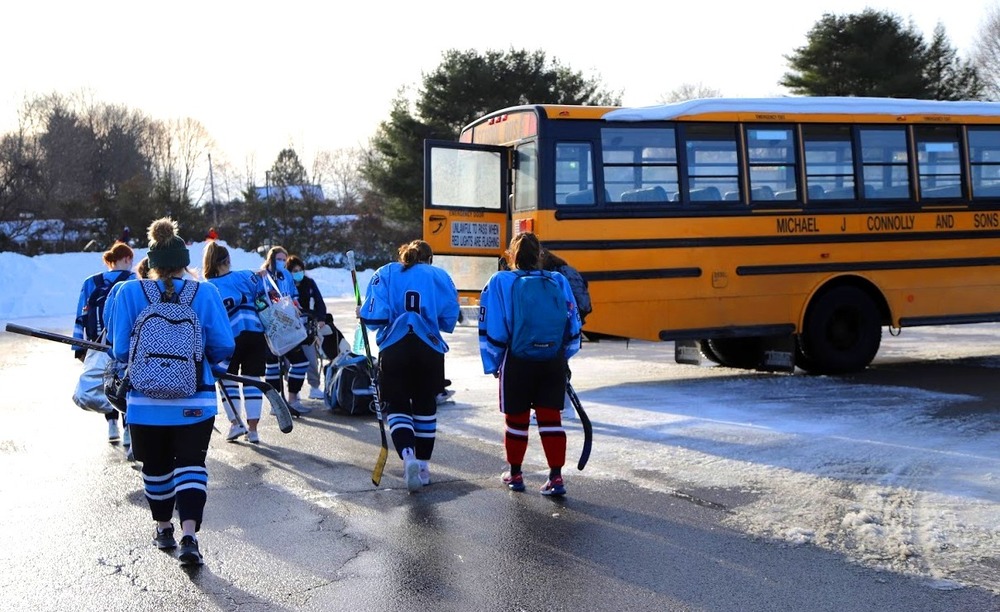 News Update - December 21, 2020
Medfield High School
Monday, December 21, 2020
Dear MHS Families,
2020 has been a year of incredible challenges, sacrifice, and loss...but, also, one of joy, compassion, ingenuity and hope. As we head into our December recess, we wish you a peaceful, HEALTHY and safe holiday and a very Happy New Year! SEE YOU IN 2021!
---
THIS WEEK:
Dec. 21 COHORT A in person
Dec. 22 COHORT B in person
Dec. 23 ALL REMOTE - Early Dismissal @11:00 am
Dec. 24 - Jan. 3 NO SCHOOL - December vacation
UPCOMING EVENTS - EARLY JANUARY 2021!
Jan. 4 CLASSES RESUME - COHORT A in person
Jan. 5 COHORT A in person
Jan. 5 Picture Retakes - COHORT A
Jan. 6 ALL REMOTE (Advisory @ 11:40 am)
Jan. 7 COHORT B in person
Jan. 7 Picture Retakes - COHORT B
Jan. 7 HS Site Council @ 3:00 pm (via Zoom-more info to come)
Jan. 8 COHORT B in person
Jan. 15 Teacher Professional Day - NO SCHOOL for STUDENTS
Jan. 18 NO SCHOOL - Martin Luther King, Jr. Day
---
QUARTER 2 GRADEBOOKS NOW OPEN THROUGH WEDNESDAY, DECEMBER 23rd
We are at the halfway mark of quarter two for Cohorts A, B, and C. Teachers have made their gradebooks open to students and their families through the Aspen Family Portal. The grades will remain visible from today through the end of the school day on Wednesday, December 23rd. Please note that the grade may continue to be updated through Wednesday, as this is a live gradebook for teachers.
Students: To view your current performance in each of your classes:
Log into Aspen at ma-medfield.myfollett.com
Enter your username and password
Click on the Academics top tab to see an overview of your performance in each class
Click on the title of the course to see more detailed information
If you have specific questions about your grade, please speak directly with your classroom teacher. If you have difficulty logging in to Aspen after trying the "I forgot my password" option, please send an email to aspenhelp@email.medfield.net.
---
---
GUIDANCE OFFICE NEWS & NOTES
HandholdMA.org is a new website designed for parents who are worried about their children's mental health. The website, created by a team of mental health and child development experts in partnership with parents who have "been there," was designed for parents of school-aged children in Massachusetts.
Handhold has three main sections:
Should I worry? Helps parents explore if their kid just being a kid, or if their behavior is something to worry about. Parents can learn about signs to look for and get suggestions on what to do next.
What can I do? Tips, tools, and strategies that have worked for other families, sorted by topic, and picked by Handhold. These are things parents can learn about or do from home.

Who can help? Carefully selected community organizations and government resources to help families find the right mental health services.
HandholdMA.org was developed with input from individuals representing the diversity of Massachusetts' communities, and is available in six languages: English, Spanish, Portuguese, Simplified Chinese, Haitian Creole, and Vietnamese.
---
MHS to offer SAT School Day on Wednesday, March 24, 2021
Dear JUNIORS (Class of 2022),
Given all the uncertainty about college testing and with Covid-19 safety protocols in mind, the March 13th SAT and SAT Subject Tests scheduled at Medfield High School have been cancelled.
MHS will be offering an SAT School Day Test for all Medfield High School juniors on Wednesday, March 24th, 2021. Registration for the SAT will open up on January 6th. You can visit https://aptsusa.com/medfield/ to register and pay for the test.
Here are some facts about SAT School Day:
You will pay & register to take the exam through AP TEST SERVICES, not through College Board.

If you are looking for a refund or to switch payment from the March 13th SAT to another SAT you need to contact College Board directly at 866-630-9305.

Only the SAT with essay or SAT no essay are offered on SAT School Day. College Board prohibits subject tests on SAT School Day.

If you have an SSD number and receive testing accommodations, you will be able to test on SAT School Day.

If you were NOT registered for the March SAT in Medfield you can still take the test. Registration information will be available later this week.

The deadline to register for SAT School Day here in Medfield will be February 19th, 2021.

The district will do a deep clean on the Tuesday night prior to the test and again on Wednesday after testing.

Students will be split up on test day by cohort. More information will be provided as we get closer to March 24th.

If financial need is an issue, please reach out to your child's guidance counselor.
We are excited to offer the SAT to all Medfield juniors! If you have any questions about the SAT Test Day protocols, please contact your guidance counselor at 508-359-2482.
---
JUNIORS & JUNIOR PARENTS!
The Guidance Department will be sharing a series of weekly screencasts about future planning. Topics each week include:
Week 1: Making the most of Naviance

Week 2: A Guide to Standardized Testing

Week 3: Application Terminology & The Common Application

Week 4: Differentiating the Process as an Athlete, Musician, or Seeking Support

Week 5: Mental Health Resources at the College Level
The Week 3 screencast will be shared via email today and posted in the Class of 2022 Google classroom. Should you have any questions, please reach out to your guidance counselor.

---
SAVE THE DATE!
On Wednesday, January 27th, the guidance counselors will host a webinar with college admission representatives. More information will be shared after the new year. Should you have any questions, please reach out to your guidance counselor.
---
FROM THE YEARBOOK STAFF
Now is a great time for families and friends to order/design recognition ads (AKA baby ads) to honor the graduating seniors. Jostens, in charge of that online process, has set the deadline for January 31. Here is the link: https://www.jostens.com/apps/store/ybAdDesigner/1549546/-/2020070904243269054/CATALOG_SHOP/. If you have any questions, please let Jostens know. Their recognition ad phone line is 800-358-0800.
On a separate note, if you have any photos you can submit to fit certain themes (senior sunsets at Hospital Hill, freshman fun outside of school, grade-by-grade random candids during the past several months, and senior throwbacks), please label them as such and upload them via this private link: https://images.jostens.com/415464605. If you get a screen asking you for a User ID, type in this number: 415464605.
Finally, if you want to order a copy of the yearbook, please use this link: http://jostensyearbooks.com/?REF=A01095588.
Thanks in advance for your support!
---
FROM THE MHS HEALTH OFFICE
Flu vaccines are a state requirement this year for all Medfield students. Your child must receive a flu shot by 12/31. Please call their pediatrician's office to schedule an appointment. CVS in Medfield and Shaws/Osco Pharmacy are also offering flu shots. If they have already had one this fall, please send in a copy of this immunization to the school nurse.
If you have any questions, please call your school nurse.
---
TO ORDER YOURS, CLICK HERE!
---
CLICK HERE, TO CHECK OUT THE DAILY ANNOUNCEMENTS!
---
MEDFIELD COALITION FOR PUBLIC EDUCATION NEWS UPDATE
MCPE is bring back our popular Trivia Night in a fun virtual way! Join 200 of your closest friends on January 30 at 8:00 pm for a full pub trivia experience without having to leave your couch!
Register your team of 4-8 people here: https://www.medfieldcoalition.org/trivia-2021
---
124 North Street Pfaff Community Center, Medfield, MA. 02052 • 508-359-2715 • http://www.medfieldrec.com/
The Medfield Parks & Recreation department is excited to announce that registration for the winter session of the eSports Metrowest League is now open! We will be offering game play in Madden NFL 21, Fortnite, FIFA Soccer, NBA 2K1 and Super Smash Bros! You will need to own the actual game on the proper gaming console to partake in this league.
Full information (and there is a lot of it) is available on our website. We will be offering play in two divisions -- Elementary (grades 3-5) and Middle/High School (grades 6-12). The Madden, FIFA and NBA games will be played on the PlayStation 4; Super Smash Bros on Nintendo Switch; and Fortnite will be available on multiple platforms (XBox, PS4, Nintendo Switch and PC/Mobile). Registration is now available. The leagues start the second week in January, so please do not delay in signing up if you are interested.
We also will be offering an eSports December Vacation Tournament later this month. These will be one day offerings in the mid-afternoon and players would need to be available during the entire time block. We will be offering tournaments in Madden (Monday, 12/28), Fortnite (Tuesday, 12/29) and Super Smash Bros (Wednesday 12/30). Each will begin at 3:00 pm and could last up to four hours. (Full information available on the website.)
If you have ANY questions, please do not hesitate to reach out to me, Kevin Ryder, Director of Parks & Recreation (www.MedfieldRec.com). Please do pass this on to anyone you think would be interested, including those families with older children that may not be on our email list.
To submit items to the MHS WEEKLY NEWS UPDATE, please email MJ Ingram at mingram@email.medfield.net by 8:00 AM on Monday mornings.