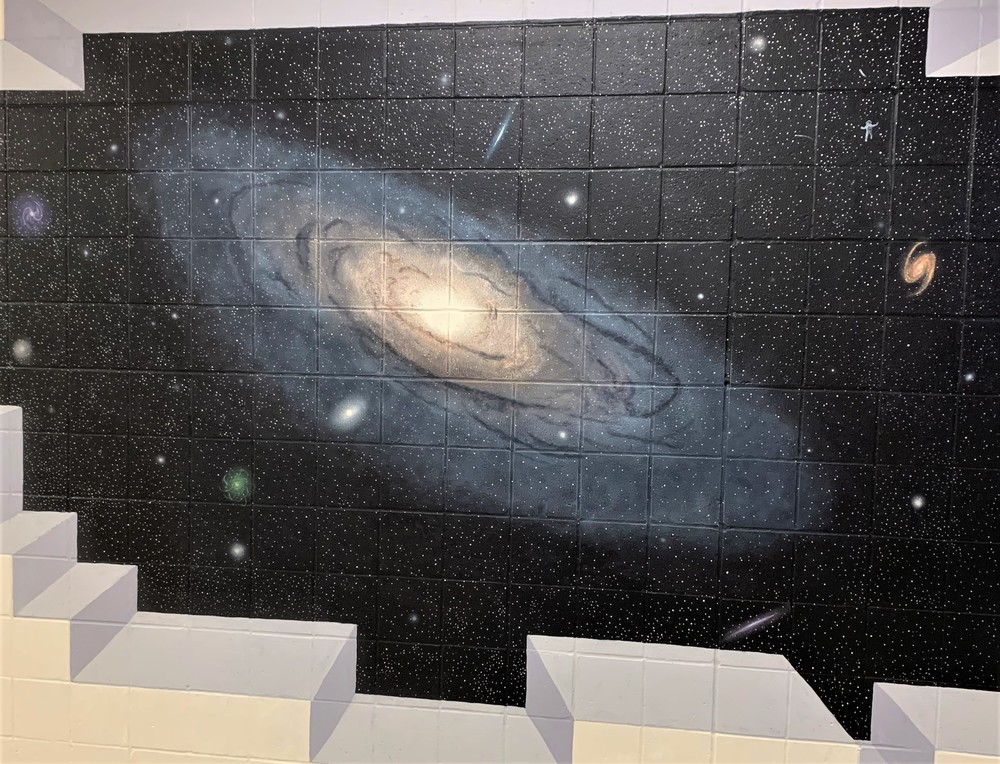 News Update - December 14, 2020
Medfield High School
Monday, December 14, 2020
***Pictured above: Mural, Science Hallway (1st floor) painted by
Carolyn Bergland & Riley Drometer, Class of 2019***
MARK YOUR CALENDARS!
THIS WEEK:
Dec. 14 COHORT A in person
Dec. 15 COHORT A in person
Dec. 16 ALL REMOTE (Advisory @ 11:40)
Dec. 17 COHORT B in person
Dec. 18 COHORT B in person
LOOKING AHEAD:
Dec. 21 COHORT A in person
Dec. 22 COHORT B in person
Dec. 23 ALL REMOTE - Early Dismissal @11:00 am
Dec. 24 - Jan. 3 NO SCHOOL - December vacation
Jan. 4 CLASSES RESUME
---
DID YOU KNOW that you can now follow us on FACEBOOK, INSTAGRAM (@medfieldhs) and on TWITTER (@MedfieldHS)? If you are a fan of social media, you can keep up with the latest news from MHS by following us on any of these platforms.
---
FROM THE YEARBOOK STAFF
It is hard to believe it is December already! Now is a great time for families and friends to order/design recognition ads (AKA baby ads) to honor the graduating seniors. Jostens, in charge of that online process, has set the deadline for January 31. Here is the link: https://www.jostens.com/apps/store/ybAdDesigner/1549546/-/2020070904243269054/CATALOG_SHOP/. If you have any questions, please let Jostens know. Their recognition ad phone line is 800-358-0800.
On a separate note, if you have any photos you can submit to fit certain themes (senior sunsets at Hospital Hill, freshman fun outside of school, grade-by-grade random candids during the past several months, and senior throwbacks), please label them as such and upload them via this private link: https://images.jostens.com/415464605. If you get a screen asking you for a User ID, type in this number: 415464605.
Finally, if you want to order a copy of the yearbook, please use this link: http://jostensyearbooks.com/?REF=A01095588.
Thanks in advance for your support!
---
FROM THE MHS HEALTH OFFICE
Flu vaccines are a state requirement this year for all Medfield students. Your child must receive a flu shot by 12/31. Please call their pediatrician's office to schedule an appointment. CVS in Medfield and Shaws/Osco Pharmacy are also offering flu shots. If they have already had one this fall, please send in a copy of this immunization to the school nurse.
If you have any questions, please call your school nurse.
DID YOU KNOW that you can follow @MedfieldNurses on Twitter for the latest COVID-19 and other important health information? Check it out TODAY!
---
This winter, the MHS Theatre Society will produce a virtual showcase. Any MHS Theatre Society member can contribute an act (skit, song, animation, stand-up comedy, etc.), or members can elect to be assigned to someone else's skit.
If you are not already on our mailing list and wish to participate, please email student production manager Zoe Lewis (zglewis2022@email.medfield.net) for additional details.
If you are not a member yet this year, and want to participate, you will need to join the Society. Details on joining can be found here.
---
GUIDANCE OFFICE NEWS & NOTES
JUNIORS & JUNIOR PARENTS!
The Guidance Department will be sharing a series of weekly screencasts about future planning. Topics each week include:
Week 1: Making the most of Naviance

Week 2: A Guide to Standardized Testing

Week 3: Application Terminology & The Common Application

Week 4: Differentiating the Process as an Athlete, Musician, or Seeking Support

Week 5: Mental Health Resources at the College Level
The WEEK 2 screencast will be shared via email today and posted in the Class of 2022
Google classroom. Should you have any questions, please reach out to your guidance counselor.
SAVE THE DATE!
On Wednesday, January 27th, the guidance counselors will host a webinar with college admission representatives. More information will be shared after the new year. Should you have any questions, please reach out to your guidance counselor.
---
TO ORDER YOURS, CLICK HERE!
---
SUPPORT THE MHS BOYS HOCKEY TEAM!
---
CLICK HERE, TO CHECK OUT THE DAILY ANNOUNCEMENTS!
---
MEDFIELD TALKS RETURNS THIS WEDNESDAY, DECEMBER 16TH!
"It's OK Not to Feel OK"- We are pleased to kick off our 2020-2021 Medfield Talks next Wednesday, December 16th at 7:00 pm as we host clinical psychologist and educator, Nadja Reilly, Ph.D., as well as a Medfield parent, Kim Price, to talk with families about supporting the mental health of students, parents and each other. There will also be time for questions and answers during the event. Special thanks to the Medfield SEPAC for generously sponsoring this event. Please RSVP: https://docs.google.com/forms/...
---
Webinar link is as follows:
Join from a PC, Mac, iPad, iPhone, or Android device:
Please click this URL to join. https://medfield-net.zoom.us/j /88184676485?pwd=a2NrSGJQYzhMV mlnQi82OEdJVDlzdz09
Passcode: 634457
Or join by phone:
Dial(for higher quality, dial a number based on your current location):
US: +1 312 626 6799 or +1 929 436 2866 or +1 301 715 8592 or +1 346 248 7799 or +1 669 900 6833 or +1 253 215 8782
Webinar ID: 881 8467 6485
Passcode: 634457
International numbers available: https://medfield-net.zoom.us/u /kcp4sOW9Ox
---
MEDFIELD COALITION FOR PUBLIC EDUCATION NEWS UPDATE
MCPE is bring back our popular Trivia Night in a fun virtual way! Join 200 of your closest friends on January 30 at 8:00 pm for a full pub trivia experience without having to leave your couch!
Register your team of 4-8 people here: https://www.medfieldcoalition.org/trivia-2021
---
124 North Street Pfaff Community Center, Medfield, MA. 02052 • 508-359-2715 • http://www.medfieldrec.com/
The Medfield Parks & Recreation department is excited to announce that registration for the winter session of the eSports Metrowest League is now open! We will be offering game play in Madden NFL 21, Fortnite, FIFA Soccer, NBA 2K1 and Super Smash Bros! You will need to own the actual game on the proper gaming console to partake in this league.
Full information (and there is a lot of it) is available on our website. We will be offering play in two divisions -- Elementary (grades 3-5) and Middle/High School (grades 6-12). The Madden, FIFA and NBA games will be played on the PlayStation 4; Super Smash Bros on Nintendo Switch; and Fortnite will be available on multiple platforms (XBox, PS4, Nintendo Switch and PC/Mobile). Registration is now available. The leagues start the second week in January, so please do not delay in signing up if you are interested.
We also will be offering an eSports December Vacation Tournament later this month. These will be one day offerings in the mid-afternoon and players would need to be available during the entire time block. We will be offering tournaments in Madden (Monday, 12/28), Fortnite (Tuesday, 12/29) and Super Smash Bros (Wednesday 12/30). Each will begin at 3:00 pm and could last up to four hours. (Full information available on the website.)
If you have ANY questions, please do not hesitate to reach out to me, Kevin Ryder, Director of Parks & Recreation (www.MedfieldRec.com). Please do pass this email on to anyone you think would be interested, including those families with older children that may not be on our email list.
---
---
WINTER LIGHTS SHINE BRIGHT IN MEDFIELD!
Winter Lights is a new ¾ mile long drive-thru light display and decorations at the former Medfield State Hospital Dec. 17 – 20, 2020 from 5 pm – 9 pm nightly. Tickets are $20 per vehicle and must be purchased in advance, while supplies last. No one will be permitted without a ticket and no tickets will be available for sale on site. The event runs regardless of the weather.
Tickets are available on EventBrite (search for "Winter Lights Display"):
https://www.eventbrite.com/e/winter-lights-display-tickets-128880421811
Proceeds support the non-profit organizations Medfield TV and the Cultural Alliance of Medfield. The Cultural Alliance of Medfield is a 501-c-3 organization established in 2015 to support artists, expand cultural opportunities and nurture the creative community. Medfield TV is a 501-c3 Access Station that supplies local cable programming to its members in Medfield. With its tag line of Community Shows, Medfield TV's focus is covering and creating captivating content for the town of Medfield.
To submit items to the MHS WEEKLY NEWS UPDATE, please email MJ Ingram at mingram@email.medfield.net by 8:00 AM on Monday mornings.