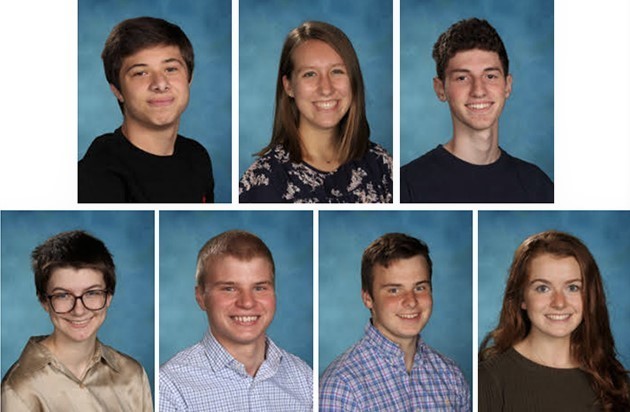 News Update - October 19, 2020
Medfield High School
Monday, October 19, 2020
MARK YOUR CALENDARS!
Oct. 19-21 Term 1 Open Gradebooks (visible via the Aspen portal)
Oct. 19 Cohort A in person
Oct. 20 Cohort A in person
Oct. 20 SEPAC presentation @ 7:00 PM via Zoom (details below)
Oct. 21 ALL REMOTE (Advisory @ 11:40 AM)
Oct. 21 MHS PTO meeting @ 7:00 PM via Zoom (see below)
Oct. 22 Cohort B in person
Oct. 23 Cohort B in person
LOOKING AHEAD:
Oct. 26 Cohort A in person
Oct. 27 Cohort A in person
Oct. 28 ALL REMOTE
Oct. 29 Cohort B in person
Oct. 30 Teacher Professional Day - NO SCHOOL FOR STUDENTS
---
JOIN THE MHS PTO MEETING (virtually!) THIS WEDNESDAY, OCTOBER 21ST
The MHS PTO meeting is now scheduled for this Wednesday, October 21st at 7:00 PM (via Zoom). Robert Parga will be in attendance for the Principal's Report and to answer your questions. We hope you can join us!
Join Zoom Meeting https://us02web.zoom.us/j/8670...
Meeting ID: 867 0620 3723
---
2021 MEDFIELD HIGH SCHOOL NATIONAL MERIT COMMENDED STUDENTS
The National Merit Scholarship Corporation (NMSC) was established in 1955 specifically to conduct the annual National Merit Scholarship Program. Scholarships are underwritten by NMSC with its own funds and through the support of many business organizations and higher education institutions that share NMSC's goals of honoring the nation's scholastic champions and encouraging the pursuit of academic excellence.
In the fall of 2019 about 1.5 million juniors in more than 22,000 high schools entered the 2021 National Merit Scholarship Program by taking the 2019 Preliminary SAT/National Merit Scholarship Qualifying Test (PSAT/NMSQT®). From 50,000 high scorers nationwide, National Merit Commended Students are selected. Medfield High School Principal Robert Parga is proud to announce the following MHS seniors have received this outstanding distinction: Marcus D'Angelo, Abigail Frankel, Reis Hanna (row 1, left to right below), Senneth Hartvigsen, Tristan Marble, Benjamin Previte, and Elizabeth Scheck (row 2, left to right).
CONGRATULATIONS TO ALL and GO WARRIORS!
---
GETTING IN TOUCH WITH US...IN THE TIME OF CORONAVIRUS
We appreciate your cooperation as we navigate these unusual times. If you need to meet with a staff member (guidance department, teacher, administration), please reach out to that person to schedule an appointment to be conducted remotely via Zoom.
---
FROM THE HEALTH OFFICE
REMINDER: IT IS ESSENTIAL that all students return their BLUE Emergency Health forms to the main office as soon as possible! This information is especially important during this pandemic. (Parents/Guardians: If you haven't seen the form yet, please ask your student if they have it in their backpack!)
---
SCHOOL PICTURE DAYS FOR MHS STUDENTS ARE THIS WEEK!
Student picture days have been scheduled for MONDAY, October 19th (Cohort A) and THURSDAY, October 22nd (Cohort B). The photos will be taken outside in the tent at the front of the building to allow for appropriate social distancing.
---
GUIDANCE OFFICE NEWS & NOTES
ATTENTION JUNIORS & SENIORS!
Virtual college rep. visits for this week include the schools listed below. Please log on to your Naviance account and sign up for the virtual sessions you are interested in (each session lasts about 20 minutes). Virtual visits with the following schools are scheduled the week of 10/19 - 10/23:
Monday: Villanova University, George Washington University, Lafayette College
Tuesday: DePauw University, American International College, Rutgers University
Wednesday: University of Massachusetts-Dartmouth, University of New England,
Temple University
Thursday: Western New England University, St. Bonaventure University,
University of Richmond
Friday: Goucher College, Lasell University, University of New Hampshire
---
Thanks for your patience as we settled some logistics with Jostens! These are unprecedented times, but the good news is that MHS remains committed to producing a yearbook, including a section full of senior portraits and as much coverage of memorable moments as possible. Please review THIS PDF for details on how to submit photos, how to pre-order yearbook copies, etc. We are looking forward to a fantastic year...and yearbook!
---
SEPAC (virtual) MEETING IS TUESDAY, OCTOBER 20th @ 7:00 PM
Please join SEPAC (Special Education Parent Advisory Council) for a presentation of Basic Rights in Special Education on Tuesday, October 20 at 7:00 PM. This discussion will be led by Mary Bruhl, Director of Student Services in Medfield, Kathleen Bernklow, Director of Student Services in Medway and Sue Anne Marks, Director of Student Services in Millis.
The Basic Rights presentation is a comprehensive introduction to special education laws and procedure. The presentation will cover: the purpose of the law, when and how to make a referral, evaluations, the Team meeting process, standards for determining eligibility,services and placement, what to do if the team decides the student is not eligible, what happens after the close of the Team meeting, parent's response options to an IEP, and procedural due process rights for resolving disputes.
Please click this URL to join. https://medfield-net.zoom.us/j/82051349408?pwd=RVNRdlluR1I5SUhBUEEyeEtxYmE0dz09
Passcode: 889770
Or join by phone:
Dial(for higher quality, dial a number based on your current location):
US: +1 312 626 6799 or +1 929 436 2866 or +1 301 715 8592 or +1 346 248 7799 or +1 669 900 6833 or +1 253 215 8782
Webinar ID: 820 5134 9408
Passcode: 889770
---
MEDFIELD OUTREACH PROVIDES WEEKLY MENTAL HEALTH OPEN HOURS
On Thursdays, during the month of October, between the hours of 10:00 AM and 11:30 AM, Medfield Outreach will be offering free drop-in hours for personal, individualized appointments with two licensed mental health professionals. To find out more, click HERE.
---
MASSACHUSETTS LIONS YOUTH SPEECH CONTEST
It's time again for the Massachusetts Lions Youth Speech Contest! The Massachusetts Lions Youth Speech competition never crowned a state champion last spring because of the statewide stay at home order. We had 5 "Co-champions". This year the committee that organizes the state-wide competition is putting together procedures to hold competitions virtually for as long as necessary.
This year's speech topic is, "Is Winning Everything?", and the first round of competition will be held on Wednesday evening, December 16. Please see this informational FLYER for all the details.
---
MHS BOYS SOCCER FUNDRAISER AT ITALIAN GROCERIA
Take a break from cooking while helping to support the team and a local business! On Tuesday, October 20th, from 5:00-8:00 PM, the Italian Groceria on Main Street in Medfield will donate 30% of their evening's sales to the MHS Boys Soccer program. Please call in an order or stop by for pizzas, sandwiches, salads and more. Gift card purchases will help support the team, too!
---
SUPPORT THE MEDFIELD MUSIC ASSOCIATION THIS HOLIDAY SEASON!
WREATHS & BULBS! Medfield Music Association's Fall Fundraiser is in full swing. The MMA is accepting orders NOW for or our beautiful, updated 20" Noble Fir wreaths with natural incense cedar, juniper, ponderosa cone accents, and exceptional needle retention. The new design was met with rave reviews and COMPLETELY SOLD OUT last year. Also, NEW THIS YEAR, we're offering amaryllis bulb kits in assorted colors. Visit https://www.medfieldmusicassociation.com/shop for more information or to purchase. Thank you for your support!
---
THE CULTURAL ALLIANCE OF MEDFIELD NEEDS YOU!
Join the Cultural Alliance to bring beauty to the State Hospital grounds while we learn from the best – Monique Allen of The Garden Continuum in Medfield. We'll work alongside Monique and her team to plant 6,000 bulbs for a magnificent spring display in a new garden bed by the Chapel!
Visit https://MedfieldCulture.org to volunteer on Oct. 24 or make a donation to buy bulbs in honor or in celebration of a favorite teacher, friend or family member and the Cultural Alliance will mail them a note.
---
MUSIC at the MEETINGHOUSE: DAN & CLAUDIA ZANES ONLINE CONCERT
---
MEDFIELD COALITION FOR PUBLIC EDUCATION NEWS

ONE MEDFIELD MOVES!
Walk, Run, Bike, Rollerblade, Swim or Skip your way to 20.52miles between now and November 30th! The $25 fee per participant (all ages welcome) gets you: a tracking sheet for recording your mileage, "One Medfield" t-shirt after your mileage is complete and weekly emails to keep you motivated.
This event is sponsored by Medfield Orthodontics.
FLORAL WORKSHOP: Join MCPE for the first event in our One Medfield Virtual FunRaising Night In series with Alice's Table! REGISTER NOW!
MCPE has partnered with Alice's Table to bring this private fundraising workshop to your home on November 19th at 8:00 PM just in time for the fall holiday season! Sign up for this exclusive virtual class and create your own stunning holiday centerpiece.
Each ticket includes an abundance of farm-fresh flowers and a planter delivered to your doorstep the day before the event, so all you need to have on hand is your computer, a pair of scissors or floral clippers and some water!
Visit medfieldcoalition.org for more information on these exciting initiatives and other upcoming events!
DRIVEWAY PAINTING: For only $35 you can sign up NOW to have our special "Medfield M" logo painted on your driveway to show your community spirit! Sign ups are limited, so don't miss your chance! Sign ups will be accepted through October 23. You will be contacted 24 hours before painting will occur. This event is sponsored by Will's Hardware.
Visit medfieldcoalition.org for more information on these exciting initiatives and other upcoming events!

CLICK this LINK for more information about this event.
---
DID YOU KNOW that you can now follow us on FACEBOOK, INSTAGRAM (@medfieldhs) and on TWITTER (@MedfieldHS)? If you are a fan of social media, you can keep up with the latest news from MHS by following us on any of these platforms.
To submit items to the WEEKLY NEWS UPDATE, please email MJ Ingram at mingram@email.medfield.net by 8:00 AM on Monday mornings.