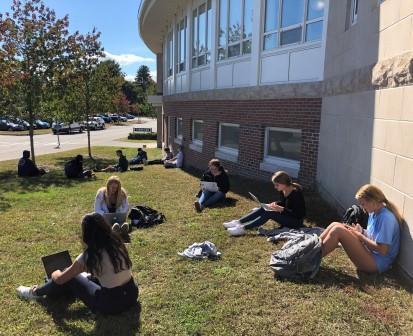 News Update - October 13, 2020
Medfield High School
Tuesday, October 13, 2020
THIS WEEK AT MHS:
Oct. 13 - Cohort A in person
Oct. 14 - ALL REMOTE
Oct. 14 - SAT Day @ MHS (Pre-registered MHS Seniors ONLY)
Oct. 15 - Cohort B in person
Oct. 16 - Cohort B in person
LOOKING AHEAD:
Oct. 19-21 Term 1 Open Gradebooks (visible via the Aspen portal)
Oct. 19 Cohort A in person
Oct. 20 Cohort A in person
Oct. 21 ALL REMOTE (Advisory @ 11:40 AM)
Oct. 22 Cohort B in person
Oct. 23 Cohort B in person
---
MHS launches HYBRID HUB, an informational and resource site for PARENTS/GUARDIANS and STUDENTS! Check out the NEW GOOGLE SITE we have created for you with videos, class schedules, and much, much more. Click HERE to check it out.
---
FROM THE HEALTH OFFICE
REMINDER: Please return your blue Emergency Health form to the main office as soon as possible! This information is especially important this year.
---
COMING SOON! SCHOOL PICTURE DAYS FOR STUDENTS
Student picture days have been scheduled for MONDAY, October 19th (Cohort A) and THURSDAY, October 22nd (Cohort B). The photos will be taken outside in the tent at the front of the building to allow for appropriate social distancing.
---
MHS WRITING CENTER UPDATE Tutoring Appointments make for a busy start!
Yes! The MHS Writing Center is available to all students again this year.
Ms. Garcia and Ms. Wren-Burgess (WB) have been meeting with students to work on college application essays and college supplements, resumes, academic essays, and other writing assignments for classes.
Signing up for a tutoring appointment is the same as it has been for several years: via the weekly Writing Center email, students simply click on the Sign Up Genius to fill in their names for the tutoring appointment time that works best for them in the coming week.
Differences this year:
Students will receive an email from either Ms. Garcia or WB confirming their appointment day and time, together with a link for the zoom meeting, and a request for the student to share their writing with the teacher.

Typically, students sign up for writing center appointments during their remote cohort days, and anyone can sign up for Wednesday Writing Center appointments.
But students don't need to wait until they have a finished paper to make an appointment!
Students who want help getting started, need help with their writing in the midst of their writing, as well as those who want to review finished pieces before submission, are all welcome to make appointments for the Writing Center!
If you have questions or concerns about the Writing Center, please feel free to reach out to Ms. Garcia and/or WB at
mhswritingcenter@email.medfield.net
---
GUIDANCE OFFICE NEWS & NOTES
ATTENTION SENIORS!
In preparation for the SATs on Wednesday, October 14th, please adhere to the following protocols and abide by the following directions:
REPORT TIME: 7:45AM
COHORT A enters through Main Entrance (DOOR 1)
COHORT B enters through GYM Entrance (DOOR 2)
TESTING LOCATIONS:
COHORT A: OLD MATH/ENGLISH WING (2nd floor).
COHORT B: LMC/CAFE OLD HISTORY WING (1st floor).
Rooms & Rosters will be posted by the entrances.
ITEMS TO BRING:
#2 Pencils, calculator, ID, mask.
Snacks are allowed, but only during breaks.
TIMING:
7:45AM Report time. 8AM testing begins.
Testing times will range between 4.5-6 hours.
SCORING:
College Board stated scores will be released on 11/4.
LOGISTICS:
Cell phones will be collected, feel free to leave them at home/in the car. Due to COVID protocols you cannot switch from essay to no essay and vice versa.
ATTENDANCE:
If you decide to NOT test on Wednesday, October 14th, you are expected to report to all scheduled school zooms.
Those taking the SAT are excused from class zooms.
If you feel ill, please do not report to the SAT session on Wednesday. If you have any questions regarding the upcoming SAT on Wednesday, October 14th, please contact your guidance counselor.
ATTENTION JUNIORS & SENIORS!
Virtual college rep. visits for this week include the schools listed below. Please log on to your Naviance account and sign up for the virtual sessions you are interested in (each session lasts about 20 minutes). Virtual visits with the following schools are scheduled the week of 10/13 - 10/16:
Tuesday: US Air Force, Stevens Institute of Technology, DePaul University
Wednesday: Union College, Connecticut College, Ringling College of Art & Design
Thursday: College of Charleston, High Point University, University of Delaware
Friday: Providence College, Binghamton University, Nichols College
STUDENT MILITARY OPT-OUT FORM
In accordance with the No Child Left Behind Act (NCLB) and the National Defense Authorization Act (NDAA), school districts must now provide, upon request, the names, addresses, and telephone numbers of all secondary students (grades 9-12) to military recruiters and institutions of higher education provided that the school notifies parents and students of their right to request that this information not be released without their prior written consent and that the school complies with such requests. If you do NOT want your student's name to be released please submit this FORM for the guidance department. PLEASE NOTE: the completed form must be submitted no later than October 15th.
---
NEWS FROM THE WORLD LANGUAGES AND CULTURES DEPARTMENT
The Seal of Biliteracy is "... an award given by a school, school district, or state in recognition of students who have studied and attained proficiency in two or more languages by high school graduation. The class of 2020 was the first class at Medfield High School to graduate with the Massachusetts State Seal of Biliteracy. Medfield recognized 39 seal recipients. We were proud to award the Seal of Biliteracy to 19.2% of last year's graduating class. Please read the attached DOCUMENT for more information.

---
Thanks for your patience as we settled some logistics with Jostens! These are unprecedented times, but the good news is that MHS remains committed to producing a yearbook, including a section full of senior portraits and as much coverage of memorable moments as possible. Please review THIS PDF for details on how to submit photos, how to pre-order yearbook copies, etc. We are looking forward to a fantastic year...and yearbook!
---
NEWS FROM THE MHS PTO
DATE CHANGE:
Due to the Dale Street School Project Open Forum scheduled for 10/14 @ 6pm, the MHS PTO meeting will be changed from 10/14 to 10/21 at 7pm. Robert Parga will be in attendance for the Principal Report and to answer questions. We hope you can join us!
Join Zoom Meeting https://us02web.zoom.us/j/8670...
Meeting ID: 867 0620 3723
---
MEDFIELD OUTREACH TO PROVIDE WEEKLY MENTAL HEALTH OPEN HOURS
On Thursdays, during the month of October, between the hours of 10:00 AM and 11:30 AM, Medfield Outreach will be offering free drop-in hours for personal, individualized appointments with two licensed mental health professionals. To find out more, click HERE.
---
MASSACHUSETTS LIONS YOUTH SPEECH CONTEST
It's time again for the Massachusetts Lions Youth Speech Contest! The Massachusetts Lions Youth Speech competition never crowned a state champion last spring because of the statewide stay at home order. We had 5 "Co-champions". This year the committee that organizes the state-wide competition is putting together procedures to hold competitions virtually for as long as necessary.
This year's speech topic is, "Is Winning Everything?", and the first round of competition will be held on Wednesday evening, December 16. Please see this informational FLYER for all the details.
---
MHS BOYS SOCCER FUNDRAISER AT ITALIAN GROCERIA
Take a break from cooking while helping to support the team and a local business! On Tuesday, October 20th, 5-8 p.m. Italian Groceria on Main Street in Medfield will donate 30% of their evening's sales to Medfield High School Boys Soccer. Please call in an order or stop by for pizzas, sandwiches, salads and more. Gift card purchases will help support the team, too.
---
THE CULTURAL ALLIANCE OF MEDFIELD NEEDS YOU!
Join the Cultural Alliance to bring beauty to the State Hospital grounds while we learn from the best – Monique Allen of The Garden Continuum in Medfield. We'll work alongside Monique and her team to plant 6,000 bulbs for a magnificent spring display in a new garden bed by the Chapel!
Visit https://MedfieldCulture.org to volunteer on Oct. 24 or make a donation to buy bulbs in honor or in celebration of a favorite teacher, friend or family member and the Cultural Alliance will mail them a note.
---
MUSIC at the MEETINGHOUSE: DAN & CLAUDIA ZANES ONLINE CONCERT
WHAT: AN EVENING OF MUSIC WITH DAN & CLAUDIA ZANES
WHERE: ONLINE, LIVE ZOOM CONCERT
WHEN: SATURDAY, NOVEMBER 7, 2020, 7 p.m.
EVENT WEBSITE LINK: https://www.eventbrite.com/e/an-evening-with-dan-claudia-zanes-tickets-122891677315
TICKET PRICE: $15/Household
CONTACT: Eva Conley Kendrick, Director of Music, First Parish Unitarian Universalist of Medfield. 774-526-5093. evakendrick@comcast.net
---
MEDFIELD COALITION FOR PUBLIC EDUCATION NEWS
ONE MEDFIELD MOVES!
Walk, Run, Bike, Rollerblade, Swim or Skip your way to 20.52miles between now and November 30! $25 per participant (all ages welcome) gets you: a tracking sheet for recording your mileage, "One Medfield" t-shirt after your mileage is complete and weekly emails to keep you motivated.
This event is sponsored by Medfield Orthodontics.
FLORAL WORKSHOP: Join MCPE for the first event in our One Medfield Virtual FunRaising Night In series with Alice's Table! REGISTER NOW!
MCPE has partnered with Alice's Table to bring this private fundraising workshop to your home on November 19 at 8:00 just in time for the Fall holiday season! Sign up for this exclusive virtual class and create your own stunning holiday centerpiece.
Each ticket includes an abundance of farm-fresh flowers and a planter delivered to your doorstep the day before the event, so all you need to have on hand is your computer, a pair of scissors or floral clippers and some water!
Visit medfieldcoalition.org for more information on these exciting initiatives and other upcoming events!
---
DRIVEWAY PAINTING: For only $35 you can sign up NOW to have our special "Medfield M" logo painted on your driveway to show your community spirit! Sign ups are limited, so don't miss your chance! Sign ups will be accepted through October 23. You will be contacted 24 hours before painting will occur. This event is sponsored by Will's Hardware.
Visit medfieldcoalition.org for more information on these exciting initiatives and other upcoming events!
CLICK this LINK for more information about this event.
---
We appreciate your cooperation as we navigate these unusual times. If you need to meet with a staff member (guidance department, teacher, administration), please reach out to that person to schedule an appointment to be conducted remotely via Zoom.
DID YOU KNOW that you can now follow us on FACEBOOK, INSTAGRAM (@medfieldhs) and on TWITTER (@MedfieldHS)? If you are a fan of social media, you can keep up with the latest news from MHS by following us on any of these platforms.
To submit items to the WEEKLY NEWS UPDATE, please email MJ Ingram at mingram@email.medfield.net by 8:00 AM on Monday mornings.