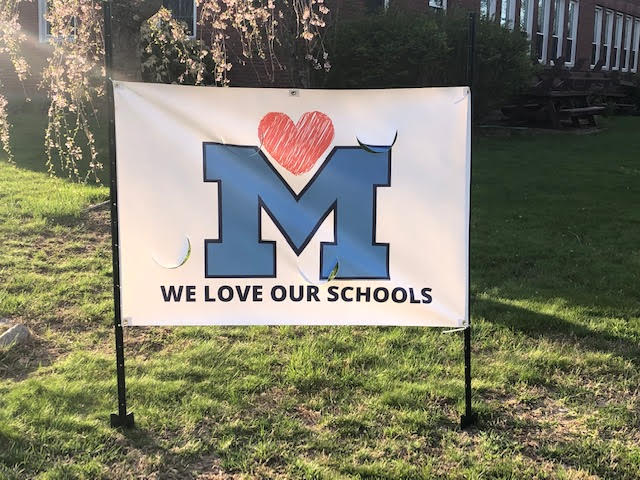 Weekly News Update - June 15, 2020
Medfield High School
Monday, June 15, 2020
---
JUNE 16 - Last day of school (half day)
SEPT. 2 - First day of school
---
FINAL REPORT CARDS FOR UNDERCLASSMEN!
We are anticipating that final report cards will be available through the Aspen portal by the end of this week. Watch for the email notification when they have been posted.
---
AND THE 2020 TEACHER INSPIRATION AWARD GOES TO...PERRY OASIS!
Each year members of the senior class are asked to nominate a MHS faculty member who inspires them both personally and intellectually in the classroom and sometimes on the playing fields. A seven member committee of seniors tabulates and reviews the nominations and comments. This year, over 30 teachers were nominated...the most ever! Social studies teacher, girls JV soccer coach, Model UN club advisor and Class of 2022 co-advisor, Perry Oasis was chosen as this year's recipient. Sponsored by the MHS PTO, the recipient is added to the plaque of past winners (located across from the main office). In addition, the Inspiration Award recipient receives a $50 gift certificate and a grant for their classroom from the PTO. Congratulations, Perry!
---
FROM THE OFFICE OF THE ATHLETIC DIRECTOR, ERIC SCOTT
INTERESTED PLAYING FALL SPORTS AT MHS?
Fall Athletics registration is open! Please register ASAP (before Tuesday, June 16th) as all fall sports will have their athletic meetings on Tuesday evening at 6:30 pm, online via Google Hangouts. Invitations will be sent to you directly from coaches after you have signed up.
Registration can be found here:
https://www.familyid.com/organizations/medfield-athletics
An overview of FALL ATHLETICS can be found here:
https://drive.google.com/file/d/1EbtGdLZA8U-9Ql0-wyJnsYhv91SRIJ6A/view
If you have any sport-specific questions feel free to reach out to coaches directly by email:
Football: Coach Ormberg (eormberg@email.medfield.net)
Boys Soccer: Coach Heim (jheim@email.medfield.net)
Girls Soccer: Coach Lafrancesca (mlafrancesca@email.medfield.net)
Boys Cross Country: Coach Kraemer (mkraemer@email.medfield.net)
Girls Cross Country: Coach Lyon (dlyon@email.medfield.net)
Volleyball: Coach Souza (csouza@email.medfield.net)
Field Hockey: Coach Driscoll (adriscoll@email.medfield.net)
Golf: Coach Oliverio (foliverio@email.medfield.net)
---
EVENING OF EXCELLENCE
Medfield High School will be hosting a Virtual Evening of Excellence event! During the program, awards will be presented along with recognitions for students' outstanding academic achievements and contributions to Medfield High School. The administrators and faculty of Medfield High School have collaborated with Medfield TV and have a TENTATIVE DATE for airing the presentation on Friday, June 19th at 7:00pm. The YouTube link to the program will be available and shared after the event is presented on Medfield TV. We will be forwarding the final date/time as soon as it is confirmed.
GUIDANCE OFFICE NEWS & NOTES
The MHS Guidance Department is a great resource for all students and parents, especially when the schools have been closed due to the pandemic. Their website is updated weekly and has something of interest for everyone. To view THIS WEEK's UPDATE FROM GUIDANCE, click HERE
---
Thanks in advance for being so patient regarding the yearbooks! In these unprecedented times, there have been some backups at the Jostens production plant, but they are working hard. Our shipment is due to arrive in mid June, which is later than usual, but that is understandable and unavoidable. We still aren't sure about distribution logistics yet, so stay tuned. In the meantime, if you haven't ordered your copy yet, please do so! The online ordering portal is open until June 15. Here is the link! http://jostensyearbooks.com/?REF=A01095588
By the way, a MHS Yearbook email recently went out to all students and families about how Jostens has created a digital yearbook-signing platform. It is a new and exciting way for students to create and print extra pages for themselves, especially since there is no spring supplement this year due to the unfortunate cancellation of spring sports and spring events. The digital yearbook-signing platform is secure, free, and customizable. If you are interested, just follow the steps below to get started!
Step 1: Click on this link: https://yearbooksigning.josten...
Step 2: Register with your name, your school name, your end date (so that you can decide when to wrap it up and print your extra pages), and your state.
Step 3: Verify your registration and receive your unique URL.
Step 4: Share your unique URL with friends...teachers...whomever you would like. Do NOT do this on social media unless you want random people signing your pages. It is recommended that you share your unique URL via emailing, texting, direct messaging, etc.
Step 5: Enjoy reading the digital messages as they come in. Once done with your signing section, save it as a PDF and then print and place it in your yearbook (when it finally arrives) for years to come!
---
DID YOU KNOW that you can now follow us on FACEBOOK, INSTAGRAM (@medfieldhs) and on TWITTER (@MedfieldHS)? If you are a fan of social media, you can keep up with the latest news from MHS by following us on any of these platforms.
To submit items to the WEEKLY NEWS UPDATE, please email MJ Ingram at mingram@email.medfield.net by 8:00 AM on Monday mornings.