Weekly News Update - June 9, 2020
Medfield High School
Tuesday, June 09, 2020
DATES TO REMEMBER
JUNE 10, 11, 12 - Grades 9, 10, 11 school materials drop-off (details sent last week in an email to all underclassmen students and their families).
Please make sure you have signed up for a timeslot, come on time, wear a face mask and have filled out the online form. To read the email, click HERE.
JUNE 16 - Last day of school (half day)
---
Thanks in advance for being so patient regarding the yearbooks! In these unprecedented times, there have been some backups at the Jostens production plant, but they are working hard. Our shipment is due to arrive in mid June, which is later than usual, but that is understandable and unavoidable. We still aren't sure about distribution logistics yet, so stay tuned. In the meantime, if you haven't ordered your copy yet, please do so! The online ordering portal is open until June 15. Here is the link! http://jostensyearbooks.com/?R...
By the way, a MHS Yearbook email recently went out to all students and families about how Jostens has created a digital yearbook-signing platform. It is a new and exciting way for students to create and print extra pages for themselves, especially since there is no spring supplement this year due to the unfortunate cancellation of spring sports and spring events. The digital yearbook-signing platform is secure, free, and customizable. If you are interested, just follow the steps below to get started!
Step 1: Click on this link: https://yearbooksigning.josten...
Step 2: Register with your name, your school name, your end date (so that you can decide when to wrap it up and print your extra pages), and your state.
Step 3: Verify your registration and receive your unique URL.
Step 4: Share your unique URL with friends...teachers...whomever you would like. Do NOT do this on social media unless you want random people signing your pages. It is recommended that you share your unique URL via emailing, texting, direct messaging, etc.
Step 5: Enjoy reading the digital messages as they come in. Once done with your signing section, save it as a PDF and then print and place it in your yearbook (when it finally arrives) for years to come!
---
A TRIBUTE TO THE LATE, GREAT BILL WITHERS
Shortly after Bill Withers' passing about two months ago, Blake principal, Nat Vaughn, reached out to the music department staff wondering if a student performance of Lean On Me would be possible. Ann Marie Tremblay and Ryan Dexter had been considering getting a virtual ensemble project off the ground, and this seemed to be the perfect opportunity.
Fast forward to today, after many collective hours of individual student preparation, arranging and audio/video mixing, Ryan and Ann Marie are pleased to share with you a virtual performance of Lean On Me by about 40 MHS and Blake Jazz Ensemble and Jazz Choir students. CLICK to view.
As Ryan Dexter expressed it…"This music couldn't be more relevant right now. Given all of our present circumstances, I can't think of a better way to embrace the power that music has in our society and in the education of our students."
---
FROM THE VISUAL ARTS DEPT...
In times of crisis and civil unrest, art can be a source of hope, change, and expression. About a month ago, Art 2 students started on their socially conscious art project. Students got a chance to choose any topic that they were interested in, do some research, and create a work of art about it.
Some of these works are controversial, some are personal, but they are all passionate and powerful. All the topics you see are student selected and interpreted. It is so important that in times like these, our students have a voice and a creative outlet to express their opinions and frustrations.
Since it feels more timely than ever right now, MHS art teacher, Sarah Higger, wanted to share these pieces with you. A slideshow of students' work, along with their artist statements has been assembled and can be viewed if you follow the link below. As Ms. Higger commented…"For myself, looking at artwork, especially from our students, gives me hope, and knowing that these students are so passionate and thoughtful about worldly issues lets me know that our future is in good hands." Click HERE to see more. (Artwork at top, Ocean Pollution by Annie Kennedy)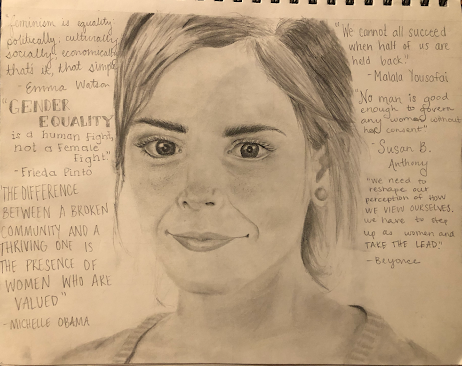 Gender Equality - art by Kathryn Blake
---
GUIDANCE OFFICE NEWS & NOTES
Due to the pandemic and the ensuing restrictions needed to stem the spread of Covid-19, the Class of 2020 was not able to celebrate its Senior Recognition Night or our traditional Class Day events. These events recognize the outstanding achievements of many of our graduates. Scholarships are awarded from local organizations to celebrate their pursuit of excellence in academics, athletics, the arts and throughout our community.
K-12 Guidance Department Chair, Stephanie Worthley, with the help of Medfield TV, was able to coordinate an effort to put together this production along with members of the MHS Faculty. This past Friday night, a VIRTUAL SENIOR RECOGNITION NIGHT/CLASS DAY for the CLASS OF 2020 was broadcast. If you didn't get a chance to watch it Friday, you can find this presentation on the Medfield TV YouTube channel by following this link: https://youtu.be/4sN5NvQNmmY.
We are very grateful to Medfield TV for their support in making this broadcast possible. Medfield High School, the CLASS of 2020 and their families THANK YOU VERY MUCH!
The MHS Guidance Department is a great resource for all students and parents, especially when the schools have been closed due to the pandemic. Their website is updated weekly and has something of interest for everyone. To view THIS WEEK's UPDATE FROM GUIDANCE, click HERE
---
DID YOU KNOW that you can now follow us on FACEBOOK, INSTAGRAM (@medfieldhs) and on TWITTER (@MedfieldHS)? If you are a fan of social media, you can keep up with the latest news from MHS by following us on any of these platforms.
To submit items to the WEEKLY NEWS UPDATE, please email MJ Ingram at mingram@email.medfield.net by 8:00 AM on Monday mornings.