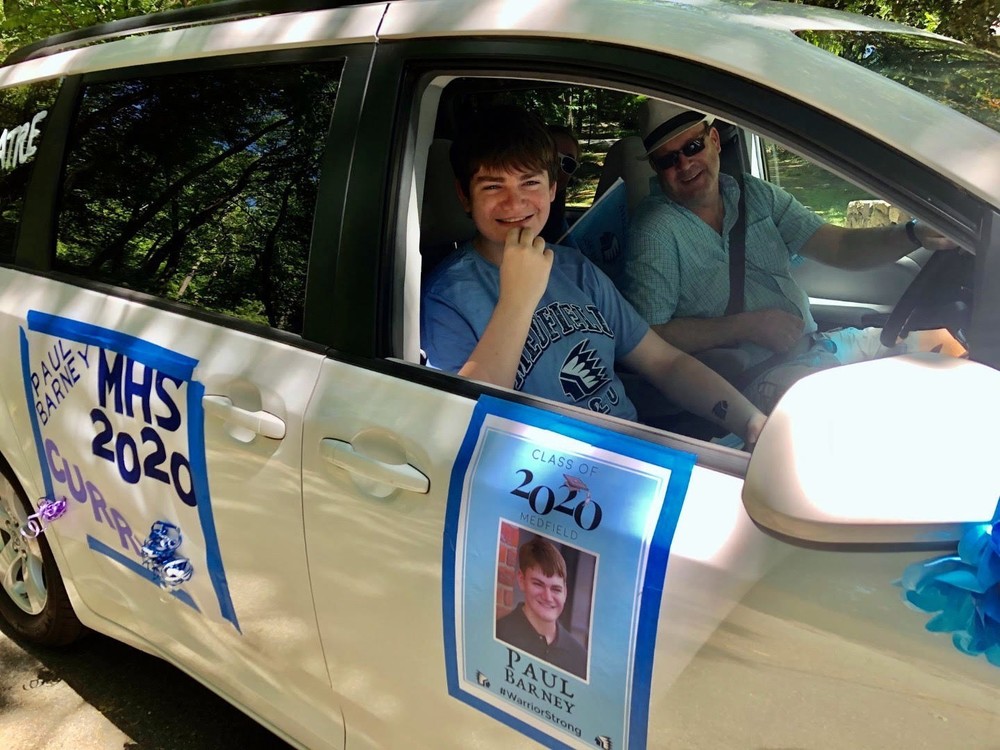 Weekly News Update - June 1, 2020
Medfield High School
Monday, June 01, 2020
CLASS OF 2020 ROLLING RALLY CELEBRATES MEDFIELD'S WARRIOR PRIDE
Sunday, May 31st was supposed to be graduation day at Medfield High School but then Covid-19 made its appearance and things rapidly changed in our lives. Through the incredible ingenuity and creativity of MHS parent volunteers, a unique celebration was put together to honor and cheer on our seniors. School administrators, teachers, parents, students, town officials and MANY, MANY others made this event possible. Thanks to all who organized, decorated and came out to celebrate this class. Parents and their seniors were thrilled, excited, felt honored and even a few tears of happiness were shed. Here are a few photos from this most memorable day!
Photo credits: Meg Danielski (cover), Jean Mineo (top left), Lynne Malmquist (top right), Colleen Sullivan (bottom 2)
---
MHS LITERARY MAGAZINE CLUB PUBLISHES DAEMON 2020
We hope you enjoy looking through the pages of Daemon, the formal name of the Lit Mag. Typically, it is printed into a booklet, and copies are sold at school throughout May and June. However, this year is different. Since the building is closed due to COVID-19, we have gone virtual. Enjoy THIS electronic version...FOR FREE! Congratulations to the "published" student writers and artists, and many thanks to the MHS teachers and administrators for their support.
Cover photo by Zoe Zilinski
---
WE'RE SENDING OUT A HUGE THANK YOU to BROTHERS MARKETPLACE!
The generosity of our town continues to amaze us and make us proud. The pandemic has certainly challenged our usual routines at home and here at Medfield High School. Last week, seniors dropped off school items and were able to pick up their caps and gowns, school records and more. To limit contact and enhance social distancing, we were fortunate for the donation of over 200 paper shopping bags from BROTHERS MARKETPLACE for seniors to safely and quickly pick up their items. Thank you for your continuing support of our community!
---
GUIDANCE OFFICE NEWS & NOTES
The MHS Guidance Department is a great resource for all students and parents, especially when the schools have been closed due to the pandemic. Their website is updated weekly and has something of interest for everyone. To view THIS WEEK's UPDATE FROM GUIDANCE, click HERE
NO ZOOM FOR YOU? HOW ABOUT YouTube?
If you were unable to attend the Junior Parent Zoom sponsored by the Guidance Department last week, please find the link to the webinar here: https://youtu.be/wTJTVIKvQ00
---
Thanks in advance for being so patient regarding the yearbooks! In these unprecedented times, there have been some backups at the Jostens production plant, but they are working hard. Our shipment is due to arrive in early/mid June, which is later than usual, but that is understandable and unavoidable.We still aren't sure about distribution logistics yet, so stay tuned. In the meantime, if you haven't ordered your copy yet, please do so! The online ordering portal is open until at least June 8. Here is the link! http://www.jostensyearbooks.com/
---
WORLD LANGUAGES & CULTURES DEPT. NEWS
The Seal of Biliteracy
On November 22, 2017, Governor Baker signed into law "An Act Relative to Language Opportunity for Our Kids," Chapter 138 of the Acts of 2017, commonly referred to as the LOOK Act. The State Seal of Biliteracy is a key element of the LOOK Act. On June 26, 2018, the Board of Elementary and Secondary Education adopted regulations that describe the criteria that school districts must use to award the State Seal of Biliteracy.
The State Seal of Biliteracy program began in Massachusetts with the graduating class of 2019. Participation in the State Seal of Biliteracy Program is voluntary for districts. Medfield began piloting the testing for the program last spring and officially signed on to award the state seal to members of the graduating class of 2020 who meet the state criteria. We see this as an important measure for promoting the study of languages and encouraging global competency and awareness in today's world.
Significantly, the State Seal of Biliteracy provides a means to recognize high school graduates who attain high functional and academic levels of proficiency in English and a world language, meaning that those students can function in those languages in authentic, real-life situations. We are proud to recognize the following seniors who will be graduating with the Massachusetts State Seal of Biliteracy this year.
---
DID YOU KNOW that you can now follow us on FACEBOOK, INSTAGRAM (@medfieldhs) and on TWITTER (@MedfieldHS)? If you are a fan of social media, you can keep up with the latest news from MHS by following us on any of these platforms.
To submit items to the WEEKLY NEWS UPDATE, please email MJ Ingram at mingram@email.medfield.net by 8:00 AM on Monday mornings.