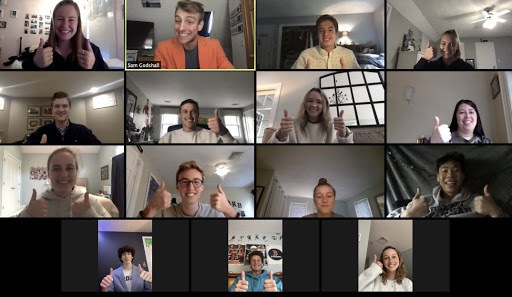 Weekly News Update - May 11, 2020
Medfield High School
Monday, May 11, 2020
CONGRATULATIONS to MHS SENIOR, Luca Leger!
Let's give a high five and a round of applause for MHS senior Luca Leger and his teammates, Mark Zhang from Nevada and Ryan Meehan from New York, for their third place award at the 71st Annual Massachusetts Science and Engineering Fair. This team's impressive entry explained the impact of the "Reduction of Carbon Monoxide Poisoning in Proton Exchange Membrane Fuel Cells via the Application of a Gold/Ruthenium Nanoparticle Monolayer." Well done, Luca!
Pictured from left to right:
Mark Zhang, Ryan Meehan, Luca Leger
---
AP EXAM SCHEDULE - MAY 2020
This year's AP Exams will commence this week with a Medfield-Specific Coronavirus Schedule that can be viewed by clicking this LINK. The 2020 AP Testing Guide is an online publication from College Board and is a must read for all students taking the upcoming AP Exams. Questions about the new format of this year's exams and more can be found HERE.
FROM THE GUIDANCE OFFICE…
The MHS Guidance Department is a great resource for all students and parents, especially when the schools have been closed due to the pandemic. Their website is updated weekly and has something of interest for everyone. To view the latest from guidance, click HERE.
---
FROM THE VISUAL ARTS DEPARTMENT…
Every year we are treated to an incredible display of work created by the MHS AP Art & Design students. This highly anticipated art show is usually set up in the MHS lobby. Although we won't have the usual show this year, their teacher, Meghan Drew, has created a virtual art show to which you are all invited! These works showcase not only the artistic skills of these seniors, but also give insight into their creative processes and personalities. Click HERE to view the amazing work of the following students: Julia Farrell, Juliana Grigg, Kelcey Harkins, Luca Leger, Ariana Marmai, Reilly Mulock, Caroline Nealon, Amanda O'Grady, Jenny O'Grady, and Anna Wietrecki.
"Fly Away" painting (acrylic) by Kelcey Harkins
---
HOW TO STAY HEALTHY IN THE TIME OF CORONAVIRUS...AND BEYOND!
The MHS Wellness Department has put together some tips and strategies for staff and MHS families to get and stay healthy. The pursuit of a healthy lifestyle is certainly a challenge during this time of stress, anxiety and confinement. If you head to the Wellness dept. WEBSITE, you will find many helpful resources ranging from workout calendars, to nutritious and delicious recipes. The site also provides suggested links to other wellness ideas that might be of interest.
---
MHS STUDENT COUNCIL UPDATE
Although this is a crazy and difficult time, Student Council has been working hard to raise the spirits of staff and students in an effort to bring the MHS community together. We may have to "stay at home", but we've been busy behind the scenes!
STAYING CONNECTED
Student Council runs an Instagram account called Medfield fans. In this account, we spread positivity by posting good news and informing the MHS community about upcoming events. If you haven't looked at this account already, go check it out (medfield_fans)!
IN A WORLD WHERE YOU CAN BE ANYTHING, BE KIND.
During kindness month, Student Council undertook several virtual kindness projects. This included a virtual compliment wall, teacher appreciation notes, and a seven-day kindness challenge. It was an amazing way to keep MHS students connected and involved.
A TIME TO CELEBRATE & APPRECIATE
Another initiative of appreciation inspired by MHS StuCo happened on April 1st. Medfield residents put battery-powered lights outside of their homes to show support for our hometown heroes, such as nurses, doctors, and first responders. In addition to the teacher notes created during kindness month, the council put together a video of students thanking teachers and presented it (virtually, of course!) to faculty members during TEACHER APPRECIATION WEEK. Though we were not in school to celebrate Principal's Day, Administrative Professionals Day, and Senior Week, we continue to make sure these special members of our MHS community are recognized and celebrated!
CONGRATS & BEST WISHES TO THE CLASS OF 2020
Fortunately, we were able to have a virtual banquet celebrating seniors who have served on Student Council. It was also time to swear in the new 2020-2021 board. As we near the end of the school year, we are moving forward with student government and student council elections, which are currently in progress. We're feeling optimistic about the future and we all hope to be back at school in the fall to start off the year strong!
"Zooming" with the Student Council Executive Board
---
FROM THE OFFICE OF SOCIAL EMOTIONAL LEARNING...
On Tuesday, May 19th at 8:00 pm, the Medfield Public Schools, in conjunction with Medway Public Schools are hosting an interactive Webinar, "Pandemic Parenting" with Rachel Simmons. Rachel Is the Director of Leadership at Smith College and is a nationally recognized author and specialist in parenting strategies for families of all ages. Please see this flyer for more information. To register, click here:
https://attendee.gotowebinar.com/register/9050138889043905806
After registering, you will receive a confirmation email containing information about joining the webinar.
Here are some other great opportunities for parents. The Yale Center for Emotional Intelligence is at the forefront of the newest research and science on EQ (Emotional Intelligence).
May 7th at 1:00 pm:
Yale Center for Emotional Intelligence - Check In! - Using the Mood Meter at Home
How are you feeling right now? How are your family members feeling? Most of us are experiencing a range of emotions, and uncertain circumstances tend to intensify what we feel. How might we use the Mood Meter at home as a jumping off point for family conversations around our feelings? We can start conversations about how we feel and about what we're doing with those feelings, in ways that feel both natural and easy. This webinar will provide strategies for helping family members understand themselves and one another better and for supporting the caring interactions most families hope to have.
May 11th at 1:00 pm:
Yale Center for Emotional Intelligence - Coping with Grief and Loss During COVID - 19
Grief is a normal and natural response to the many losses people are experiencing; from the loss of high school graduation, or a carefree springtime, to the tragic loss of life during the COVID-19 pandemic. In this webinar, we will explore theories of grief, loss and resilience. Participants will have the opportunity to learn strategies for talking about grief with adults and children, and for coping with experiences of grief and loss.
May 12th at 7:00 pm:
Teens, Tweens and Quarantine - Free session by Jon Mattleman brought by SPARK Kindness.
"Teens, Tweens, & Quarantines" is a presentation for parents focusing on the impact of COVID-19 on our children.
In a dynamic fashion, this talk will address:
- The teen/tween brain
- Explain why the COVID-19 pandemic is so difficult for this age group
- Survey the process of loss
- Discuss issues related to independence, autonomy, and privacy
- Offer perspectives and suggestions that parents can implement immediately
Parents & caregivers will also have the chance to ask questions and get answers for practical steps they can take in real time.
---
YEARBOOK UPDATE
Even though the school building is closed, the yearbook has been finished for weeks now and the Jostens printing plant in Tennessee is open and busy. Our copies should be ready for shipment in early June. We don't know what the distribution logistics will be just yet, but we are still accepting orders. Please don't miss out! While much of the yearbook was designed and sent to Jostens in batches at various points throughout the school year (before the school closure), there were a few pages left in March that squeezed in some COVID-19 coverage. Plus, Jostens provided some free inserts as well. If you haven't yet ordered a copy of the 2020 yearbook, here is the link! http://www.jostensyearbooks.com/
---
DID YOU KNOW that you can now follow us on FACEBOOK, INSTAGRAM (@medfieldhs) and on TWITTER (@MedfieldHS)? If you are a fan of social media, you can keep up with the latest news from MHS by following us on any of these platforms.
To submit items to the WEEKLY NEWS UPDATE, please email MJ Ingram at mingram@email.medfield.net by 8:00 AM on Monday mornings.