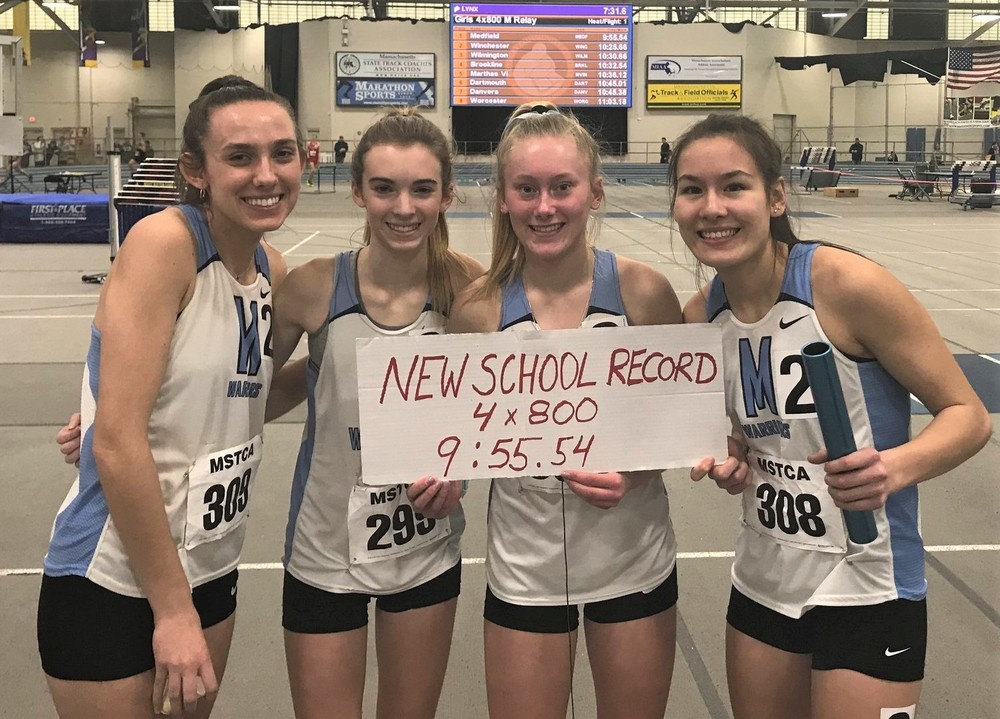 Weekly News Update - February 10, 2020
Medfield High School
Monday, February 10, 2020
MEDFIELD TALKS: The Impact of sleep on student health & performance
TUESDAY, February 11, 7:00 - 8:30 PM (MHS auditorium)
A5 CLUB presents a PANEL DISCUSSION re: HUMAN TRAFFICKING @ 7:00 pm
WEDNESDAY, February 12 (United Church of Christ, Medfield)
MHS BOYS TRACK FUNDRAISER: THURSDAY, Feb. 13, 5:00-8:00 pm, Italian Groceria
SCHOOL VACATION WEEK: February 17 - 21
MHS SITE COUNCIL MTG: MONDAY, February 24 @ 3:15 pm (main office conference rm)
GRADE 8 PROGRAM OF STUDIES NIGHT: THURSDAY, February 27, 6:30 - 8:30pm
MHS A CAPPELLA NIGHT - FRIDAY, February 28, 7:00 - 9:00 pm (MHS auditorium)
SPRING ATHLETICS INFO. MTG: MONDAY, March 2 @ 6:00 pm (Click HERE for more)
---
MHS INDOOR TRACK GIRLS RELAY TEAM BREAKS SCHOOL RECORD!
Congratulations to Kaitlyn Whelan, Olivia Tomlin, Alex Lusby and Ava Blake for breaking the school record in the 4 X 800 meter relay this past weekend. GO WARRIORS!
---
GIRLS & WOMEN IN SPORTS DAY 2020
Last Friday, February 17th, two of our junior athletes, Camilla Silk and Sabrina Lee, (along with Assistant Principal, Heather Mandosa) attended this annual celebration of "the many opportunities girls and women have to compete in sports throughout the Commonwealth and the nation." Held at the historic Faneuil Hall in Boston, this event is sponsored by MIAA and the women of the New Agenda: Northeast, whose mission is "to advance the role of girls and women in sports". It is an honor to be chosen to represent the entire student body at this celebratory event. Congratulations, Camilla and Sabrina!
Sabrina Lee (left) & Camilla Silk (at right)
---
LIBRARY MEDIA CENTER NEWS
Save the dates! Medfield High School will be recognizing Read Across America with a week-long celebration March 9th - 12th, 2020. During our 17th annual Café Read-A-Latte, the Library Media Center will be transformed. We create the atmosphere of a coffee shop inside a bookstore. We will be offering students beverages and snacks for $1.00. All students will have a chance to browse for books during their English classes. We will have displays of many new books for students to check out.
This year, young adult guest author Karen McManus, will be speaking to classes in the library on Friday, March 13th. She is the author of One of Us is Lying, Two Can Keep a Secret If One Is Dead, and the newly released One of Us Is Next. Students can pre-order copies of the books by filling out the following form and returning it to their English teachers. Forms will also be available in English classes. Karen will be available to autograph books during period 5.
---
FROM THE GUIDANCE OFFICE
PARENTS OF SOPHOMORES...
Save the Date! Sophomore Parent Night is Thursday, March 5th at 6:00 pm. Join the Guidance Department and learn about career exploration, future planning, course selection, mental health, and finding balance. Hope to see you there!
---
REMINDER: The deadline for online registration through Collegeboard.org for the March 14th SAT test is this FRIDAY, February 14th.
AP EXAM INFORMATION
COST FOR EACH EXAM: $100 LATE FEE $15 per test
PAYMENT WINDOW: January 21st--March 1st, 2020
If paying for AP exams presents a hardship of any kind, please speak to your child's guidance counselor. For students taking a high volume of exams we can set up monthly payment plans if necessary. If you have any questions regarding the AP exams, please contact the guidance office. For more information please see the AP Bulletin for Students & Parents here:
https://apstudents.collegeboard.org/ap/2019-10/ap-student-parent-bulletin-2019-20.pdf
---
MHS THEATRE SOCIETY PROGRAM NOTES
The Medfield High School Theatre Society will present Into the Woods with music and lyrics by Stephen Sondheim on Friday, March 13th at 7:00 pm, Saturday, March 14th at 7:00 pm or Sunday, March 15th at 2:00 pm.
DON'T MISS OUT! You can purchase your tickets here https://medfielddrama.weebly.com/ordering-tickets.html
---
---
MHS YEARBOOK
If you haven't yet designed/purchased a recognition ad (otherwise known as a baby ad) for a graduating senior, please do so! It has become a special tradition for families to acknowledge their soon-to-be graduates via baby ads. The DEADLINE is February 13. Here is the link: https://www.jostens.com/apps/shop/yrbk_ra_flash.asp?CID=270741&PFID=20190619041521990169. We really appreciate your interest and support!
---
A5 CLUB presents a PANEL DISCUSSION ON HUMAN TRAFFICKING
The MHS A5 Club, supported by the Amilia's Light organization, will host a panel discussion on February 12, 2020 from 7:00-9:00 pm at the United Church of Christ. The panel will be comprised of experts in the field of anti-trafficking. The event is free and open to all. To find out more, click HERE.
A5 is a club at Medfield High School, with a mission to spread awareness about human trafficking. The club works on an annual project to highlight the dark world of commercial sex trafficking and exploitation, with a focus on what is happening locally in our towns, throughout Massachusetts, New England, and the United States.
---
CLICK HERE to view the MHS DAILY ANNOUNCEMENTS.
---
---
ANGP SENIOR FASHION TICKETS ON SALE NOW!
Tickets are currently on sale for the MHS Fashion Show 2020! Come support our seniors in the biggest fundraiser for the All Night Graduation Party. Follow the LINK on the ANGP website to get your tickets before they sell out!
---
MEDFIELD MUSIC ASSOCIATION NEWS
Borchers Trust Law presents the third annual Medfield A Cappella Night on Feb. 28 at 7:00 pm in the HS auditorium! Come hear Medfield's own MHS Soundwaves, the Junior Jazz Choir, and groups from Newton North, Xaverian Brothers, and Montrose High Schools at last count. Tickets can be purchased at medfieldmusicassociation.com or will be sold at the door.
---
SENIOR PARENTS NIGHT OUT - a night of fun for our CLASS OF 2020 PARENTS hosted by Jennifer O'Connor to support the All Night Grad Party 2020.
TIME: Saturday, March 28th from 7:00-11:30 pm
PLACE: Dover Legion, 32 Dedham Street
The cost is $25 per person. You can VENMO @jennifer-oconnor-77402 or mail a check to 6 Juniper Lane. There are only 250 tickets available. Get yours NOW! Contact Jennifer O'Connor at Jennoconnor2000@hotmail.com or 508-479-0561 with any questions. Click HERE to view flyer.
---
MASSACHUSETTS MISS AMAZING!
Save the date! Massachusetts Miss Amazing is coming to Medfield High School for its seventh annual event! Miss Amazing's mission statement reads, "Miss Amazing provides opportunities for girls and women with disabilities to build confidence and self-esteem in a supportive environment." Join us in supporting this goal and giving these girls and young women an opportunity to shine. This full-day event is Saturday, March 28th, 2020 and will be held in the Medfield High School Auditorium at 6:00 pm. Ticket sales are open to the public beginning on March 14th at ma.missamazing.org. If you would like to donate, visit https://missamazing.org/donate/. If you want to volunteer with the event, you can sign up to be a buddy, half day volunteer (helping hand), or a right hand man online at https://missamazing.org/volunteer/. If you know a girl or young woman who might want to participate in this event, refer them to the Miss Amazing website so they can learn more! Sign up a participant at https://missamazing.org/participate/. See you there!
---
DID YOU KNOW that you can now follow us on FACEBOOK, INSTAGRAM (@medfieldhs) and on TWITTER (@MedfieldHS)? If you are a fan of social media, you can keep up with the latest news from MHS by following us on any of these platforms.
To submit items to the WEEKLY NEWS UPDATE, please email MJ Ingram at mingram@email.medfield.net by 8:00 AM on Monday mornings.