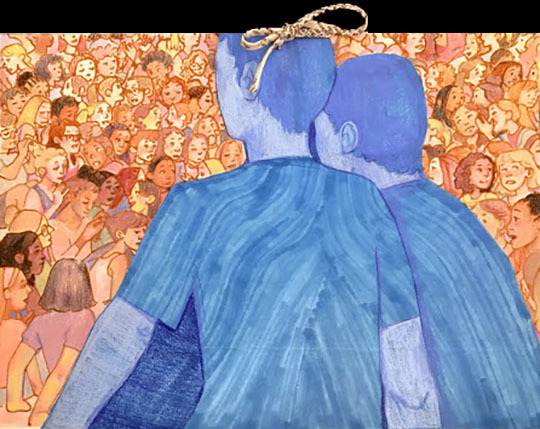 Weekly News Update - January 13, 2020
Medfield High School
Monday, January 13, 2020
COMING UP:
Thursday, January 16 @ 7:00 pm - MOXIE STRINGS CONCERT
Friday, January 17 - TEACHER PROFESSIONAL DAY - MHS Early Dismissal @ 11:10 pm
Monday, January 20 - Medfield Public Schools CLOSED - MLK, Jr. birthday observance
---
DID YOU KNOW that you can now follow us on FACEBOOK, INSTAGRAM (@medfieldhs) and on TWITTER (@MedfieldHS)? If you are a fan of social media, you can keep up with the latest news from MHS by following us on any of these platforms.
---
FROM THE VISUAL ARTS DEPARTMENT
Artwork of 4 MHS seniors has been selected among 75 entries to be displayed at the Emerging Artists Recognition Exhibit in Boston: Luca Leger (top left), Reilly Mulock (bottom left), Amanda O'Grady (bottom right) and Jenny O'Grady (top right).
This statewide exhibit will reflect original artworks from students in private and public schools throughout Massachusetts. The exhibit will run in conjunction with the Youth Art Month at the Mass Transportation building in Boston. An awards ceremony will be held on March 1, 2020. Congratulations and GO WARRIORS!
---
FROM THE GUIDANCE OFFICE...
ATTENTION JUNIORS & SENIORS!
The representative from the United States Navy will be visiting MHS during 2nd and 3rd lunch on Wednesday, January 15th, in the Guidance office.

---
REMINDER FOR SOPHOMORES
Medfield High School will be offering the ACT & Pre ACT test on February 8th. LATE registration deadline is January 17th. Students can register online at act.org.
---
LOCAL SCHOLARSHIP APPLICATIONS FOR SENIORS
Believe it or not, we are already talking with students about local scholarships! Tomorrow, (TUESDAY, JANUARY 14th) applications for local scholarships will open up for our seniors, and students have until THURSDAY, JANUARY 30th @3:00 pm to complete applications.

---
AP EXAM INFORMATION
All students enrolled in an AP course(s) will be receiving invoices for AP exam beginning on January 21st. The invoices will explain the format/instructions for payment.
COST FOR EACH EXAM: $100 LATE FEE $15 per test
PAYMENT WINDOW: January 21st--March 1st, 2020
As we get closer to the May exam dates we will be meeting with students to explain:
-The AP exam schedule
-Sending scores to colleges
-Eligibility for extended time
-Potential conflicts with exam and/or field trips
-Financial Aid
If paying for AP exams presents a hardship of any kind, please speak to your child's guidance counselor. For students taking a high volume of exams we can set up monthly payment plans if necessary. If you have any questions regarding the AP exams, please contact the guidance office. For more information please see the AP Bulletin for Students & Parents here:
https://apstudents.collegeboard.org/ap/2019-10/ap-student-parent-bulletin-2019-20.pdf
---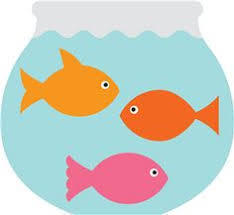 THE FISHBOWL PROJECT is swimming onto the scene at MHS!
MHS Senior Anna DeBettencourt is looking for help with her effort to change how Medfieldians discuss and perceive mental health. Her Girl Scout Gold Award, the Fishbowl Project, is looking for students in grades 8-12 to contribute and edit anonymous profiles about what it's like to live and go to school in Medfield. The goal of the project is to publish a full book of these profiles, but the deadline to get involved is January 17th! Questions can be emailed directly to project staff at thefishbowlprojectGA@gmail.com, or students can talk to Anna in person or contact her directly via her school email (adebettencourt2020@email.medfield.net).

---
CLICK HERE to view the MHS DAILY ANNOUNCEMENTS.
---
2020 ANGP SENIOR FASHION SHOW UPDATE
Thank you to the seniors who signed up for the 2020 Senior Fashion Show! For those who still wish to participate in the show on 3/21/20, please add your name to the sign-up sheet at the main office. We will collect names of participants until Tuesday, January 14th.
The next meeting for participants will be a quick 10 minute update in the cafeteria after school on January 29th. All key dates as well as pictures and a highlight video from 2019 can be found on the Facebook group: 2020 Medfield High School Fashion Show.
SENIOR FASHION SHOW PARENT VOLUNTEER MEETING
Tuesday, January 21st
7:00 to 8:00 pm
HS cafeteria
Please join us to learn more about this incredible MHS tradition and fundraiser! We need volunteers from all grades to help us make this night special for our seniors and their families. Any questions: email Maryanne Sullivan (maryannesullivan5@gmail.com) or Jesse Pezzullo (jessepezzullo@yahoo.com).
---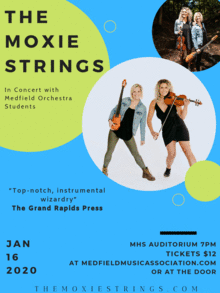 MEDFIELD MUSIC ASSOCIATION NOTES
The MMA is proud to sponsor a return visit of The Moxie Strings on January 16. The Billboard Top 20 classical strings musicians will work in clinics with Blake and MHS orchestra students during the day, and will perform a can't miss, high-energy concert with Medfield orchestra students that evening at 7:00 pm in the MHS auditorium. For tickets, visit medfieldmusicassociation.com or purchase at the door. Note that admission is free for ALL Medfield orchestra students!
---
MEDFIELD COALITION FOR PUBLIC EDUCATION UPDATE
Have you registered yet for MCPE's 7th annual Trivia Night? There are still a few spots left for our Trivia Night on FRIDAY, January 31! Grab your friends and register for this fun event at medfieldcoalition.org. Teams of up to 8 adult players (21 and over) will compete for prizes on January 31! This promises to be fast-paced and humor-filled, testing your knowledge in geography, sports, history, and more. All proceeds from this event will support the Medfield Public Schools.
---
LOOKING AHEAD:
The Medfield High School SITE COUNCIL will meet on TUESDAY, January 21st at 3:15 pm in the main office conference room.
---
To submit items to the WEEKLY NEWS UPDATE, please email MJ Ingram at mingram@email.medfield.net by 8:00 AM on Monday mornings.