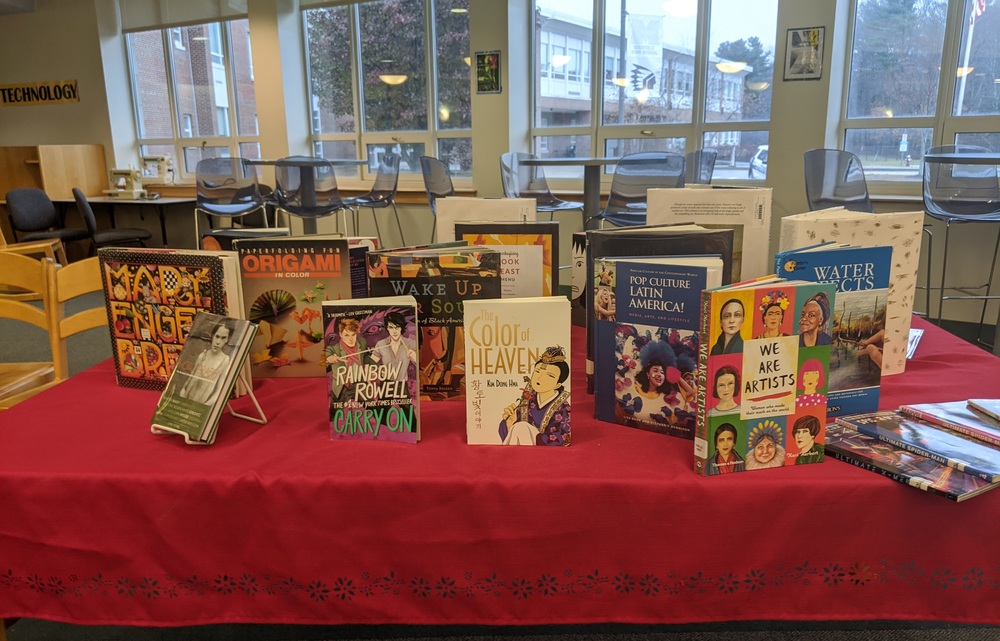 Weekly News Update - December 2, 2019
Medfield High School
Monday, December 02, 2019
2019 TEAM RIVAL Peer Leadership Conference
On Tuesday, November 26th a group of MHS students attended a peer leadership conference at Gillette sponsored by Norfolk County's District Attorney, Michael Morrissey. This is the first in a year-long series of events supported by the Massachusetts Office for Victim Assistance through a Drunk Driving Trust Fund grant. MHS students in attendance included: Campbell Ayer, Isabella Brown, Eleanor Cavanaugh, Wilston Destin, Ally Dubbs, Julia Farrell, Jackson Foscaldo, Max Goodman, Natalie Hagood, and Erin Sullivan.
Special congratulations to MHS senior, Marianna Apazidis, for the honor of being chosen as this year's Sam Berns Courage Award for Peer Leadership recipient. "This award is dedicated to Sam Berns (Oct. 23, 1996-January 10, 2014), whose "can do" attitude and positive outlook on life are inspirational. This award is given to youth who have exhibited the courage to do extraordinary things under challenging circumstances." GO WARRIORS!
---
HS December ADVISORY TOPIC: Communication
For the month of December we will continue our conversation about communication and screen time. Below, please find a podcast that may be of interest plus some additional resources.
Kids and screens are inseparable. What's it really doing to their brains?by: Great Schools Staff | September 6, 2017
Here are a few questions from
Confessions of a Distracted Parent
to choose from to foster a conversation with young people in your life.
Tell me what you see me doing on my screen.
Do you think I spend too much time?
Do you think I use it at inappropriate times?
What bothers you most about my screen use?
If you were to write a screen time contract for me, what would that include?
---
FROM THE GUIDANCE OFFICE...
JUNIOR PARENT FUTURE PLANNING NIGHT
Parents and guardians of the Class of 2021 are invited to join the guidance counselors on Thursday, December 5 from 6:30 - 8:30 pm for our Junior Parent Future Planning Night. We will share information with parents/guardians about college admission timelines and factors, utilizing Naviance in the college search, the Common Application, standardized testing, and mental health resources at the college level. We hope you can join us!

---
ATTENTION JUNIORS & SENIORS! The following college representatives will be visiting MHS during 2nd and 3rd lunch this week in the Guidance office. Please log in to your Naviance account to schedule a visit.
WEDNESDAY: University of Alabama
FRIDAY: United States Air Force

---
ATTENTION SOPHOMORES (CLASS OF 2022)
MHS OFFERING THE PRE-ACT IN FEBRUARY
In February of 2020 Medfield High School will be offering the PRE-ACT for all sophomores. This OPTIONAL practice test for the ACT is normed for sophomores and is a great LOW-STAKES introduction into the college admissions testing window.
To register, families will log onto https://aptsusa.com/medfield/pact/ The fee for the test will be $35.00 with an option for a fee reduction. The registration window will be from Friday, December 6th through Friday, January 10th.
The PRE-ACT will be held at MHS on Saturday, February 8th, 2020 at 7:45 am. The test is approximately two hours and ten minutes long with an additional 45 minutes for pre-registration on test day.
For more information about the PRE-ACT feel free to contact your guidance counselor or visit this link: https://www.act.org/content/dam/act/unsecured/documents/PreACT_info.pdf
COUNSELOR LAST NAME BREAKDOWN:
STEPHANIE WORTHLEY: A - Bo
KATHY MAHONEY: Br - E
ANNE LODGE: F - L
AMANDA PADDEN: M - Q
ERIK ORMBERG: R - Z

---
LIBRARY MEDIA CENTER UPDATE
The LMC welcomed Mr. Coutinho's and Ms. Thibeault's classes last week to create infographics. The students researched the dangers of vaping, then used infographics to share their information. The infographics were printed in color, mounted on construction paper, laminated, then hung in the hallways at Blake Middle School and MHS.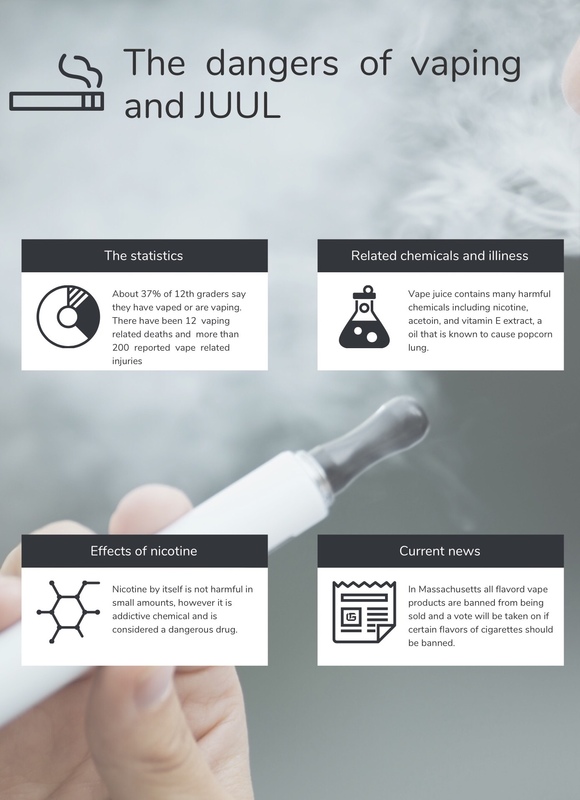 The students in all English classes were invited to take part in the Thanksgiving Book Feast. The books were arranged in a menu format. The short stories and poetry were the appetizers; the fiction, nonfiction, and biographies were the main course, and the graphic novels, art and magazines were the dessert. The students enjoyed the format and the time to peruse the many new books. The students checked out books in anticipation of the long weekend.
---
TERM 2 midpoint approaching...Teachers will open their grade books from Friday, Dec. 6th - Tuesday, Dec. 10th so that students and parents can view their current progress in all classes. Grade books will be visible through the Aspen portal.
---
WINTER IS COMING!
As we enter the winter months, please take a look at the different schedules in the event of a one-hour or two-hour delay. A non-block schedule (or seven period day) is typically followed on Mondays, Tuesdays or Fridays. Medfield High School follows a block schedule (four periods in a day) on Wednesdays and Thursdays. Both December 18 and 20 will follow the early dismissal schedule. For any changes to the daily schedule, please check out the new Medfield app or the high school's website at www.medfield.net.
---
CLICK HERE to view the MHS DAILY ANNOUNCEMENTS.

---
HOSTING OPPORTUNITY - Medfield High School collaborates with the Cambridge Network to bring international students to our school. We are looking for families in Medfield that are interested in the rewarding experience of hosting beginning after the Holiday break. Please see the attached flyer and FAQs sheet for more information about this opportunity. To learn more visit: www.CambridgeNetwork.com or reach out directly to Joanne Routenberg at 617-749-6654.

---
UPCOMING COMMUNITY EVENTS
SPAGHETTI WITH SANTA
Tickets are available for the festive annual MMA fundraiser "Spaghetti with Santa and Friends," which will take place on Tuesday, Dec. 10th, in the MHS Cafeteria. The 5:15 seating has SOLD OUT but there are still tickets for the 6:30 pm seating ! Young families won't want to miss this cherished winter tradition featuring MHS student musicians, photos with Santa, raffles, bake sale, and more fun surprises. Tickets can be purchased at medfieldmusicassociation.com. If you would like to volunteer at this event, we would love your help! Volunteer opportunities, from bakers to event volunteers, can be found at: https://www.signupgenius.com/go/409054aaea62da20-spaghetti1
THE ANNUAL MEDFIELD HOLIDAY STROLL RETURNS!
The Holiday Stroll returns for the fifth year on Dec. 6th from 4:00 pm – 9:00 pm with its juried marketplace of makers, artists and designers in this free, festive, family event. You'll find beautiful handcrafted gifts at the Medfield Public Library, United Church of Christ and Zullo Gallery; and MEMO's tree lighting and "Joy to the World" singing contest at Baxter Park. The Holiday Stroll draws 2,000 people to Medfield's downtown each December and includes food trucks, a decorated fire truck, carolers, and photos with Santa. Businesses open their doors and serve hot chocolate or cider including Be Charmed, Berkshire Hathaway Home Services, Brothers Marketplace, Butterfly Tree, Capsule Lifestyle, Chop Shop (shave Santa's beard!), Holistic Wellness, Hurley-Testa, Mitchell Construction Group, and Needham Bank.
There are two new events to visit. Medfield TV will transform their studio into a beautiful winter wonderland scene set up for fun photo ops, video tricks and unique activities only Medfield TV can provide. Masary Studios of Boston will bring their large-scale, interactive video projection "Figuration" to the front of Town Hall where your silhouette becomes part of the show. Come see what you can create.
All sites offer FREE admission. For complete details and a list of participating artists and businesses, visit www.MedfieldCulture.org.
The ANGEL RUN is SUNDAY, Dec. 8th!
Each year the Medfield Foundation Inc (MFi) donates over $35,000 yearly to Medfield families in need, plus supports a variety of other initiatives like the Camp Fund throughout the town. At the high school, MFi sponsors and supports the MFi Youth Leadership to help students develop as philanthropists. You can find more information at:
https://www.medfieldfoundation.org/mfi-angel-run
---
DID YOU KNOW that you can now follow us on FACEBOOK, INSTAGRAM (@medfieldhs) and on TWITTER (@MedfieldHS)? If you are a fan of social media, you can keep up with the latest news from MHS by following us on any of these platforms.
To submit items to the WEEKLY NEWS UPDATE, please email MJ Ingram at mingram@email.medfield.net by 8:00 AM on Monday mornings.