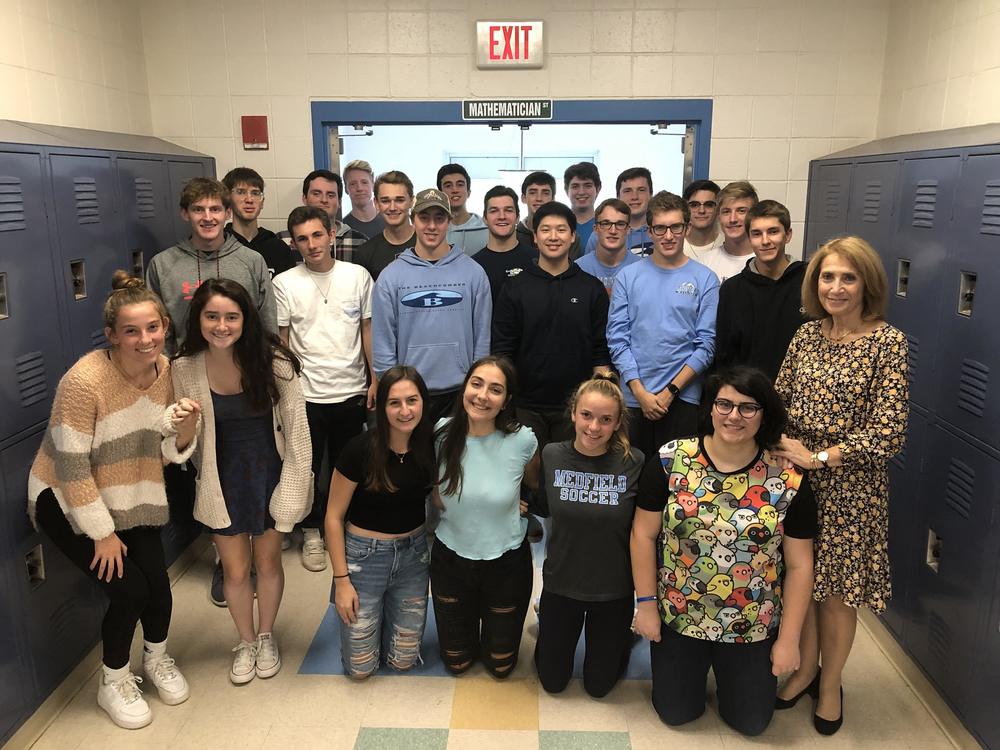 Weekly News Update - October 28, 2019
Medfield High School
Monday, October 28, 2019
MONDAY, OCTOBER 28th at 7:00 PM - A CHALLENGE SUCCESS PARENT EVENT!
Help Your Young Athlete Win the Race: Finding Balance in Youth Sports, a Medfield Challenge Success Parent Group presentation is open to all parents K-12 to be held at the BLAKE MIDDLE SCHOOL LIBRARY. Please join this parent group and a panel of experts from our community as they discuss finding balance in youth sports. For more information and to RSVP, click HERE.
---
The Medfield High School Orchestra invites you to a "Spooktacular Concert!" Join us in the MHS auditorium on Tuesday, October 29th at 6:00 pm. (PLEASE NOTE: Earlier start time!) Fun for the whole family. Lots of kid friendly participation. Costumes welcome!
---
FROM THE GUIDANCE OFFICE
FRESHMAN PARENT COFFEE TALK - WEDNESDAY, October 30th
The MHS guidance department will be hosting a coffee talk for freshman parents on Wednesday, October 30th at 7:45am in room 125. Please join us for coffee and to learn about what to expect over the next four years of high school. We hope to see you there!
ATTENTION JUNIORS & SENIORS!
The following college representatives will be visiting MHS during 2nd and 3rd lunch this week in the guidance office. Please log in to your Naviance account to schedule a visit.
MONDAY: Nichols College
TUESDAY: Dean College, Emmanuel College, Rivier University, Stonehill College
WEDNESDAY: University of California Santa Barbara, Merrimack College, St. Joseph's - Maine, United States Air Force
THURSDAY: Binghamton University, Bryant University, Saint Michael's College
FRIDAY: Salem State University, Salve Regina University, University of Tennessee Knoxville
---
FROM THE LIBRARY MEDIA CENTER
The library was a very busy place last week. Mrs. Buckingham's classes incorporated technology and research by creating infographics after researching Napoleon. The students enjoyed using their creativity.
On Friday, the library was transformed into a theater to host a performance of The Scarlet Letter by the New Rep Classic Theater Company. Students in Grade 11 enjoyed the performance which was followed by time for questions and answers. To find out more about what's new in the LMC, check out their website at http://medfieldhslmc.weebly.com/
---
YEARBOOK
SENIORS- The deadline has passed to turn in a school-appropriate senior bio twice (once via Google Form and then via signed paperwork). However, there is still time to submit a senior portrait! Please upload it by Monday, October 28th via this secure Jostens link: https://images.jostens.com/413533724
You and your family may be wondering about baby ads. Some orders have already come in, but there is no rush! Jostens will accept orders through Thursday 2/13. Anyone who would like to design and purchase a baby ad should use this link: https://www.jostens.com/apps/shop/yrbk_ra_flash.asp?CID=270741&PFID=20190619041521990169
The yearbook is currently on sale for $85. Please consider pre-ordering your copy now before the price goes up. Just click on this link: http://jostensyearbooks.com/?REF=A01095588
---
FROM THE ATHLETIC DIRECTOR, ERIC SCOTT…
On Monday, November 4, at 6:00 pm, there will be a meeting held in the gymnasium at the Medfield High School for all athletes and a parent(s) interested in playing high school athletics this coming winter season at Medfield HS. This meeting is very important and will cover many questions and concerns you may have, as well as introductions to all high school coaches and staff. Immediately following this meeting, coaches will meet with their respective sports to speak about the season and answer any questions you may have.
*Sports offered for the winter season are:
Medfield High School:
Indoor Track (Boy's and Girl's)
Basketball (Boy's and Girl's)
Ice Hockey (Boys and Girl's)
Gymnastics (Girl's)
Swim and Dive (Co-ed)
*Alpine Ski (co-op through Ashland HS). Meeting 10/29 (7:00 pm) @ AHS
---
MHS PTO UPDATE
SNACK SHACK COORDINATORS NEEDED (2020-2021 Volunteer Opportunity)
We are looking for two or more people to manage the concession stand at the MHS turf. You can split the duties making it a fun and easy volunteer experience. This is great to do with a friend or group of friends. This is a volunteer opportunity.
Duties include:
Opening the concession in the Fall & Spring

Closing the concession at the end of each season

Coordinating volunteers for games, shopping for food and supplies at BJ's

Meeting volunteers at the concession before each game and showing them what to do. Stay and support the volunteers if necessary.

Count money after each game and make a deposit into the PTO account within a day or two.
The total time commitment depends on how many people work together, but you can expect to spend between 2-5 hours for each game which includes shopping and running the concession. Fall games are typically every other week with a total of 6-7 in the season. Spring playoff games are in late May, early June, and require 2-4 hours each. One person coordinating everything alone can expect to spend about 30 hours in the Fall and about 12 hours in the spring total. With a friend or friends you can divide and conquer reducing commitment times in half or more. Please contact Sue Finn suzifinn@gmail.com with any questions.
---
MEDFIELD MUSIC ASSOCIATION NOTES
MMA's beautiful seasonal wreaths are available for sale! We have updated this year's wreath design to incorporate Noble Fir greens, mixed with Incense Cedar, Juniper, and Ponderosa Cone accents. To view the wreath and for order details, visit https://www. medfieldmusicassociation.com/ purchase-wreath.
---
2020 ALL NIGHT GRAD PARTY UPDATE
DEADLINE - Donate by NOVEMBER 1st and RECEIVE an MHS CLASS of 2020 CAR MAGNET. DON'T MISS OUT!
This event is possible because of the committed parents, volunteers and the generous community support.
SENIOR PARENTS -We have reached 52% class participation for donations! With an average cost of $200 per student to run this event, your generosity is greatly appreciated. You can donate online www.medfieldangp.com or make a check payable to MHS All Night Grad Party and mail to P.O. Box 38 Medfield, MA 02052. A big thank you to all that have already donated.
KICK-OFF STEERING COMMITTEE MEETING - Wednesday, October 30th @ 7:00 pm in MHS Room 125.
DECORATING VOLUNTEERS - We are looking for TWO more decorating teams and all the areas will be covered! Grab a group of your friends - we promise it will be fun! Just reach out to Janie Boylan and Kim Price at angpmedfield@gmail.com and they will get you started.
---
MCPE NEWS
The Medfield Coalition for Public Education 2019 Fall Fest online auction will be open to the entire Medfield community from Friday November 1 - Thursday November 14. Bid on a wide array of items, including group experiences (wine tastings, cooking classes, etc.), Medfield branded swag, home interior services, sports memorabilia, photo packages, and much, much more. Don't miss your chance to secure some great holiday gifts and support our K-12 schools at the same time. You do not have to attend the Fall Fest event on November 15th to bid! Go to http://www.medfieldcoalition.org. Thank you to all of our donors and sponsors for their amazing generosity and support of the MCPE.
---
LOOKING AHEAD:
Term 1 ends on MONDAY, November 4th. First term grades are anticipated to be posted on TUESDAY, November 12th at the end of the day. Grades will be accessible through the Aspen portal.
FROM THE HEALTH OFFICE...
On November 13th and 14th, the Medfield High School nurses will be screening the 10th grade students (currently in Wellness) for vision, hearing and obtaining a height and weight. According to the Massachusetts Department of Public health CMR 200.400; Vision and Hearing Screenings will be performed by school health personnel on each student in the public school once during high school. If you prefer that your child be excused from this screening, please contact the nurses via email or telephone.
Should you have any questions or concerns regarding the 10th grade screening, you can reach Liz Bennett at ebennett@email.medfield.net or 508-242-8568.
Thank you for your assistance - Elizabeth Bennett, RN, BSN & Brittany Hardiman RN, BSN
MHS THEATRE SOCIETY PRESENTS...
The Curious Savage by John Patrick, NOVEMBER 15th - 17th
(The Curious Savage is presented by special arrangement with Dramatists Play Service, Inc., New York.)
Following her husband's death, Ethel Savage inherited $10 million. Ethel's goal is to use the family fortune to fulfill strangers' ill-advised dreams. Her stepchildren's goal is to reclaim the Savage legacy. In their efforts to bring Ethel to her senses, the Savage children have her committed to a sanitorium: The Cloisters. Among the Cloisters' residents, Mrs. Savage discovers a level of authenticity she found lacking in the outside world. Commit yourself to The Curious Savage: a story of greed, loyalty, and those who challenge traditional conventions.
Please note that this show is double-cast meaning there are two sets of actors performing. One group will perform Friday evening and Saturday afternoon. The other group will perform Saturday evening and Sunday afternoon. If you are hoping to see a particular actor, please double check when they will perform. The list can be found here.
TICKETS AVAILABLE NOW - $12 Purchase Tickets Here
Friday, November 15th @ 7:00 pm
Saturday, November 16th @ 1:00 & 7:00 pm
Sunday, November 17th @ 1:00 pm
The ANGEL RUN is coming!
Each year the Medfield Foundation Inc (MFi) donates over $35,000 yearly to Medfield families in need, plus supports a variety of other initiatives like the Camp Fund throughout the town. At the high school, MFi sponsors and supports the MFi Youth Leadership to help students develop as philanthropists. You can find more information at: https://www.medfieldfoundation.org/mfi-angel-run
DID YOU KNOW that you can now follow us on FACEBOOK, INSTAGRAM (@medfieldhs) and on TWITTER (@MedfieldHS)? If you are a fan of social media, you can keep up with the latest news from MHS by following us on any of these platforms.
To submit items to the WEEKLY NEWS UPDATE, please email MJ Ingram at mingram@email.medfield.net by 8:00 AM on Monday mornings.