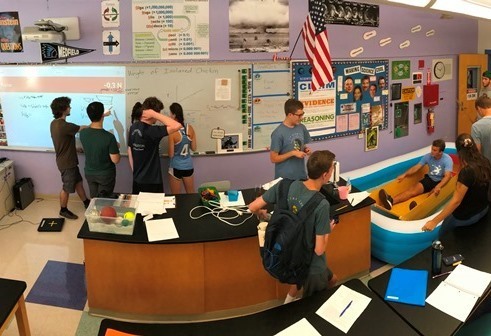 Weekly News Update - October 15, 2019
Medfield High School
Tuesday, October 15, 2019
FROM THE GUIDANCE OFFICE
FRESHMAN PARENT COFFEE TALK - WEDNESDAY, October 30th
The MHS guidance department will be hosting a coffee talk for Freshman parents on Wednesday, October 30th at 7:45am in room 125. Please join us for coffee and to learn about what to expect over the next four years of high school. We hope to see you there!
ATTENTION JUNIORS & SENIORS!
The following college representatives will be visiting MHS during 2nd and 3rd lunch this week in the Guidance office. Please log in to your Naviance account to schedule a visit.
Wednesday: Tufts University
Thursday: University of Hartford, Quinnipiac University, Westfield State University
Friday: High Point University, Marist College, St. Lawrence University, Wellesley College
---
LIBRARY MEDIA CENTER UPDATE
Last Tuesday the faculty book club met to discuss the book we read during the summer. What Made Maddy Run by Kate Fagan resonated with all of us as Maddy could easily have been one of our students. We invited School Adjustment Counselor, Russ Becker and he added valuable insight to our discussion. We would like to offer the book to any parents who would like to read it. Your student can check it out under his/her name.

---
MHS is going to ECUADOR next summer!
Interested in finding out more about this incredible service-focused travel opportunity? You must attend a mandatory family meeting on Wednesday, October 16th at 6:00 pm in the high school library. Please RSVP by Tuesday, October 15th HERE. For more information, check out the flyer.
---
Come to the next MHS PTO Meeting this Wednesday, October 16th @ 7:00 pm in the HS library. Followed by PTO PRESENTS with Dr. Worthley & Susan Cowell - Social, Emotional Well-Being Update at 7:30 pm. All MHS parents/guardians are welcome to attend!
---
YEARBOOK & SENIOR BIOS
Seniors, remember that the deadline for submitting a senior bio and/or a "Can You Imagine" contribution for the yearbook is this Friday, October 18. Be sure to follow the instructions in the packet. Extra packets are in the main office. First fill out the paper forms, then type up the text in the Google forms to match exactly, and finally turn in the paper forms in the red crate on Mrs. Brown's desk in Room 226.
---
MHS THEATRE SOCIETY PRESENTS...
The Curious Savage by John Patrick, NOVEMBER 15th - 17th
(The Curious Savage is presented by special arrangement with Dramatists Play Service, Inc., New York.)
TICKETS AVAILABLE NOW - $12 Purchase Tickets Here
Friday, November 15th @ 7:00 pm
Saturday, November 16th @ 1:00 & 7:00 pm
Sunday, November 17th @ 1:00 pm
Synopsis of the story: Following her husband's death, Ethel Savage inherited $10 million. Ethel's goal is to use the family fortune to fulfill strangers' ill-advised dreams. Her stepchildren's goal is to reclaim theSavage legacy.
In their efforts to bring Ethel to her senses, the Savage children have her committed to a sanitorium: The Cloisters. Among the Cloisters' residents, Mrs. Savage discovers a level of authenticity she found lacking in the outside world.
Commit yourself to The Curious Savage: a story of greed, loyalty, and those who challenge traditional conventions.
---
2020 ALL NIGHT GRAD PARTY UPDATE
Donate by October 31st and receive an MHS Class of 2020 car magnet!
SENIOR PARENTS - You should have received a request for donation letter from ALL NIGHT GRAD PARTY a few weeks ago in the mail regarding the event. There are no tickets to purchase for the party. Instead, we rely on your donations. Please make a tax-deductible donation in support of your student's attendance to one of Medfield's time-honored traditions, celebrating our graduating seniors and their FINAL night together as THE CLASS OF 2020! With an average cost of $200 per student to run this event, your generosity is greatly appreciated. You can donate easily online www.medfieldangp.com or make a check payable to MHS All Night Grad Party and mail to P.O. Box 38 Medfield, MA 02052. A big thank you to all that have already donated.
KICK-OFF DECORATING TEAM MEETING - Wednesday, October 23rd @ 7:00 pm in the HS library. Bring your teams! If you don't have a team, please join us! There are several teams looking for volunteers. Not sure what ANGP is all about, please join us! We would love to tell you all about it. There is something for everyone!
KICK-OFF STEERING COMMITTEE MEETING - Wednesday, October 30th @ 7:00 pm in MHS Room 125.
SNACK SHACK - Visit us at the Snack Shack on Friday, October 25th. Support your Medfield Warriors and ANGP at the same time. Proceeds from sales on the 25th will go to the 2020 All Night Grad Party!
---
GOT BOX TOPS?
Please send in all your box tops. Liz Sandeman will be mailing them back at the end of this month on behalf of Blake Middle School (the high school is not eligible). Each box top is worth 10 cents and they really add up. Collection boxes are at the high school's main office, the public library's magazine room and Shaw's window sill (near the Lions eyeglass collection box) and Blake's main office. Any questions please email lizsandeman@gmail.com.
---
LOOKING AHEAD:
FROM THE ATHLETIC DIRECTOR, ERIC SCOTT…
On Monday, November 4, at 6:00 pm, there will be a meeting held in the gymnasium at the Medfield High School for all athletes and a parent(s) interested in playing high school athletics this coming winter season at Medfield HS. This meeting is very important and will cover many questions and concerns you may have, as well as introductions to all high school coaches and staff. Immediately following this meeting, coaches will meet with their respective sports to speak about the season and answer any questions you may have.
*Sports offered for the winter season are:
Medfield High School:
Indoor Track (Boy's and Girl's)
Basketball (Boy's and Girl's)
Ice Hockey (Boys and Girl's)
Gymnastics (Girl's)
Swim and Dive (Co-ed)
*Alpine Ski (co-op through Ashland HS). Meeting 10/29 (7:00 pm) @ AHS
DID YOU KNOW that you can now follow us on FACEBOOK, INSTAGRAM (@medfieldhs) and on TWITTER (@MedfieldHS)? If you are a fan of social media, you can keep up with the latest news from MHS by following us on any of these platforms.
To submit items to the WEEKLY NEWS UPDATE, please email MJ Ingram at mingram@email.medfield.net by 8:00 AM on Monday mornings.