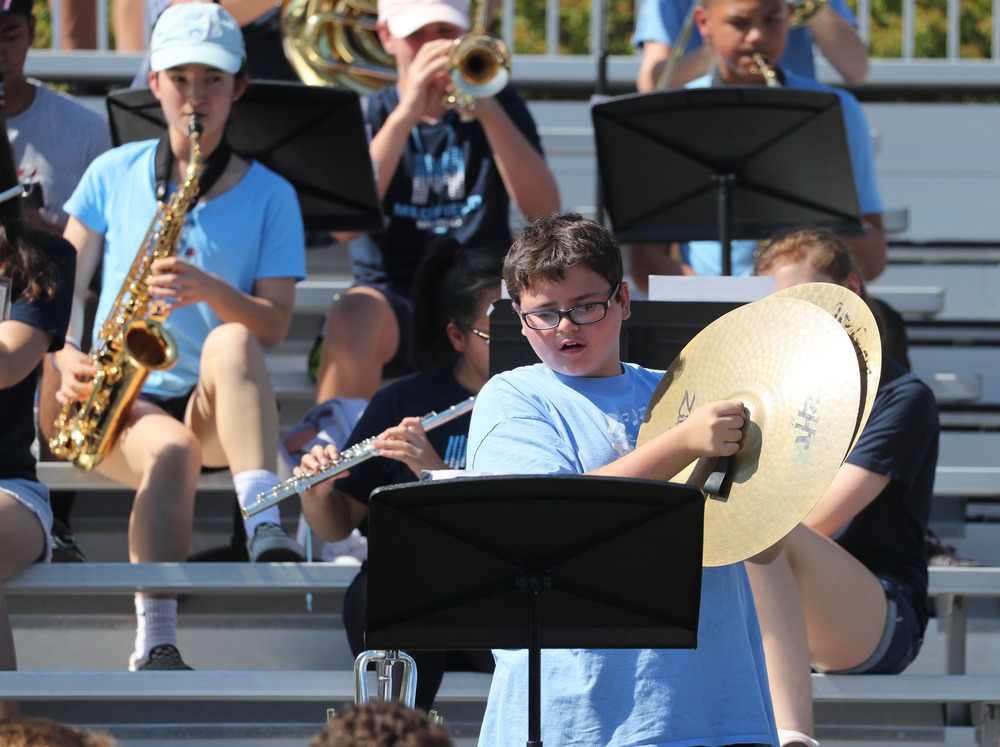 Weekly News Update - October 1, 2019
Medfield High School
Tuesday, October 01, 2019
We have reached the halfway point of Term 1. Teacher gradebooks will be visible through the Aspen portal from Tuesday, Oct. 1 - Thursday, Oct. 3. Additional information was emailed home this morning, Tuesday, Oct. 1.
---
FROM THE GUIDANCE OFFICE
ATTENTION JUNIORS & SENIORS!
The following college representatives will be visiting MHS during 2nd and 3rd lunch this week in the Guidance office. Please log in to your Naviance account to schedule a visit.
Tuesday: Denison University, Hobart and William Smith Colleges, University of San Francisco, Springfield College
Wednesday: Bridgewater State University, Lafayette College, Providence College, Stevens Institute of Technology
Thursday: College of Charleston, University of Delaware, Penn State University, University of South Carolina Columbia
Friday: Bucknell University, Kenyon College, University of Vermont, Xavier University
The MHS Guidance Department is hosting the annual FINANCIAL AID NIGHT on Thursday, October 3, 2019. The presentation will begin at 6:30pm in the HS auditorium. All junior and senior parents interested in learning more about the college/financial aid process are welcome to attend. A financial aid expert from the Massachusetts Educational Financing Authority (MEFA) will present topics including: financial aid application process, completing the FAFSA, information on scholarships and loans, and resources for families.
ATTENTION JUNIORS/CLASS OF 2021!
PSAT REGISTRATION
Registration for the October 19th PSATs is now OPEN. We encourage all members of the Class of 2021 to take the PSAT in preparation for future college entrance exams. Students can register for the PSAT by visiting:
Upon registration, students can pick up a prep booklet in the MHS guidance office. The deadline to register is THIS FRIDAY, OCTOBER 4th. If financial assistance is required, please contact the guidance office at 508-359-2482 to request a fee waiver.

---
MHS VISUAL ARTS STUDENTS visit the MFA & the Museum of Science!
AP Art and Art II students visited two museum exhibits in Boston that highlighted the human form. BodyWorlds, at the Museum of Science is a display of hundreds of body parts and over a dozen whole bodies that have plastinated and posed for display to show the various systems of the body. Students gain a fuller understanding of how to draw anatomy with accuracy when they see the skeletal and muscular structure beneath the skin. Because the bodies are posed in athletic poses--there was a swimmer, football players, and a runner included--the student artists were able to record the bodies in motion in their sketchbooks.
At the MFA, students viewed the work of Hyman Bloom: Matter of Life and Death. Bloom who was a mid century painter from Boston who uses vibrant color to depict the human form. His work has been described as 'horrifyingly beautiful.' The show was inspiring because of the artist's expressive brush strokes in abstract works that reference the human body.
---
MHS Theatre Society Presents: The Curious Savage by John Patrick with performances FRIDAY-SUNDAY, NOVEMBER 15 - 17. TICKETS ARE AVAILABLE NOW! You may Purchase Tickets Here. Please note that this show is double-cast meaning there are two sets of actors performing. One group will perform Friday evening & Saturday afternoon. The other group will perform Saturday evening & Sunday afternoon. If you are hoping to see a particular actor, please double check when they will perform. The list can be found here.
Here is a brief synopsis of the story:
Following her husband's death, Ethel Savage inherited $10 million. Ethel's goal is to use the family fortune to fulfill strangers' ill-advised dreams. Her stepchildren's goal is to reclaim the Savage legacy. In their efforts to bring Ethel to her senses, the Savage children have her committed to a sanitorium: The Cloisters. Among the Cloisters' residents, Mrs. Savage discovers a level of authenticity she found lacking in the outside world.
Commit yourself to The Curious Savage: a story of greed, loyalty, and those who challenge traditional conventions. **The Curious Savage is presented by special arrangement with Dramatists Play Service, Inc., New York.**
FROM THE HEALTH OFFICE...NURSE SUBSTITUTES needed…Can you help?
Substituting will offer the opportunity to learn what school nursing involves and to interact with our wonderful students. The need is sporadic, but the rewards are great! A current Massachusetts RN license is required. Duties include: tending to the health needs of the students and staff, dispensing medication, and communicating with parents. A basic orientation is provided. Please speak to any of the school nurses for more information, contact the superintendent's office for an application or apply at SchoolSpring.org
---
The MHS BOYS SOCCER program will host a fundraiser at Medfield's Italian Groceria on Tuesday, October 8 from 5:00 pm - 8:00 pm. Consider purchasing your dinner that evening at Italian Groceria and help support boys soccer!
---
MHS PTO UPDATE
FALL APPEAL
Thank you to all that have already donated. We appreciate it! There is still time to donate on-line with our NEW website www.medfieldhspto.com or write a check made payable to MHS PTO and return to the main office with the yellow Fall Appeal form you received on the first day of school. Your donation helps enrich academic, athletic and extracurricular activities for all MHS students. Unlike grades K-8, we do not participate in fundraisers to obtain our funding, we only ask once a school year, during the Fall Appeal, for your donation.
SNACK SHACK COORDINATORS NEEDED (2020-2021 Volunteer Opportunity)
We are looking for two or more people to manage the concession stand at the MHS turf. You can split the duties making it a fun and easy volunteer experience. This is great to do with a friend or group of friends. This is a volunteer opportunity.
Duties include:
Opening the concession in the Fall & Spring
Closing the concession at the end of each season
Coordinating volunteers for games, shopping for food and supplies at BJ's
Meeting volunteers at the concession before each game and showing them what to do. Stay and support the volunteers if necessary.
Count money after each game and make a deposit into the PTO account within a day or two.
The total time commitment depends on how many people work together, but you can expect to spend between 2-5 hours for each game which includes shopping and running the concession. Fall games are typically every other week with a total of 6-7 in the season. Spring playoff games are in late May, early June, and require 2-4 hours each. One person coordinating everything alone can expect to spend about 30 hours in the Fall and about 12 hours in the spring total. With a friend or friends you can divide and conquer reducing commitment times in half or more. Please contact Sue Finn suzifinn@gmail.com with any questions.
DESIGN CONTEST: PEP RALLY T-SHIRT - Students have the opportunity to design the PEP RALLY t-shirt this year. Submissions are due to Mrs. Drew (mdrew@email.medfield.net) by October 7th.
YOUTH IN PHILANTHROPY - The Foundation for MetroWest's Youth in Philanthropy (YIP) program is an experiential leadership development program designed to empower and educate local youth to become our community's next generation of philanthropists – those who give their time, talent, and treasure for the common good. As participants of YIP, students learn about needs in our community, visit local nonprofits, and grant up to $10,000 to nonprofits benefiting youth.This free, 17-week program is for high school students who live and learn in Needham or surrounding communities. YIP will meet on Thursday evenings, from 7:00 to 8:30pm, at the Needham History Center & Museum. The program begins on January 23 and runs through May 26. (Full Schedule) For more information about YIP and to apply, visit yipmetrowest.org. Priority deadline to apply is November 15; rolling admissions to follow.
Don't forget to follow MHS PTO on Facebook and Twitter
---
ALL NIGHT GRAD PARTY 2020
SENIOR PARENTS - You should have received a request for donation letter from ALL NIGHT GRAD PARTY a few weeks ago in the mail regarding the event. There are no tickets to purchase for the party. Instead, we rely on your donations. Please make a tax-deductible donation in support of your student's attendance to one of Medfield's time-honored traditions, celebrating our graduating seniors and their FINAL night together as the CLASS OF 2020! With an average cost of $200 per student to run this event, your generosity is greatly appreciated. You can donate easily online www.medfieldangp.com or make a check payable to MHS All Night Grad Party and mail to P.O. Box 38 Medfield, MA 02052. A big thank you to all that have already donated. Donate by October 31st and receive an MHS Class of 2020 car magnet!
VOLUNTEERS NEEDED - The ANGP is looking for volunteers! Check out our NEW WEBSITE http://www.medfieldangp.com for EVERYTHING All Night Grad Party - Senior, Parent, Volunteer, Donating, Decorating Info and more! Parents, Guardians and Volunteers please follow our ANGP Facebook Page. Please reach out to Janie Boylan or Kim Price with any questions angpmedfield@gmail.com. Here's to the Class of 2020!
---
MCPE UPDATE
MCPE is selling Vineyard Vines ties this weekend only! Go to medfieldcoalition.org Friday through Monday to order one for all the guys in your life. Ties will take approximately 6 weeks to arrive, making these perfect holiday gifts! Ties are $60-that's $25 off the regular retail price!
---
MEDFIELD MUSIC ASSOCIATION NOTES
Reminder to music families that Uniform Try-On Night is Oct. 1st at 6:00 pm. Freshmen and upperclassmen in need of new uniform pieces should report to the music classroom corridor to try on pieces. Volunteers will be there to assist with ordering and make sure you get the right fit!
The first regular MMA meeting will be on Oct. 8th at 7:00 pm in the band room. All music parents welcome at this meeting during which we'll discuss the year's initiatives with music staff.
---
LOOKING AHEAD:
The first meeting of the MHS Site Council is scheduled for Monday, October 7 at 3:15 pm in the main office conference room.
MARK YOUR CALENDARS!
Wednesday, October 9 and Monday, October 14, ALL Medfield Public Schools will be CLOSED. Tuesday, Oct. 15 is an EARLY DISMISSAL day. MHS students will be released at 11:10 am.
FROM THE ATHLETIC DIRECTOR, ERIC SCOTT…
On Monday, November 4, at 6:00 pm, there will be a meeting held in the gymnasium at the Medfield High School for all athletes and a parent(s) interested in playing high school athletics this coming winter season at Medfield HS. This meeting is very important and will cover many questions and concerns you may have, as well as introductions to all high school coaches and staff. Immediately following this meeting, coaches will meet with their respective sports to speak about the season and answer any questions you may have.
*Sports offered for the winter season are:
Indoor Track (Boy's and Girl's)
Basketball (Boy's and Girl's)
Ice Hockey (Boys and Girl's)
Gymnastics (Girl's)
Swim and Dive (Co-ed)
*Alpine Ski (co-op through Ashland HS). Meeting 10/29 (7:00 pm) @ AHS
DID YOU KNOW that you can now follow us on FACEBOOK, INSTAGRAM (@medfieldhs) and on TWITTER (@MedfieldHS)? If you are a fan of social media, you can keep up with the latest news from MHS by following us on any of these platforms.
To submit items to the WEEKLY NEWS UPDATE, please email MJ Ingram at mingram@email.medfield.net by 8:00 AM on Monday mornings.