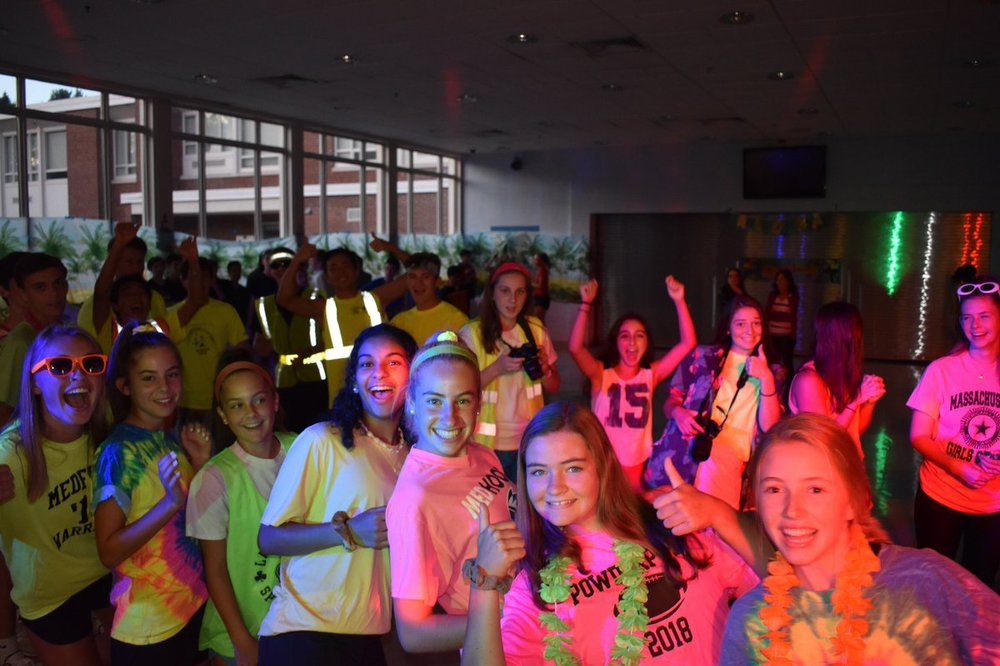 Weekly News Update - September 16, 2019
Ingram
Monday, September 16, 2019
CONGRATULATIONS to seniors, LUCA LEGER and EVEREST ZHOU, who have been named as Semifinalists in the 2020 National Merit Scholarship competition. These academically talented students will continue in the competition for over 7,600 National Merit scholarships. GO WARRIORS!
CHECK IT OUT! The PRINCIPAL'S BLOG has just been updated! To view, click HERE.
Medfield.net TIP OF THE WEEK:For more information on community-wide events, check out the COMMUNITY POSTINGS section of the Medfield Public Schools main page.
FROM THE GUIDANCE OFFICE
Senior Parents & Guardians - Please join the counselors for coffee and conversation about the college application process on Thursday, September 19th at 7:45 am in Room 125. We'll review the Common Application, the transcript and letter of recommendation request process, and important dates and deadlines. Bring any questions you have! Please RSVP here.
Attention Juniors/CLASS OF 2021: PSAT REGISTRATION has begun!
Registration opened for the October 19th PSATs on FRIDAY, SEPTEMBER 13th. We encourage all members of the Class of 2021 to take the PSAT in preparation for future college entrance exams. Students can register for the PSAT by visiting: https://aptsusa.com/medfield/
Upon registration, students can pick up a prep booklet in the Medfield High School guidance office beginning on Friday, September 13th. The deadline to register is Friday, October 4th. If financial assistance is required please contact the guidance office at 508-359-2482 to request a fee waiver.
ATTENTION JUNIORS & SENIORS!
The following college representatives will be visiting MHS during 2nd and 3rd lunch this week in the Guidance office. Please log in to your Naviance account to schedule a visit.
Monday: Dickinson College, Mount Holyoke College, Drexel University,
University of Maine
Tuesday: Wheaton College, Loyola University Maryland
Wednesday: University of Connecticut, Suffolk University, Catholic University,
Savannah College of Art & Design
Thursday: Saint Anselm College, James Madison University,
University of Rhode Island, University of Massachusetts - Lowell
Friday: Lesley University, Bates College, College of New Jersey
LIBRARY MEDIA CENTER UPDATE
All grade 9 students were welcomed to the LMC with a library orientation via their English classes. The students learned about the plethora of materials available to them before, during, and after school. The library is very student centered and all requests for new books, magazines, and makerspace materials will be considered.
The library catalog Destiny and the digital magazines to which we subscribe can be accessed from the library homepage: http://medfieldhslmc.weebly.com/
MHS STUDENT ADVISORIES
Our first advisory of the year will be on Wednesday, September 18. All students are assigned to a grade level advisory that is comprised of about 12 students and at least one adult. Advisory locations may not be the same as last year so all students should check for their homeroom listed in aspen under the "My Info" tab.
Each month will have a specific theme allowing students to have rich conversations together as they learn to navigate their lives now and in the future. Our September theme is COMMUNITY BUILDING.
Family conversations to support this are welcomed and encouraged. Resources will be sent via this newsflash to prompt, support and extend those conversations. We are hoping that these community conversations will allow students to really consider these issues and how their impact their lives and well-being.
MHS PTO UPDATE
The MHS PTO Fall Appeal has begun. Thank you to all that have already donated. We appreciate it! There is still time to donate on-line with our NEW website www.medfieldhspto.com or write a check made payable to MHS PTO and return to the main office with the yellow Fall Appeal form you received on the first day of school. Your donation helps enrich academic, athletic and extracurricular activities for all MHS. Don't forget to follow MHS PTO on Facebook and Twitter!
students. Unlike grades K-8, we do not participate in fundraisers to obtain our funding, we only ask once a school year, during the Fall Appeal, for your donation.
SNACK SHACK COORDINATORS NEEDED-
We are looking for two or more people to manage the concession stand at the MHS turf. You can split the duties making it a fun and easy volunteer experience. This is great to do with a friend or group of friends.
Duties include:
Opening the concession in the Fall & Spring

Closing the concession at the end of each season

Coordinating volunteers for games, shopping for food and supplies at BJ's

Meeting volunteers at the concession before each game and showing them what to do. Stay and support the volunteers if necessary.

Count money after each game and make a deposit into the PTO account within a day or two.
The total time commitment depends on how many people work together, but you can expect to spend between 2-5 hours for each game which includes shopping and running the concession. Fall games are typically every other week with a total of 6-7 in the season. Spring playoff games are in late May, early June, and require 2-4 hours each. One person coordinating everything alone can expect to spend about 30 hours in the Fall and about 12 hours in the spring total. With a friend or friends you can divide and conquer reducing commitment times in half or more. Please contact Sue Finn suzifinn@gmail.com with any questions.
ALL NIGHT GRAD PARTY 2020
The All Night Grad Party are looking for volunteers! Check out their NEW WEBSITE www.medfieldangp.com for EVERYTHING All Night Grad Party - Senior, Parent, Volunteer, Donation, Decorating Info and more! Parents, Guardians and Volunteers, please follow our ANGP Facebook Page. Please reach out to Janie Boylan or Kim Price with any questions: angpmedfield@gmail.com. Here's to the Class of 2020!
SENIOR PARENTS - You will be receiving a letter from ALL NIGHT GRAD PARTY this week in your mail regarding the event. There are no tickets to purchase for the event. Instead, we rely on your donation. Please make a tax-deductible donation in support of your student's attendance to one of Medfield's time-honored traditions, celebrating our graduating SENIORS and their FINAL night together as THE CLASS OF 2020! You can donate easily online www.medfieldangp.com or make a check payable to MHS All Night Grad Party and mail to P.O. Box 38 Medfield, MA 02052. Your generosity is greatly appreciated! Donate by October 31st and receive an MHS Class of 2020 car magnet!
MCPE is excited to welcome everyone back! The Medfield Coalition of Public Education funds system-wide support and academic enrichment for the Medfield Public Schools with particular attention to academic needs that exceed the parameters of the school budget.
Our first event of the year will be our first ever Fall Fest on November 15th at the Boylston Schul-Verein German-American Club in Walpole. There will be great food, music and an auction! Tickets for MCPE's Fall Fest go on sale this Sunday, Sept. 15th at 8:00 am! Link to the ticket sales will be up on our website medfieldcoalition.org. Don't miss this fun night out! When you visit our website be sure to see what we've funded recently and opportunities to get involved!
MEDFIELD MUSIC ASSOCIATION NOTES
We hope you will join us for the MMA Kickoff Event on Tuesday, 9/17, 7:00 pm at the Zullo Gallery. On Sunday, 9/22, the Music Department is hosting a Mattress Sale fundraiser from 10:00 am-5:00 pm in the MHS gym to provide financial aid to students attending this year's music trip. Come check it out!
---
LOOKING AHEAD:
MHS OPEN HOUSE is COMING! See you on Thursday, September 26th. Watch your email in the next week for more details.
DID YOU KNOW that you can now follow us on FACEBOOK, INSTAGRAM (@medfieldhs) and on TWITTER (@MedfieldHS)? If you are a fan of social media, you can keep up with the latest news from MHS by following us on any of these platforms.
To submit items to the WEEKLY NEWS UPDATE, please email MJ Ingram at mingram@email.medfield.net by 8:00 AM on Monday mornings.