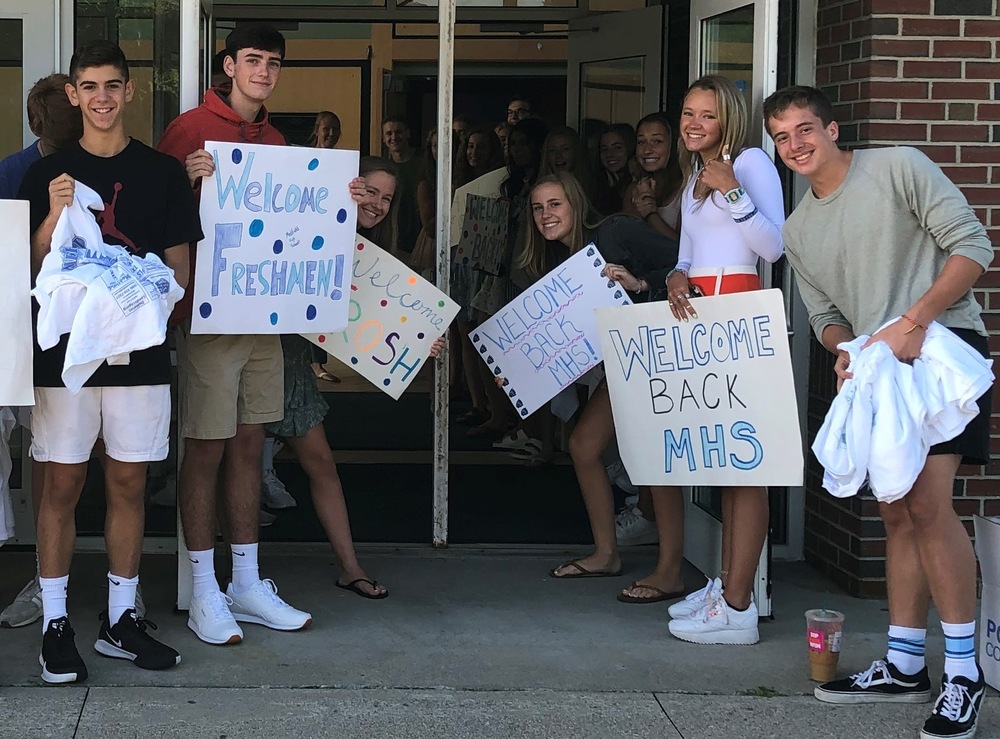 Weekly News Update - September 9, 2019
Robert Parga, Principal
Tuesday, September 10, 2019
FROM THE GUIDANCE OFFICE
Subscribe to the MHS Guidance BLOG! Guidance staff periodically post articles of interest and information on what's new in the department for parents and students. Click HERE to check out their latest post and how to subscribe.
Attention Juniors/CLASS OF 2021! - PSAT REGISTRATION
Registration will open for the October 19th PSATs this FRIDAY, SEPTEMBER 13th. We encourage all members of the class of 2021 to take the PSAT in preparation for future college entrance exams. Students can register for the PSAT by visiting: https://aptsusa.com/medfield/
Upon registration, students can pick up a prep booklet in the Medfield High School guidance office beginning on Friday, September 13th. The deadline to register is Friday, October 4th. If financial assistance is required please contact the guidance office at 508-359-2482 to request a fee waiver.
ATTENTION JUNIORS & SENIORS!
The following college representatives will be visiting MHS during 2nd and 3rd lunch this week in the Guidance office. Please log in to your Naviance account to schedule a visit.
Monday: Miami University, Ohio
Tuesday: The George Washington
Wednesday: New England Institute of Technology, Becker College, Ithaca College,
Anna Maria College
Thursday: Gettysburg College
Friday: College of the Holy Cross
Class of 2021 Counselor Assignments by Last Name:
Mrs. Worthley: A-BL (sworthley@emailmedfield.net)
Mrs. Mahoney: Bo-G (kathymahoney@email.medfield.net)
Mrs. Lodge: H-L (alodge@email.medfield.net)
Mrs. Padden: M-Q (apadden@email.medfield.net)
(Jenna McLaughlin is covering for Mrs. Padden's maternity leave
jmclaughlin@email.medfield.net)
Mr. Ormberg: R-Z (eormberg@email.medfield.net)
The No Child Left Behind federal law requires that names, addresses and telephone listings of secondary school students shall be released to military recruiters upon request. Parents or guardians may opt out of this request by signing this form and returning it to the guidance office. Military Opt out form
NEWS from the LIBRARY MEDIA CENTER
It is great to see so many of our students in the library before school. As a reminder to everybody, we open everyday at 7:15 am and close at 3:30 pm. Feel free to stop in!
Also, the LMC webpage is frequently updated. Visit the library website at http://medfieldhslmc.weebly.com/ to access the library catalog, Destiny, digital magazines and databases from home or school. The password and login is medfieldhs. Digital books are available via the app SORA. Please see the library staff if you need assistance in setting up your account.
MHS PTO UPDATE
The MHS PTO Fall Appeal has begun. Thank you to all that have already donated. We appreciate it! There is still time to donate on-line with our NEW website www.medfieldhspto.comor write a check made payable to MHS PTO and return to the main office with the yellow Fall Appeal form you received on the first day of school. Your donation helps enrich academic, athletic and extracurricular activities for all MHS students. Unlike grades K-8, we do not participate in fundraisers to obtain our funding, we only ask once a school year, during the Fall Appeal, for your donation. Don't forget to follow MHS PTO on Facebook and Twitter.
PTO Meeting - Please join us on Wednesday, September 11th @ 7:45 am for our kick-off PTO meeting followed by Principal's Coffee at 8:15 am in room 125.
ALL NIGHT GRAD PARTY 2020
The All Night Grad Party is looking for volunteers! Check out their NEW WEBSITE www.medfieldangp.com for EVERYTHING All Night Grad Party - Senior, Parent, Volunteer, Donation, Decorating Info and more! Parents, Guardians and Volunteers, please follow our ANGP Facebook Page. Please reach out to Janie Boylan or Kim Price with any question: angpmedfield@gmail.com. Here's to the Class of 2020!
MCPE is excited to welcome everyone back! The Medfield Coalition of Public Education funds system-wide support and academic enrichment for the Medfield Public Schools with particular attention to academic needs that exceed the parameters of the school budget.
Our first event of the year will be our first ever Fall Fest on November 15th at the Boylston Schul-Verein German-American Club in Walpole. There will be great food, music and an auction! Tickets for MCPE's Fall Fest go on sale this Sunday, Sept. 15th at 8:00 am! Link to the ticket sales will be up on our website medfieldcoalition.org. Don't miss this fun night out! When you visit our website be sure to see what we've funded recently and opportunities to get involved!
LOOKING AHEAD:
Senior Parents & Guardians - Please join the counselors for coffee and conversation about the college application process on Thursday, September 19th at 7:45 am in Room 125. We'll review the Common Application, the transcript and letter of recommendation request process, and important dates and deadlines. Bring any questions you have! Please RSVP here.
MEDFIELD MUSIC ASSOCIATION NOTES - We hope you will join us for the MMA Kickoff Event on Tuesday, 9/17, 7:00 pm at the Zullo Gallery. On Sunday, 9/22, the Music Department is hosting a Mattress Sale fundraiser from 10:00 am-5:00 pm in the MHS gym to provide financial aid to students attending this year's music trip. Come check it out!
DID YOU KNOW that you can now follow us on FACEBOOK, INSTAGRAM (@medfieldhs) and on TWITTER (@MedfieldHS)? If you are a fan of social media, you can keep up with the latest news from MHS by following us on any of these platforms.
To submit items to the WEEKLY NEWS UPDATE, please email MJ Ingram at mingram@email.medfield.net by 8:00 am on Monday mornings.