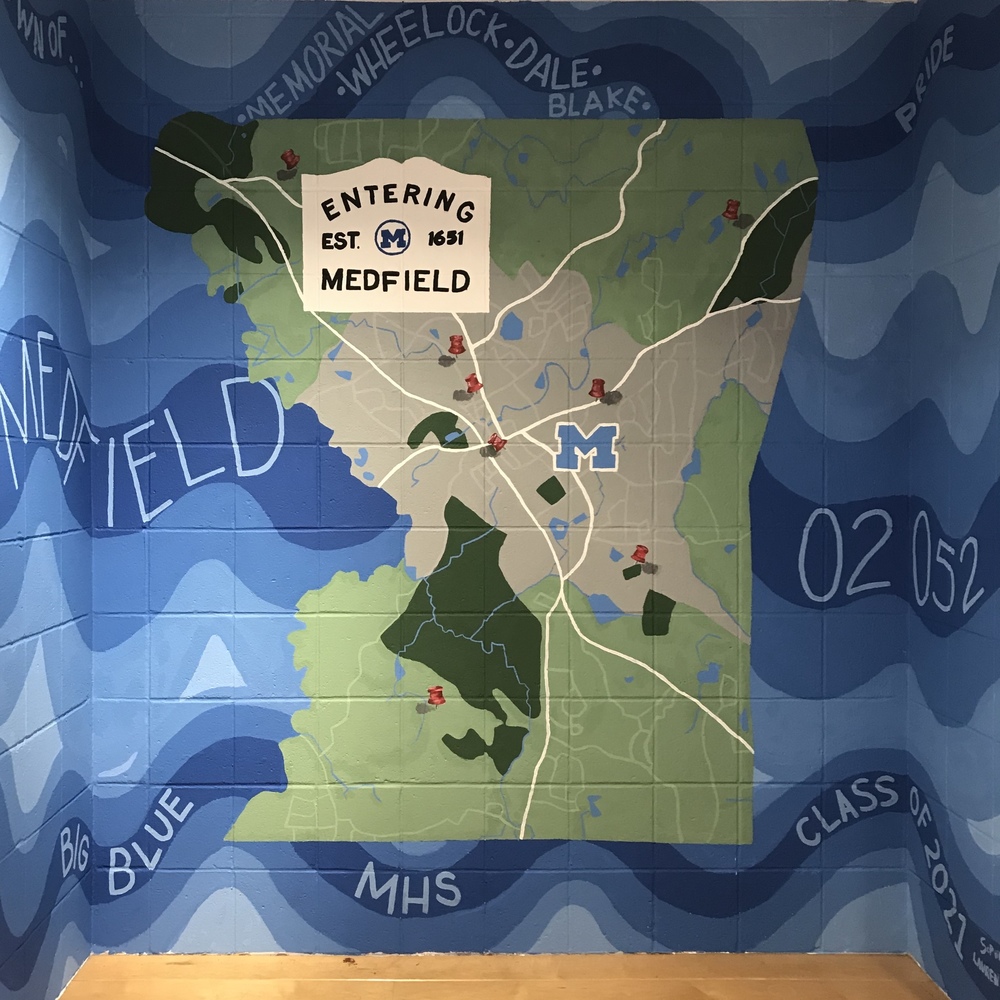 News Update - September 13, 2021
Medfield High School
Monday, September 13, 2021
Dates to Remember
THIS WEEK:
September 13 Day 5 Schedule (picture day) (C-B-D-F-G)
September 14 Day 6 Schedule (E-A-Flex-C-F)
September 15 Day 7 (A-B-D-G-E) NO HOMEWORK EVENING - YOM KIPPUR
September 16 NO SCHOOL - YOM KIPPUR
September 17 Day 8 Schedule (B-Flex-D-C-F)

LOOKING AHEAD:
September 20 Day 1 Schedule C-A-Flex-E-G
September 21 Day 2 Schedule E-B-D-G-F
September 22 Day 3 Schedule A-Flex-D-F-C
September 23 Day 4 Schedule B-A-Flex-G-E
September 24 Day 5 Schedule C-B-D-F-G


Helpful Information for Families:
Check out the Medfield High School FAQs Center for information regarding our new HS Schedule, School Calendars, Bell Schedules, Technology, and more!

---
FROM THE GUIDANCE OFFICE


The No Child Left Behind federal law requires that names, addresses and telephone listings of secondary school students shall be released to military recruiters upon request. Parents or guardians may opt out of this request by completing this Military Opt-Out Form.
ATTENTION JUNIORS & SENIORS!
The following college representatives will be visiting MHS over the next few weeks. Please log in to your Naviance account to schedule a visit. The guidance office will schedule you through the MyFlexLearning app. after you sign up in Naviance. Please visit the guidance office if you have any questions.
Monday, September 13, 2021 @ 2:15pm
Bates College - virtual
Bridgewater State University - virtual
University of Massachusetts - Lowell - in-person
Merrimack College - in-person
Wednesday, September 15, 2021 @ 2:15pm
Hofstra University - in person
James Madison University - in-person
Syracuse University - in-person
Washington University in St. Louis - virtual
Friday, September 17, 2021
University of Connecticut @ Flex A and B - virtual
University of New England @ Flex A - in person
Simmons University @ Flex A - virtual
Tuesday, September 21, 2021 @ 2:15pm
Catholic University of America - in-person
University of Delaware - in-person
Stevens Institute of Technology - virtual
George Washington University - in person visit
Wednesday, September 22, 2021
College of William and Mary @ Flex A - virtual
Worcester Polytechnic Institute @ Flex A - in-person
Macalester College @ Flex B - in-person
Stony Brook University @ Flex B - virtual
Thursday, September 23, 2021
Providence College @ Flex A - in-person
University of Rhode Island @ Flex A - virtual
Bentley University @ Flex B - in-person
University of New Hampshire - Main Campus @ Flex B - virtual
Friday, September 24, 2021 @ 2:15pm
College of Charleston - in person
Elon University - in-person
George Mason University - in-person
Skidmore College - virtual

---

FROM THE WRITING CENTER

The Writing Center is accepting appointments via the My Flex Learning app for seniors who would like writing help for their college application essays, supplements, resumes, etc. and for ALL students who would like help with their writing for any of their classes. For more details, please see this document.

---
DIGNITY MATTERS
There is a menstrual product fundraiser going on at the high school until October 20th. Menstrual product items are considered a luxury and therefore many shelters do not carry them. Possible donation items include tampons, pads, panti liners and diva cups. Donations can be dropped off in the "Dignity Matters" bin in the main foyer below the front staircase. For any questions, please contact Maddie Curmi at mdcurmi2022@email.medfield.net


---
MHS PTO

Welcome back everyone! The MHS PTO Fall Annual Appeal has begun! We did not run our appeal last year, so we are hoping for a successful campaign this year so we can fund grants that help enrich academic, athletic and extracurricular activities for all MHS Students. A donation of any amount is greatly appreciated.

There are two ways to donate:
1. Go to our website https://www.medfieldhspto.com/ and click on the DONATE button.
2. Send in a check made payable to MHS PTO with your student and drop off at the Main Office.

Thank you in advance for your generous donations!

VOLUNTEERS NEEDED
We are looking for 2-4 volunteers to run the hospitality group that includes organizing luncheons for the teachers and staff throughout the year. If interested, please reach out to kimprice73@gmail.com.
---
FROM MEDFIELD OUTREACH

---
Box Tops are still being collected and the money raised will benefit Blake Middle School. If you have any box tops that you cut out, NOT the new scanning type, please have your student drop them off in the box in the main office of the High School. There is also a collection box at Shaws on the window sill at the self check out end.
Any questions? Email lizsandeman@gmail.com Thank you!


---
CLICK HERE FOR OUR DAILY ANNOUNCEMENTS!


To submit items to the MHS WEEKLY NEWS UPDATE, please email Maura Fitzgerald at mfitzgerald@email.medfield.net by 8:00 AM on Monday mornings. If you would like to submit photos or flyers, please convert to jpg files (if possible).