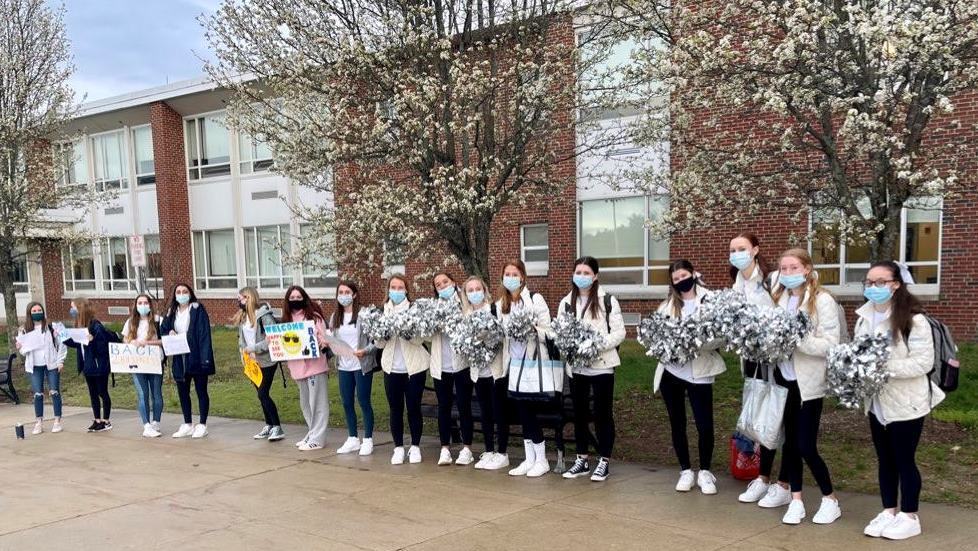 News Update - April 12, 2021
Medfield High School
Monday, April 12, 2021
THIS WEEK:
April 12 All MHS students return to school (except Cohort D)
April 13 Term 3 ends
April 14 Term 4 begins
---
LOOKING AHEAD:
April 17 - 18 K - 12 Annual Zullo Gallery Art Exhibit
April 19 - 23 SCHOOL VACATION WEEK
April 26 Classes resume
---
MHS CLUB NEWS
ISN'T IT TIME YOU WERE GOOD TO YOUR MOTHER (EARTH)?
As we approach EARTH DAY (this year on April 22nd), the MHS Environmental Club is providing an easy way for you to reduce your carbon footprint, save money, support the efforts of this student group, while showing your Mother Earth a little love. The club is teaming up with Eversource to provide a 100% contactless online fundraiser to sell energy-efficient products at a discounted price. All orders are shipped directly to you. ORDERS MUST BE PLACED BY FRIDAY, APRIL 16th! Proceeds will go towards supporting environmental actions and awareness promoted by the club at MHS.
Go to: https://techniartordersite.com... TODAY to order and help reduce your own carbon footprint while supporting the club. (*Please be sure to fill in the school name on the form!) Thanks for your support!
---
ACROSS THE AISLE CLUB
Don't forget to check out Across the Aisle at https://www.acrosstheaisleusa....
---
MHS WRITING CENTER APPOINTMENTS UPDATE
Now that all students are back in school 5 days a week, you will have the option to meet in person or via Zoom.
Students who sign up for Writing Center after school tutoring may choose to meet with WB either in room 219 or via Zoom. Students will have this choice for both the 1:25 PM and 1:50 PM tutoring appointments.
Remember, students can sign up for a Writing Center tutoring appointment for any stage in their writing process: from getting started with ideas, to help with where to go in the midst of your assignment, to complete review of the final writing product.
Emails to the school with the Writing Center Sign Up Genius are sent to all students at the end of each week.
---
YEARBOOK
With this lovely spring weather all around us, now is a good time to order the 2020-2021 yearbook! Please do so now before it is too late. Just click on this secure link: http://jostensyearbooks.com/?R....
Thanks in advance for your support!

---
GUIDANCE DEPARTMENT NEWS
Please visit the guidance website to view last week's recording of the Gap Year panel webinar as well as a few other Gap Year resources.
LINK TO WEBINAR: https://sites.google.com/email...
Reach out to your guidance counselor if you would like to talk more about a Gap Year or other postsecondary options. There are so many exciting opportunities available and we enjoy exploring these options with students and their families!
---
ALL NIGHT GRADUATION PARTY 2021 UPDATE
Please help us make the Class of 2021 graduation celebrations ones to remember and recognize their amazing achievements and resilience. It's a decades-long tradition and we rely on the community to 'pay it forward' so when it's your senior's time to celebrate we have the resources to do so.
Please make a donation to the All Night Grad Party (ANGP). There are no tickets to purchase. Instead, we rely on your tax-deductible donations to help all seniors regardless of their means to celebrate together. To make a donation please visit: https://www.medfieldangp.com
Volunteer? Please sign up HERE if you are interested in decorating part of the Rolling Rally route.
Questions? Contact Kim Price & Janie Boylan at angpmedfield@gmail.com
ATTENTION...ALL SENIOR PARENTS! Please send in photos of your senior! Check the flyer below for detailed information on what is needed from you. We want to make sure EVERY senior is represented in the End of Year tribute video to the Class of 2021.
---
MEDFIELD COALITION FOR PUBLIC EDUCATION
Back by Popular Demand! For a limited time, sign up to have our special "M" logo painted on your driveway to show your community spirit! Proceeds will be used by MCPE to fund educational and innovative grants for our K-12 public schools. More information about this effort is available here.
Questions? Contact Clair Meehan at clairmcpe@gmail.com.
COST: $35
WHEN: Sign up through April 23.
You will be contacted 24 hours before painting will occur.
---
THE MASSACHUSETTS MISS AMAZING EVENT NEEDS YOUR SUPPORT!
This year, the 7th Annual Massachusetts Miss Amazing Event will take place at Hinkley Park on Sunday, May 2nd (with a rain date of Saturday, May 1st). Many thanks to those at Medfield's Parks and Recreation department, who were generous enough to provide this space for free!
In anticipation of this event, we are encouraging the public to participate in our upcoming Italian Groceria fundraiser on April 14th from 5:00 - 8:00 PM. A portion of these sales will benefit the Massachusetts Miss Amazing program. Due to the ongoing pandemic, the event will run differently this year...your participation in our Italian Groceria fundraiser is one way YOU can get involved and help ensure the continuing success of MISS AMAZING.
We THANK YOU in advance for your support!
---
DON'T FORGET TO STOP BY THE ZULLO...
---
TO CHECK OUT THE DAILY ANNOUNCEMENTS!
---
To submit items to the MHS WEEKLY NEWS UPDATE, please email MJ Ingram at mingram@email.medfield.net by 8:00 AM on Monday mornings. If you would like to submit photos or flyers, please convert to jpg files (if possible).