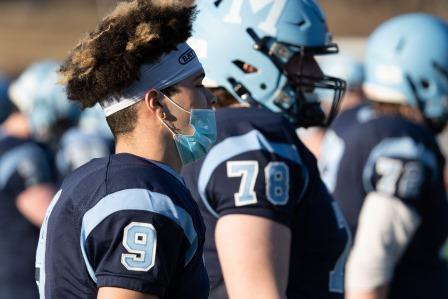 News Update - March 29, 2021
Medfield High School
Monday, March 29, 2021
THIS WEEK:
March 29 Cohort A in person/B Remote - ALL SYNCHRONOUS
March 30 Cohort A in person/B Remote - ALL SYNCHRONOUS
March 30 HS Site Council mtg (via Zoom) @ 3:00 PM
March 31 Cohort B in person/A Remote - ALL SYNCHRONOUS
**11:10 AM ADVISORY**
April 1 Cohort B in person/A Remote - ALL SYNCHRONOUS
April 2 NO SCHOOL - Good Friday
LOOKING AHEAD:
April 3 - 4** K - 12 Annual Zullo Gallery Art Exhibit
April 5 Cohort A in person/B Remote - ALL SYNCHRONOUS
April 6 Cohort A in person/B Remote - ALL SYNCHRONOUS
April 7 Cohort A in person/B Remote - ALL SYNCHRONOUS
April 7 MHS Guidance: Gap Year Panel webinar @ 12:30 PM
April 8 Cohort B in person/A Remote - ALL SYNCHRONOUS
April 9 Cohort B in person/A Remote - ALL SYNCHRONOUS
April 10 - 11** K - 12 Annual Zullo Gallery Art Exhibit
---
MFi YOUTH LEADERS help support MEDFIELD'S FOOD CUPBOARD! YOU CAN, TOO!
MFI youth leaders will be running a food drive this Monday, March 29th through Sunday, April 4th! Donation boxes are located throughout various locations around town including Park Street Books, the public library, the middle school, and the high school. The Medfield Food Cupboard's most needed items include macaroni and cheese, hearty soups, creamy peanut butter, jelly, rice pilaf, canned beans, and beef stew. Any donation is greatly appreciated during these tough times, just make sure they are unopened and have not expired. Thank you so much, and feel free to reach out to Sophia Bruno (smbruno2022@email.medfield.net) with any questions!
To find out more about the Medfield Foundation's Youth Leadership program, click HERE.
---
MHS SCIENCE OLYMPIAD TEAM SHINES IN STATE COMPETITION!
Recently, eleven members of the MHS Science Olympiad team participated in the state competition. Our MHS team placed 24th out of the 58 that competed! Of special note...Senior Chris Herbst garnered second place in the Mystery Architecture category and he earned 6th place, together with teammate, Katie Merck, in the Picture This event. Congratulations to all of our MHS competitors including: Austin Ferry-Calo, Chris Herbst, Noelle Lindgren, Edward Liu, Kathryn Merck, John Puthiaparambil, Katie Qian, Pranit Shah, Preet Shah, Adrian Sheehy, and Eric Thompson.
---
ANNUAL K-12 ZULLO ART EXHIBIT TO OPEN APRIL 3RD!
For the twenty-sixth year, the Zullo Gallery, in collaboration with the K-12 Visual Arts faculty of the Medfield Public Schools, is hosting its Annual Student-Faculty Art Exhibit. The Zullo Gallery offers a fantastic opportunity for deserving student artwork to receive special notice by our community in a professional gallery setting. This year's exhibit will be held from April 3rd through April 25th. Because gallery shows are keyed to the size of the gallery, only about seventy pieces chosen from kindergarten through grade twelve will be exhibited.
Due to the pandemic, the Zullo Gallery has been closed since its holiday 2020 exhibition, but will re-open with this year's Student Faculty Exhibit, without an opening reception. The gallery will be open on weekends and all participants are encouraged to attend with friends and family.
The Zullo Gallery is open every Saturday and Sunday from 12 noon until 5:00 PM. Over the course of the exhibit, the Zullo Gallery is typically visited by hundreds of viewers, enjoying the display of our wonderful student artwork.
Artworks (left to right)
Row 1. Anna Gelormini, grade 11: RBG
Paulina Dereveyanko, grade 10: Empty Glasses
Row 2. Nigel Lau, grade 12: Potion Drip
Theo Papadinoff, grade 9: Layered Portrait
---
GUIDANCE OFFICE NOTES
The Guidance Department is hosting a Gap Year Panel webinar on Wednesday, April 7th at 12:30 PM. All students and parents are welcome to attend. Representatives from Dynamy, City Year, and Where There Be Dragons will be in attendance. The webinar will be recorded for those unable to attend. Please RSVP using the link below:
https://docs.google.com/forms/d/e/1FAIpQLSeQbo8fCFHB1pGhp1r3ynXMbRTkL-qhgXRRA7Is3t-ggRUvcg/viewform?usp=sf_link
---
MHS SITE COUNCIL to meet (virtually via Zoom)
TUESDAY, March 30th
The next SITE COUNCIL meeting is scheduled for TOMORROW, Tuesday, March 30th at 3:00 PM via Zoom. The Zoom meeting link is below. Email mingram@email.medfield.net for the meeting password.
Zoom mtg. link: https://medfield-net.zoom.us/j/87398583254?
---
CLICK HERE
TO CHECK OUT THE DAILY ANNOUNCEMENTS!
---
#𝙊𝙣𝙚𝙈𝙚𝙙𝙛𝙞𝙚𝙡𝙙𝙊𝙣𝙬𝙖𝙧𝙙 starts TODAY!
All year, you have asked how YOU CAN HELP get our kids back into the classroom as safely as possible, and Monday is the time to come together and make it happen!!
Wee launched a 5 day fundraising initiative to help cover needs that have emerged as a result of the COVID-19 pandemic, such as air filters, disinfecting spray and wipes. Keeping our kids, teachers, staff and administrators safe is critical, but it's not free. Join us next week by making a donation and encouraging your friends and neighbors to do the same! medfieldcoalition.org
---
THE MEDFIELD COALITION FOR PUBLIC EDUCATION PRESENTS…
Murder, Mystery, Intrigue and Scandal:
The Dark Side of Medfield
Join us for a virtual history talk given by Medfield Town Historian, Richard DeSorgher,
coupled with delicious pre-ordered pickup meals from Basil.
Wednesday, April 7th at 6:00 PM
LINK to latest MCPE NEWSLETTER
---
To submit items to the MHS WEEKLY NEWS UPDATE, please email MJ Ingram at mingram@email.medfield.net by 8:00 AM on Monday mornings. If you would like to submit photos or flyers, please convert to jpg files (if possible).