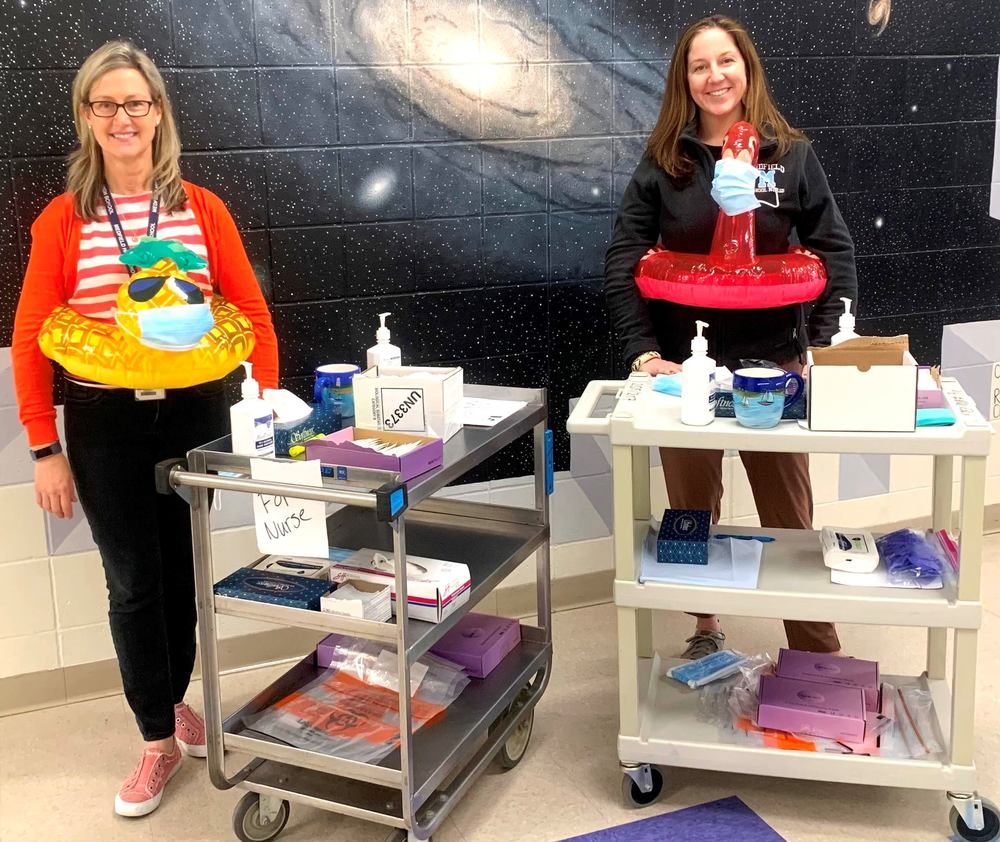 News Update - March 15, 2021
Medfield High School
Monday, March 15, 2021
THIS WEEK:
March 15 Cohort A in person/B Remote - ALL SYNCHRONOUS
March 16 Cohort A in person/B Remote - ALL SYNCHRONOUS
March 16 SEPAC Presents: POST SECONDARY TRANSITIONS @ 7:00 PM (see flyer)
March 18 Cohort B in person/A Remote - ALL SYNCHRONOUS
March 19 Cohort B in person/A Remote - ALL SYNCHRONOUS

---
LOOKING AHEAD:
March 22 Cohort A in person/B Remote - ALL SYNCHRONOUS
March 23 Cohort A in person/B Remote - ALL SYNCHRONOUS
March 24 SAT Day at MHS for registered JUNIORS
March 24 ALL REMOTE CLASSES
March 24 MHS PTO meeting via Zoom @ 7:00 PM
March 25 Cohort B in person/A Remote - ALL SYNCHRONOUS
March 26 TEACHER PROFESSIONAL DAY - NO SCHOOL FOR STUDENTS
---
THEATRE SOCIETY PROGRAM NOTES
The 2021 MAD Winter Showcase is here!
For a half hour of fabulous student-created performances from the comfort of your own home, simply click: https://youtu.be/gyEC-AzZgsE
A list of student participants can be found here. There is no cost involved to watch, just click the link and enjoy the show!
---
MHS CLUB NEWS
Are you interested in chess? We're hoping to bring back the MHS Chess Club so please email Kenny Manning (krmanning2023@email.medfield.net) if you are interested. The days and times of the club meetings will be determined by the members and advisor.
---
FROM THE HEALTH OFFICE…
COVID Pooled Testing has begun at MHS. Please fill out this Consent Form to have your child/student included. We encourage you to sign up to be a part of this data collection tool to keep our students and staff safe and to help us move towards further in person learning. We have over 70% of students signed up so far. Here are a couple bullet points about pooled testing:
It is a painless, self-administered nasal swab (not the deep naso-pharyngeal swab).

It takes less than a minute to complete and no class time will be missed.

If a pool (classroom) of students/staff are negative, we presume all are negative.

If there is a positive person in the pool, your child will not miss school. We will use our rapid tests to individually test all students/staff and isolate the positive case.
For additional information, please use this LINK. If you have any questions, please email us or call (508) 242-8568.
Thank you (from your MHS School Nurses)!
Liz Bennett ebennett@email.medfield.net Brittany Hardiman bhardiman@email.medfield.net
---
MHS PARENT TEACHER ORGANIZATION NEWS
GIFT CARD DONATIONS
Medfield's Digital Learning Day is March 26th. The Medfield K-8, High School and town wide PTOs would like to collect gift cards for the teachers and staff that can be raffled off throughout the day for some fun and to show them we care! If you would like to donate a gift card or more, please sign-up HERE. Thank you for your support!
TREASURER IS NEEDED!
The MHS PTO is looking for a treasurer for the 2021-2022 school year. If you are interested, please email mhs.pto1@gmail.com
NEXT PTO MEETING
Wednesday, March 24th at 7:00 PM via Zoom. All MHS parents and guardians are welcome to attend. More information regarding Zoom sign-in coming soon.
---
SAT DAY for MHS JUNIORS is coming...Wednesday, March 24th
JUNIORS! In preparation for the SATs on Wednesday, March 24th, please adhere to the following protocols and abide by the following directions.
REPORT TIME: 7:45 AM
COHORT A enters through Main Entrance (DOOR 1)
COHORT B enters through GYM Entrance (DOOR 2)
TESTING LOCATIONS:
COHORT A: MATH/ENGLISH WING (2nd floor).
COHORT B: LMC/HISTORY WING (1st floor).
Rooms & Rosters will be posted by the entrances
ITEMS TO BRING:
#2 Pencils, calculator, ID, MASK.
Snacks are allowed, but only during breaks.
TIMING:
7:45 AM Report time. 8:00 AM testing begins.
Testing times will range between 4.5-6 hours.
LOGISTICS:
Cell phones will be collected; feel free to leave them at home/in car.
Due to COVID protocols you cannot switch from essay to no essay and vice versa.
ATTENDANCE:
If you decide to NOT test on Wednesday, March 24th, you are expected to report to all scheduled school zooms. Those taking the SAT are excused from class zooms. If you feel ill, please do not report to the SAT session on Wednesday.
If you have any questions regarding the upcoming SAT on Wednesday, March 24th, please contact your guidance counselor.

---
The ANGP committee is in the process of planning a wonderful event for the Class of 2021. We are working on getting approvals from the town, police, fire and administration. As soon as we have all the appropriate approvals, we will announce our plans for ANGP this year. We know everyone is anxiously awaiting the event details, but we need to make sure everything is done according to protocol and safety standards. We appreciate your patience with this.
In the meantime, there are three things you can do:
1. Make a donation to the ANGP. There are no tickets to purchase. Instead, we rely on your tax-deductible donation in support of your student's attendance to one of Medfield's time-honored traditions. Check out our website for updates and to make a donation. https://www.medfieldangp.com/
2. Send in photos of your senior. Please see the flyer above for detailed information on what is needed from you. We want to make sure EVERY senior is represented in the End of Year tribute video to the Class of 2021. The above flyer has specific details regarding photo submissions.
3. Volunteer. Please sign up HERE if you are interested in volunteering. Decorating, set-up, clean -up, fundraising are just some of the many tasks that need to be done to make this a successful and fun night to remember. There's something for everyone.
QUESTIONS? Contact Kim Price & Janie Boylan at angpmedfield@gmail.com.
---
---
What is Challenge Success? A national non-profit organization (affiliated with Stanford University graduate school of education) that partners with schools, families, and communities to embrace a broad definition of "success" and implement research-based strategies to promote student well-being and engagement with learning.
What does Medfield Challenge Success do? We meet monthly to brainstorm ideas to reduce unhealthy pressures and demands, and to build resilience among MPS students. We have mostly been active at the middle and high schools, but we are hoping to expand to younger grades.

If you are interested in learning more about our past and future initiatives, check out: https://sites.google.com/email.medfield.net/medfieldchallengesuccess/home
Contact CS parent reps:

Eric Baacke (high school): etbaacke@gmail.com

Kristen Careau (middle/upper elementary): kristencareau@gmail.com

Nicole Hall (lower elementary): nicole.silvestri@gmail.com
---
CLICK HERE, TO CHECK OUT THE DAILY ANNOUNCEMENTS!
---
THE MEDFIELD COALITION FOR PUBLIC EDUCATION PRESENTS…
Murder, Mystery, Intrigue and Scandal:
The Dark Side of Medfield
Join us for a virtual history talk given by Medfield Town Historian, Richard DeSorgher,
coupled with delicious pre-ordered pickup meals from Basil.
Wednesday, April 7th at 6:00 PM
---
To submit items to the MHS WEEKLY NEWS UPDATE, please email MJ Ingram at mingram@email.medfield.net by 8:00 AM on Monday mornings. If you would like to submit photos or flyers, please convert to jpg files (if possible).