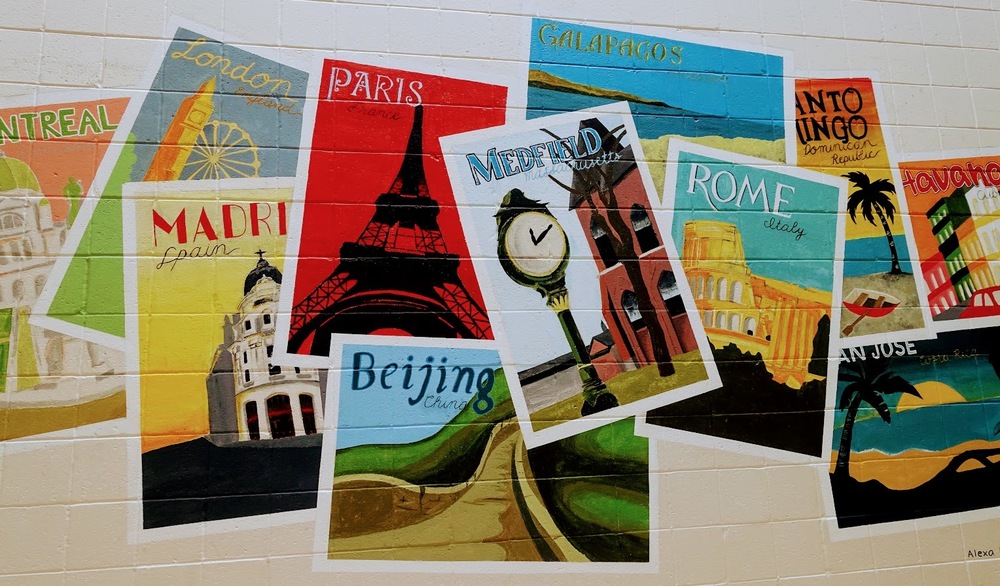 News Update - January 4, 2021
Medfield High School
Monday, January 04, 2021
THIS WEEK:
Jan. 4 CLASSES RESUME - Cohort A in person
Jan. 5 Cohort A in person
Jan. 5 Picture Retakes - Cohort A
Jan. 6 ALL REMOTE (Advisory @ 11:40 am)
Jan. 7 Cohort B in person
Jan. 7 Picture Retakes - Cohort B
Jan. 7 HS Site Council @ 3:00 pm (via Zoom**)
Jan. 8 Cohort B in person
---
LOOKING AHEAD:
Jan. 11 Cohort A in person
Jan. 12 Cohort A in person
Jan. 13 ALL REMOTE
Jan. 14 Cohort B in person
Jan. 15 Teacher Professional Day - NO SCHOOL for STUDENTS
Jan. 18 NO SCHOOL - Martin Luther King, Jr. Day
---
MHS SITE COUNCIL to meet THURSDAY, January 7th
The first MHS SITE COUNCIL of the year is scheduled for this Thursday at 3:00 pm via Zoom. If you would like to (virtually) attend this meeting, link is posted below. Just email mingram@email.medfield.net for the password.
Join Zoom Meeting:
https://medfield-net.zoom.us/j...?
---
GUIDANCE OFFICE NEWS & NOTES
MHS to offer SAT School Day on Wednesday, March 24, 2021
JUNIORS! Given all the uncertainty about college testing and with Covid-19 safety protocols in mind, the March 13th SAT and SAT Subject Tests scheduled at Medfield High School have been cancelled.
MHS will be offering an SAT School Day Test for all Medfield High School juniors on Wednesday, March 24th, 2021. Registration for the SAT will open up on January 6th. You can visit https://aptsusa.com/medfield/ to register and pay for the test.
Here are some facts about SAT School Day:
You will pay & register to take the exam through AP TEST SERVICES, not through College Board.

If you are looking for a refund or to switch payment from the March 13th SAT to another SAT you need to contact College Board directly at 866-630-9305.

Only the SAT with essay or SAT no essay are offered on SAT School Day. College Board prohibits subject tests on SAT School Day.

If you have an SSD number and receive testing accommodations, you will be able to test on SAT School Day.

If you were NOT registered for the March SAT in Medfield you can still take the test. Registration information will be available later this week.

The deadline to register for SAT School Day here in Medfield will be February 19th, 2021.

The district will do a deep clean on the Tuesday night prior to the test and again on Wednesday after testing.

Students will be split up on test day by cohort. More information will be provided as we get closer to March 24th.

If financial need is an issue, please reach out to your child's guidance counselor.
We are excited to offer the SAT to all Medfield juniors! If you have any questions about the SAT Test Day protocols, please contact your guidance counselor at 508-359-2482.
---
JUNIORS & JUNIOR PARENTS!
The Guidance Department will be sharing a series of weekly screencasts about future planning. Topics each week include:
Week 1: Making the most of Naviance

Week 2: A Guide to Standardized Testing

Week 3: Application Terminology & The Common Application

Week 4: Differentiating the Process as an Athlete, Musician, or Seeking Support

Week 5: Mental Health Resources at the College Level
THIS IS WEEK 4.
---
SAVE THE DATE!
On Wednesday, January 27th, the guidance counselors will host a webinar with college admission representatives. More information will be shared after the new year. Should you have any questions, please reach out to your guidance counselor.
---
MHS WRITING CENTER NEWS
Make Your WRITING CENTER Tutoring Appointments for:
Essays

Projects

Lab Reports

College Supplements

College Resumes

Scholarship Applications Writing
With all the writing assignments that January brings as Term 2 concludes on February 2, here's a reminder the MHS Writing Center is available to all students again this year.
Ms. Garcia and Ms. Wren-Burgess (WB) have been meeting with students to work on essays and projects, college supplements and resumes, scholarship application writing, plus other writing assignments for classes.
Signing up for a tutoring appointment is the same as it has been for several years: via the weekly Writing Center email, students simply click on the Sign Up Genius to fill in their names for the tutoring appointment time that works best for them in the coming week.
Then...
Students receive an email from either Ms. Garcia or WB confirming their appointment day and time, together with a link for the zoom meeting, and a request for the student to share their writing with the teacher.

Typically, students sign up for writing center appointments during their remote cohort days, and anyone can sign up for Wednesday Writing Center appointments.
Remember! Students don't need to wait until they have a finished paper to make an appointment...Students who want help getting started, need help with their writing in the midst of their writing, as well as those who want to review finished pieces before submission, are all welcome to make appointments for the Writing Center!
If you have questions or concerns about the Writing Center, please feel free to reach out to Ms. Garcia (mgarcia@email.medfield.net and/or WB at bwren-burgess@email.medfield.net).
---
THEATRE SOCIETY PROGRAM NOTES
Interested in a low-key, performance opportunity this winter? MHS Theatre is putting together a virtual showcase. Acts can take whatever form you'd like (skit, monologue, song, puppet show, comedy sketch, animation, etc.) Any MHS Theatre Society member can contribute an act OR members can elect to be assigned to someone else's skit.
ACTORS LOOKING TO BE ASSIGNED: Fill out this form.
THOSE SUBMITTING OTHER PROJECTS: Email Ms. McCoy with general details (amccoy@email.medfield.net)
If you'd like to get involved, the deadline to sign up is January 9th. Please visit bit.ly/medfieldaudition for more information.
---
FROM THE YEARBOOK STAFF
Now is a great time for families and friends to order/design recognition ads (AKA baby ads) to honor the graduating seniors. Jostens, in charge of that online process, has set the deadline for January 31. Here is the link: https://www.jostens.com/apps/store/ybAdDesigner/1549546/-/2020070904243269054/CATALOG_SHOP/. If you have any questions, please let Jostens know. Their recognition ad phone line is 800-358-0800.
On a separate note, if you have any photos you can submit to fit certain themes (senior sunsets at Hospital Hill, freshman fun outside of school, grade-by-grade random candids during the past several months, and senior throwbacks), please label them as such and upload them via this private link: https://images.jostens.com/415464605. If you get a screen asking you for a User ID, type in this number: 415464605.
Finally, if you want to order a copy of the yearbook, please use this link: http://jostensyearbooks.com/?REF=A01095588.
Thanks in advance for your support!
---
TO ORDER YOURS, CLICK HERE!
---
CLICK HERE, TO CHECK OUT THE DAILY ANNOUNCEMENTS!
MEDFIELD COALITION FOR PUBLIC EDUCATION (MCPE)
With most of our traditional events unable to happen this year, we're thrilled to bring you our annual Trivia Night! Join a team of 4-8 people on January 30 at 8:00 pm for a full pub trivia experience...without having to leave your couch! To sign up and learn more about how this virtual event will run, click here: https://www.medfieldcoalition.org/trivia-2021 #OneMedfield
Thank you to West Street Veterinary Clinic for sponsoring this event!
To submit items to the MHS WEEKLY NEWS UPDATE, please email MJ Ingram at mingram@email.medfield.net by 8:00 AM on Monday mornings.