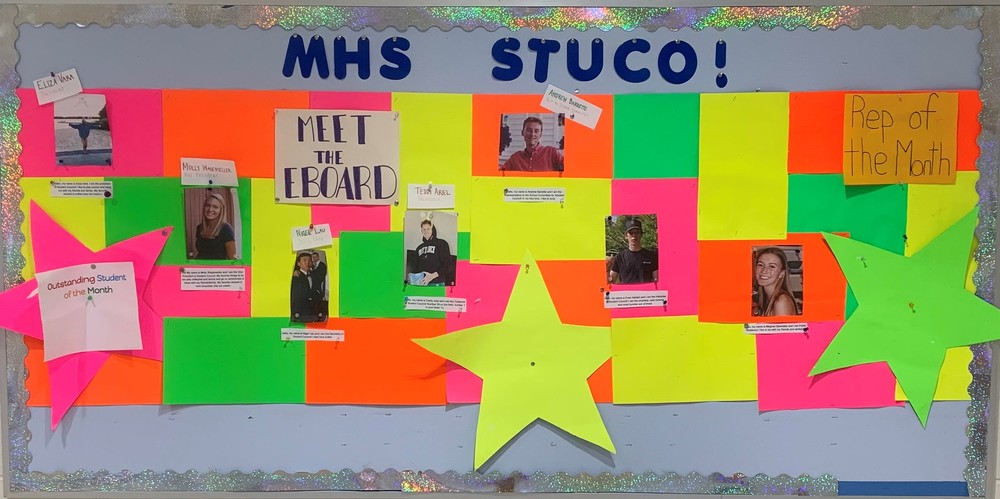 News Update - December 7, 2020
Medfield High School
Monday, December 07, 2020
Mark your calendars!
THIS WEEK:
Dec. 7 Cohort A in person
Dec. 8 Cohort A in person
Dec. 9 ALL REMOTE
Dec. 10 Cohort B in person
Dec. 11 Cohort B in person
LOOKING AHEAD:
Dec. 14 Cohort A in person
Dec. 15 Cohort A in person
Dec. 16 ALL REMOTE
Dec. 17 Cohort B in person
Dec. 18 Cohort B in person
---
It is hard to believe it is December already! Now is a great time for families and friends to order/design recognition ads (AKA baby ads) to honor the graduating seniors. Jostens, in charge of that online process, has set the deadline for January 31. Here is the link: https://www.jostens.com/apps/store/ybAdDesigner/1549546/-/2020070904243269054/CATALOG_SHOP/. If you have any questions, please let Jostens know. Their recognition ad phone line is 800-358-0800.
On a separate note, if you have any photos you can submit to fit certain themes (senior sunsets at Hospital Hill, freshman fun outside of school, grade-by-grade random candids during the past several months, and senior throwbacks), please label them as such and upload them via this private link: https://images.jostens.com/415464605. If you get a screen asking you for a User ID, type in this number: 415464605.
Finally, if you want to order a copy of the yearbook, please use this link: http://jostensyearbooks.com/?REF=A01095588.
Thanks in advance for your support!
---
FROM THE MHS HEALTH OFFICE
Flu vaccines are a state requirement this year for all Medfield students. Your child must receive a flu shot by 12/31. Please call their pediatrician's office to schedule an appointment. CVS in Medfield and Shaws/Osco Pharmacy are also offering flu shots. If they have already had one this fall, please send in a copy of this immunization to the school nurse.
If you have any questions, please call your school nurse.
DID YOU KNOW that you can follow @MedfieldNurses on Twitter for the latest COVID-19 and other important health information? Check it out TODAY!
---
This winter, the MHS Theatre Society will produce a virtual showcase. Any MHS Theatre Society member can contribute an act (skit, song, animation, stand-up comedy, etc.), or members can elect to be assigned to someone else's skit.
If you are not already on our mailing list and wish to participate, please email student production manager Zoe Lewis (zglewis2022@email.medfield.net) for additional details.
If you are not a member yet this year, and want to participate, you will need to join the Society. Details on joining can be found here.

---
WRITING CENTER Tutoring Appointments Help for College Common App & Supplement Writing
DECEMBER 1 & JANUARY Deadlines Fast Approaching!
With the December 1 and January college application deadlines nearing, this is just a reminder the MHS Writing Center is available to all students again this year.
Ms. Garcia and Ms. Wren-Burgess (WB) have been meeting with students to work on college application essays and college supplements, resumes, academic essays, and other writing assignments for classes.
Signing up for a tutoring appointment is the same as it has been for several years: via the weekly Writing Center email, students simply click on the Sign Up Genius to fill in their names for the tutoring appointment time that works best for them in the coming week.
Differences this year:
Students receive an email from either Ms. Garcia or WB confirming their appointment day and time, together with a link for the zoom meeting, and a request for the student to share their writing with the teacher.
Typically, students sign up for writing center appointments during their remote cohort days, and anyone can sign up for Wednesday Writing Center appointments.
But students don't need to wait until they have a finished paper to make an appointment! Students who want help getting started, need help with their writing in the midst of their writing, as well as those who want to review finished pieces before submission, are all welcome to make appointments for the Writing Center!
If you have questions or concerns about the Writing Center, please feel free to reach out to Ms. Garcia (mgarcia@email.medfield.net and/or WB at bwren-burgess@email.medfield.net).
---
GUIDANCE OFFICE NEWS & NOTES
JUNIORS & JUNIOR PARENTS/GUARDIANS!
The Guidance Department will be sharing a series of weekly screencasts about future planning. Topics each week include:
Week 1: Making the most of Naviance

Week 2: A Guide to Standardized Testing

Week 3: Application Terminology & The Common Application

Week 4: Differentiating the Process as an Athlete, Musician, or Seeking Support

Week 5: Mental Health Resources at the College Level
These weekly screencasts will be shared via email at the beginning of each week. Should you have any questions, please reach out to your guidance counselor.
---
ATTENTION JUNIORS & SENIORS!
Due to COVID-19, Medfield High School will NOT be hosting in-person visits this fall. We will be scheduling virtual visits for this fall every weekday after school from 2:00-3:00 pm. Sessions will be 20 minutes. This transition to virtual visits facilitates the opportunity for more college representatives to meet with Medfield students. Please log on to your Naviance account and sign up for the virtual sessions you are interested in.
The following schools are scheduled for the week of December 7th:
TUESDAY: Motoring Technical Training Institute
FRIDAY: Savannah College of Art & Design
---
CLASS OF 2022 - PSAT Scores to be released on December 8th
How to Get Your Scores
When your PSAT/NMSQT scores are ready online, you'll get an email with instructions on creating your College Board account, going to your online score report, and using your access code to view your scores. Watch this video to learn what's on your score report.
---
SAVE THE DATE!
On Wednesday, January 27th, the guidance counselors will host a webinar with college admission representatives. More information will be shared after the new year.
Should you have any questions, please reach out to your guidance counselor.
---
ALL NIGHT GRADUATION PARTY 2021
To the Parents/Guardians of SENIORS,
Your Senior will be receiving their Class of 2021 car magnet over the next few days.
The All Night Grad Party (ANGP) is gifting these this year to help celebrate their final year as a Medfield Public Schools student. Included is a note to reassure you and your senior that the ANGP will be organizing a fun celebration of some kind. To do this however, ANGP relies solely on the generosity of the community's support. If you would like to make a donation toward this event, please visit our website: www.medfieldangp.com
THANK YOU! Janie Boylan & Kim Price, ANGP Co-Chairs
Please like our ANGP Facebook page for updates.
---
CLICK HERE, TO CHECK OUT THE MHS DAILY ANNOUNCEMENTS.
---
---
MEDFIELD CARES ABOUT PREVENTION (MCAP)
MCAP's Social Host Law Campaign is coming to an end but our work is not yet finished! You are invited to join the Medfield Cares About Prevention Community Coalition and help us make change in the Medfield community. Click here to read more about how to get involved or email Meri Haas at mhaas@medfield.net.
---
WINTER LIGHTS SHINE BRIGHT IN MEDFIELD!
Winter Lights is a new ¾ mile long drive-thru light display and decorations at the former Medfield State Hospital Dec. 17 – 20, 2020 from 5 pm – 9 pm nightly. Tickets are $20 per vehicle and must be purchased in advance, while supplies last. No one will be permitted without a ticket and no tickets will be available for sale on site. The event runs regardless of the weather.
Tickets are available on EventBrite (search for "Winter Lights Display"):
https://www.eventbrite.com/e/winter-lights-display-tickets-128880421811
Proceeds support the non-profit organizations Medfield TV and the Cultural Alliance of Medfield. The Cultural Alliance of Medfield is a 501-c-3 organization established in 2015 to support artists, expand cultural opportunities and nurture the creative community. Medfield TV is a 501-c3 Access Station that supplies local cable programming to its members in Medfield. With its tag line of Community Shows, Medfield TV's focus is covering and creating captivating content for the town of Medfield.
---
DID YOU KNOW that you can now follow us on FACEBOOK, INSTAGRAM (@medfieldhs) and on TWITTER (@MedfieldHS)? If you are a fan of social media, you can keep up with the latest news from MHS by following us on any of these platforms.
To submit items to the WEEKLY NEWS UPDATE, please email MJ Ingram at mingram@email.medfield.net by 8:00 AM on Monday mornings.