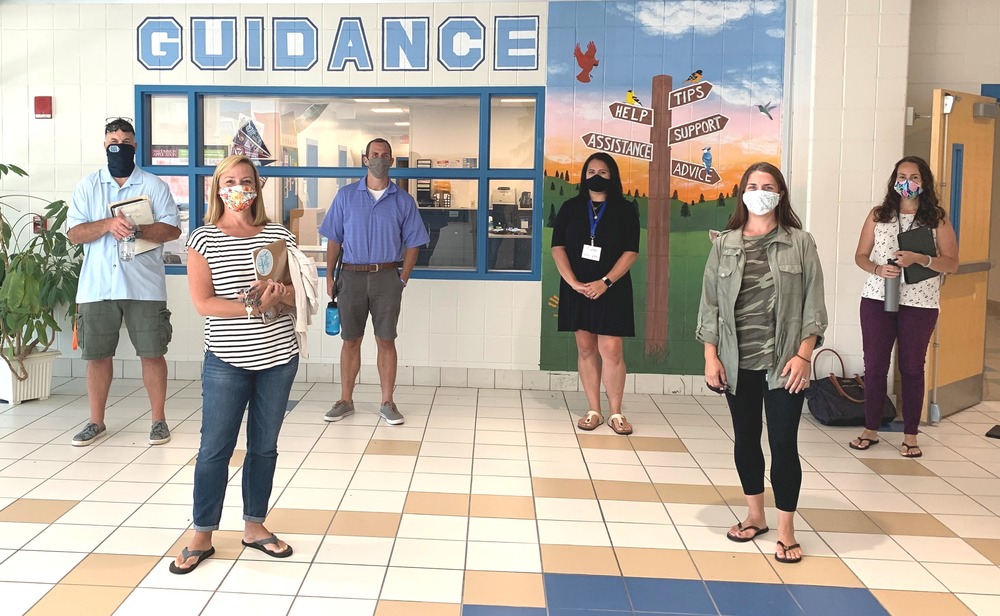 News Update - September 9, 2020
Medfield High School
Wednesday, September 09, 2020
DATES TO REMEMBER
FRIDAY, SEPT. 11th - OPEN HOUSE FOR COHORT B
Student Orientation Sessions (optional)
9th grade students- 8:00 - 11:00AM
All other students- 9:00 - 11:00AM
MONDAY, SEPT. 14th - OPEN HOUSE FOR COHORT A
Student Orientation Sessions (optional)
9th grade students- 8:00 - 11:00AM
All other students- 9:00 - 11:00AM
TUESDAY, SEPT. 15th - COLLEGE PLANNING webinar
12:00 - 1:00PM for seniors & their parents/guardians
(More information below from the Guidance dept.)
WEDNESDAY, SEPT. 16 - First Day of School (remote)
---
PLEASE WELCOME OUR NEW MHS STAFF FOR 2020-2021!
WILLIAM BREGNARD - Math Teacher
Bill graduated from Mansfield High School in 2009 where he threw the shot put and discus for the track team. He started college at Umass Dartmouth pursuing an electrical engineering degree and eventually transferred to Bridgewater State University where he completed his bachelor's degree in mathematics in 2018. Bill is currently enrolled in a masters program through Fitchburg State University and anticipates graduating in the spring of 2021. He has coached track for seven seasons at various schools, the most recent being Taunton High School where he taught for the last two years. Bill is looking forward to making a positive impact inside the classroom and on the track for the Medfield community.
ALYSE DILUZIO - Guidance Counselor
She is not entirely new to Medfield, so we would like to welcome back Mrs. Alyse DiLuzio! Mrs. DiLuzio covered a guidance counselor maternity leave position during the 2018-2019 school year. Mrs. DiLuzio is an experienced guidance counselor, having worked at Lincoln-Sudbury High School and Framingham High School. Mrs. DiLuzio also has experience at the college level as a program manager for Boston College's City Connects Program. Mrs. DiLuzio earned her Bachelor of Arts degree from Providence College and her Master of Arts degree in School Counseling from Boston College.
BLAKE FRASCA - Physics Teacher
Blake is a 2014 Medfield High School alumnus. Since then he has received an undergraduate degree from Rensselaer Polytechnic Institute in mechanical engineering, worked briefly as a design engineer, and most recently attended Boston University for a master's degree in education. Although he began a career in engineering, he found his real passion in teaching. He is excited to return to Medfield to teach and inspire our students!
COLBY REILLY - Biology Teacher
Colby Reilly grew up in Medfield and attended Hobart William Smith Colleges (B.S. 2004), College of the Atlantic (M.Phil. 2009), and Baylor University (Ph.D. 2014) . Prior to joining Medfield High School, she taught Anatomy and Physiology for Laboure College and medical science for Harvard Medical School's MEDscience program. She is excited to continue in the science department at MHS and develop a love of all things Biology in our students.

---
REMINDERS FROM MHS ATHLETIC TRAINER, MARIA HUTSICK...
All athletes are required to bring a large water bottle for practice and games according to Covid restrictions that do not allow the use of school water jugs and coolers for refills, as we have done in the past.
Last week, all 9th and 11 grade students were sent the information and directions needed to take the impact concussion test. This must be completed as soon as possible.
---
A MESSAGE FROM STUDENT SERVICES
If you have any questions about special education evaluations or services, please contact Karey Curley (kcurley@email.medfield.net), the Educational Team Leader for MHS. If you have already been in contact with your student's service providers, you can also email them directly.
---
GUIDANCE OFFICE NEWS & NOTES
CLASS OF 2021
The guidance office would like to invite all seniors and their parents/guardians to join them on Tuesday, September 15th from 12:00 - 1:00 PM for a College Planning webinar. With a different start to the school year, we have a lot of information to share that we would like to get out to you before school begins. Among other things, we'll be sharing information on the transcript and recommendation request process. The webinar link will be sent to all senior families on Monday and the webinar will be recorded for any family that is unable to join us at that time.
COUNSELOR ASSIGNMENTS 2020 - 2021
| | |
| --- | --- |
| SENIORS - Class of 2021 | |
| A - Bl | Mrs. Worthley |
| Bo - G | Mrs. DiLuzio |
| H - L | Mrs. Lodge |
| M - Q | Mrs. Padden |
| R - Z | Mr. Ormberg |
| | |
| JUNIORS - Class of 2022 | |
| A - Bo | Mrs. Worthley |
| Br - E | Mrs. DiLuzio |
| F - L | Mrs. Lodge |
| M - Q | Mrs. Padden |
| R - Z | Mr. Ormberg |
| | |
| SOPHOMORES - Class of 2023 | |
| A - Bo | Mrs. Worthley |
| Br - E | Mrs. DiLuzio |
| F - K | Mrs. Lodge |
| L - Q | Mrs. Padden |
| R - Z | Mr. Ormberg |
| | |
| FRESHMEN - Class of 2024 | |
| A - Bo | Mrs. Worthley |
| Br - E | Mrs. DiLuzio |
| F - K | Mrs. Lodge |
| L - P | Mrs. Padden |
| Q - Z | Mr. Ormberg |
---
FROM THE MHS HEALTH OFFICE
The nurses will be available for students and parents to drop-off medications during the Open House sessions on Friday, September 11th and Monday, September 14th. Parents who choose to drop-off their student's medication or talk with a nurse can meet us within the white tent located outside the front door of the high school, overlooking the faculty parking area.
Students may visit the MHS HEALTH OFFICE within the school to drop off their medications as well. During these drop-off meetings we will continue to maintain the safety of our students and families by maintaining a social distance of 6 feet, wearing masks and meeting for less than 15 minutes. Please feel free to drop off any medication or forms during this time.
Should you have any questions, or would like to talk about meeting the nurses outside of this time frame, please do not hesitate to contact us:
Liz Bennett RN, BSN (ebennett@email.medfield.net)
Brittany Hardiman RN, BSN (bhardiman@email.medfield.net)
508-242-8568
---
Fall is here! These are unprecedented times, but the good news is that MHS remains committed to producing a yearbook, including a section full of senior portraits. We just need to work out some details with Jostens such as senior-portrait size requirements, submission protocols, and the deadline (probably in late October as in years past). Thanks in advance for your patience while we make these decisions. Stay tuned for more information to come soon!
---
DID YOU KNOW that you can now follow us on FACEBOOK, INSTAGRAM (@medfieldhs) and on TWITTER (@MedfieldHS)? If you are a fan of social media, you can keep up with the latest news from MHS by following us on any of these platforms.
To submit items to the WEEKLY NEWS UPDATE, please email MJ Ingram at mingram@email.medfield.net by 8:00 AM on Monday mornings.