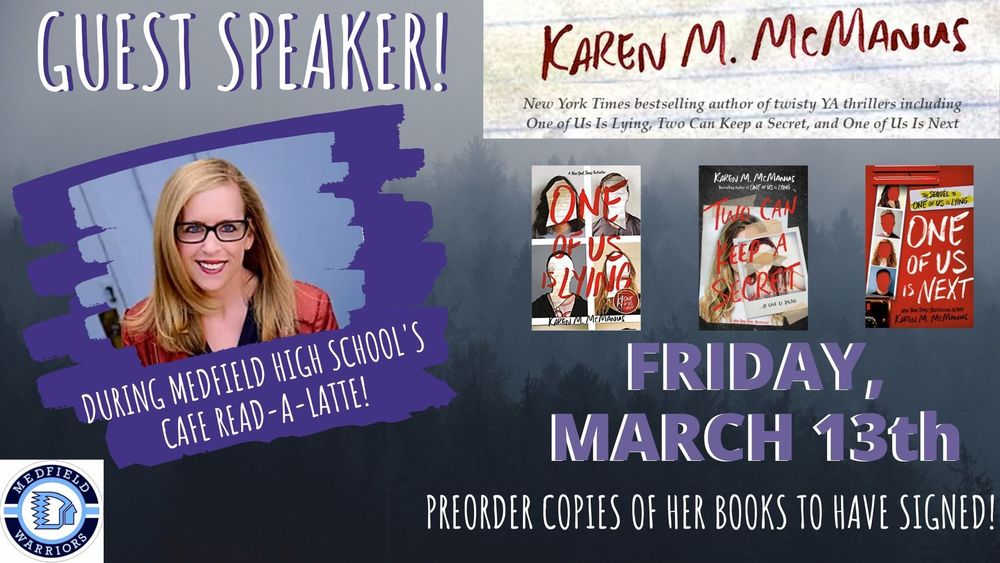 Weekly News Update - March 2, 2020
Medfield High School
Monday, March 02, 2020
ANSWERING THE CALL TO EXCELLENCE
A week ago, MHS senior, John McNeil won the MA State Championship title in the HIGH JUMP. John won AGAIN the top spot at the New England Regionals this past weekend in the HIGH JUMP, soaring to a height of 6' 7". Congratulations to John on yet another very impressive achievement!
This past weekend, MHS sophomores Deeya Yadapadithaya and Joe Nickerson earned ribbons for their DECA (business) team marketing role-plays and placed as finalists for the DECA International competition in Nashville this coming April. Bravo to Deeya and Joe for their award-winning creativity, preparation, and collaboration! GO WARRIORS!
---
DATES TO REMEMBER...
SPRING ATHLETICS INFO. MTG: MONDAY, March 2 @ 6:00 pm (Click HERE for more)
TERM 3 OPEN GRADEBOOKS visible through the Aspen portal, Feb. 28 - March 3
MHS PTO MTG.: TUESDAY, MARCH 10th from 7:45 - 9:00 am in room 125 (Please note DATE CHANGE)
SOPHOMORE PARENT NIGHT: THURSDAY, March 5 @ 6:30 pm (see below for more info.)
CAFE READ-A-LATTE (LMC): MONDAY-FRIDAY, March 9 - 13
---
FROM THE GUIDANCE OFFICE
PARENTS OF SOPHOMORES...
Sophomore Parent Night is Thursday, March 5th at 6:30 pm (PLEASE NOTE TIME CHANGE). Join the Guidance Department and learn about career exploration, future planning, course selection, mental health, and finding balance. Hope to see you there!
---
ATTENTION JUNIORS & SENIORS!
The representative from the United States Air Force will be visiting MHS during 2nd and 3rd lunch on Tuesday, March 3rd in the Guidance office.
REGISTRATION DEADLINES for the next SAT and ACT test dates are approaching!
The next SAT test date is March 14th, late Registration deadline is Tuesday, March 3rd. Students can register online at Collegeboard.org. The next ACT test is April 4th, late registration deadline is March 13th, students can register online at ACT.org.
---
Armed Services Vocational Aptitude Battery (ASVAB)
On Thursday, April 9th, Medfield will be offering the ASVAB (Armed Services Vocational Aptitude Battery). Students should report to guidance at 7:45 am on test day. Students can register here: ASVAB REGISTRATION
The test, optional and open to all CURRENT JUNIORS & SENIORS, is approximately 3 hours in length. Students are reminded that they are responsible to approach teachers in order to make up all missing assignments. Students will check-in to the guidance office the morning of the exam.
The ASVAB is an interest inventory that allows students to explore potential career options. The ASVAB is designed to help students learn more about themselves and the world of work, to identify and explore potentially satisfying occupations, and develop an effective strategy to realize potential career goals. There is no fee to take the test. If you have any questions about registration, please contact the guidance office.
---
MARCH ADVISORY NOTES
With the prospect of spring, a time of new growth and beginnings, March advisory activities provide students opportunities to: investigate and discuss course selection for the school year 2020-21 and discuss the challenges associated with making good choices/decisions whether that is in regard to substance use, screen time, or developing healthy relationships.
Resources:
Q to consider:
What does a balanced scheduled look like? this tool and this pie chart may help

What factors should be considered when making decisions?
---
FROM THE ENGLISH DEPT...
The English Department is excited to announce that author Karen M. McManus will be a guest speaker on Friday, March 13, during this year's Cafe Read-a-Latte held in the high school's library. McMannus, an author of young adult fiction, is best known for her novel, One of Us Is Lying, which spent 93 weeks on the New York Times bestsellers' list. McManus' novel is part of a "book club" activity in Grade 9 classes this year, and students are excited to meet the author of the novel they've enjoyed so much. Special thanks to Beth Sancher for her energy and commitment to this event!

---
NUTRITION FOR SPORTS PERFORMANCE & INJURY PREVENTION SESSIONS
The Medfield Coalition for Public Education approved a grant to bring Dr. Paula Quatromoni, Associate Professor and Chair, Department of Health Sciences, Programs in Nutrition at Boston University as the presenter on this important subject. Click HERE for details on the 4 sessions being presented this week, each tailored to specific groups: male athletes, female athletes, parents, and for coaches and teachers..

---
SCREENAGER - The Next Chapter
Screenagers: The Next Chapter is a 60 minute film about helping young people thrive in our screen and stress-filled world. The screening of the film will be followed by a panel discussion with experts in the areas of screen time, mental health, and school administration. Parents/guardians and children (age 10 and up) are invited to attend together on Monday, March 23rd from 6:30-8:30 pm in the HS auditorium. Click HERE for more information.
---
MHS THEATRE SOCIETY PROGRAM NOTES
The Medfield High School Theatre Society will present Into the Woods with music and lyrics by Stephen Sondheim on Friday, March 13th at 7:00 pm, Saturday, March 14th at 7:00 pm or Sunday, March 15th at 2:00 pm. DON'T MISS OUT! You can purchase tickets here https://medfielddrama.weebly.com/ordering-tickets.htm
---
CAFE READ-A-LATTE IS COMING TO THE MHS LMC!
The LMC is very pleased to be hosting the 17th annual "Cafe Read-a-Latte" to celebrate Read Across America during the week of March 9th to March 12th.
This is a fun event that the entire school community looks forward to every year! All students will come to the LMC with their English classes to browse new books and enjoy a snack and beverage, which are sold for $1.00 each. Profits from Cafe Read-a-Latte will be used to fund items outside of the library budget, such as the author visit and the maker space.
This year we are very excited to welcome author Karen McManus to meet with the students on Friday to discuss her books and sign copies. Here is a link to the author's webpage:
Here is a link to the book order form:
https://docs.google.com/docume...
If you are interested in volunteering time or snacks, or if you are available to help with early morning food pick-ups, please click on our handy sign-up form.
Thank you (in advance!) for your support from the LMC staff!
---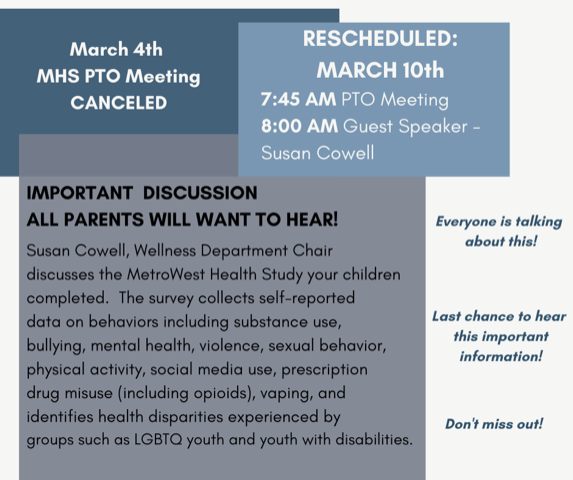 ---
CLICK HERE to view the MHS DAILY ANNOUNCEMENTS.
---
MEDFIELD BOYS LACROSSE fundraiser is Friday, March 13th
Come celebrate St. Patrick's Day (a little early) and support the MHS Boys Lacrosse team at the "Luck O' the Irish Night". Click HERE for more details about this night of fun and fundraising.
---
MEDFIELD SEPAC PRESENTS...
Medfield SEPAC is excited to host a "No Sibling Left Behind Educational Workshop," on Tuesday, March 24th at 7:00 pm in the Blake Middle School Library. This workshop will be presented by The Massachusetts Sibling Support Network and is geared for siblings and parents and will discuss the overall sibling experience, strategies to support siblings with a brother/sister with disabilities and current trends in research. Please RSVP at decoste.jennifer@gmail.com. We hope to see you there!
---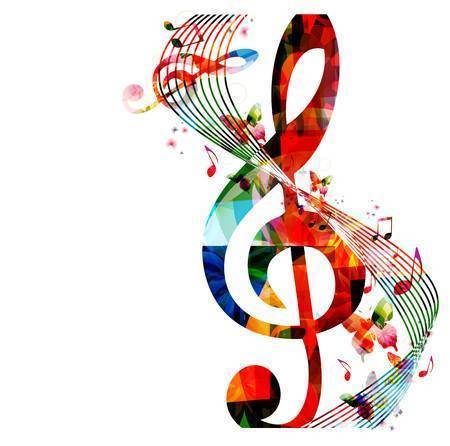 MEDFIELD MUSIC ASSOCIATION NEWS
Borchers Trust Law presented Medfield A Cappella Night on Feb. 28th at 7:00 pm in the HS auditorium! It was a huge success, and the MMA would like to thank everyone for coming out to enjoy the show and supporting Medfield Music.
Medfield Music Association's monthly meeting will take place on Tuesday, March 3, at 7:00 pm in the MHS band room. Meeting Guest, Superintendent Jeff Marsden, will kick off the session with an overview of the district budgeting process, which will be followed by other current MMA business, including upcoming events and updates from music director, Jason Bielik. All current music parents welcome!
---
ANGP SENIOR FASHION TICKETS ON SALE NOW!
Tickets are currently on sale for the MHS Fashion Show 2020! Come support our seniors in the biggest fundraiser for the All Night Graduation Party. Follow the LINK on the ANGP website to get your tickets before they sell out!
---
SENIOR PARENTS NIGHT OUT - a night of fun for our CLASS OF 2020 PARENTS hosted by Jennifer O'Connor to support the All Night Grad Party 2020.
TIME: Saturday, March 28th from 7:00-11:30 pm
PLACE: Dover Legion, 32 Dedham Street
The cost is $25 per person. You can VENMO @jennifer-oconnor-77402 or mail a check to 6 Juniper Lane. There are only 250 tickets available. Get yours NOW! Contact Jennifer O'Connor at Jennoconnor2000@hotmail.com or 508-479-0561 with any questions. Click HERE to view flyer.

---
BLAKE MIDDLE SCHOOL PRESENTS…
Fostering A Safe and Inclusive Learning Environment for Our Students & Community on Monday, March 16 at 6:00 pm in the Blake MS library.
Please join us for an introductory parent/community presentation and discussion with guest speaker, Colby Swettberg, as we discuss how to best foster a safe learning environment for our community, specifically our LGBTQ+ youth and families. See links below to read more information about the evening and to RSVP for this event.
Safe and Inclusive Learning Environment Evening 3/16/20 - Blake Communication
RSVP - Safe and Inclusive Learning Environment Parent/Community Evening (3/16/20)

---
THE CAMBRIDGE NETWORK asks...Would you like to host an exchange student!
The Cambridge Network is looking for host families for exchange students during the 2020-2021 academic year. Don't miss this exciting opportunity for your family to meet and welcome an international student into your home...and get paid for it as well! For more information, check out their Host Family referral flyer and their Host Family FAQs sheet.
---
Attend a FREE "Young Adult Document Signing" to learn the financial and legal obligations of becoming an adult in Massachusetts and sign important legal documents so parents/guardians can advocate for you after you turn 18 (forms like HIPAA, Power of Attorney, and a Health Care Proxy). You must be 18 to sign and bring a valid photo ID.
Date/time: Saturday, March 28 - 11:00 am - 12:30 pm
Location: Medfield Public Library
Speakers and Notaries:
Tim Borchers, Esq. and Debra Hedges, Esq. of Borchers Trust Law Group
Maria Baler, Esq. and Abby Poole, Esq. of Samuel, Sayward & Baler
Space is limited, so please register: REGISTRATION LINK
PLEASE NOTE: No individualized legal advice will be provided at this event sponsored by PEAK Community Seminars, a MA non-profit organization.
---
MASSACHUSETTS MISS AMAZING is coming to MEDFIELD !
DATE/TIME: Saturday, March 28th, 2020 at 6:00 pm
LOCATION: Medfield High School Auditorium.
TICKETS: Beginning March 14th at ma.missamazing.org.
WANT TO DONATE? Visit https://missamazing.org/donate/.
WANT TO VOLUNTEER? Sign up to be a buddy, half day volunteer (helping hand), or a right hand man online at https://missamazing.org/volunteer/.
KNOW A GIRL OR YOUNG WOMAN WHO WOULD LIKE TO PARTICIPATE?
Direct them to the Miss Amazing website so they can learn more! Sign up a participant at https://missamazing.org/participate/.
---
DID YOU KNOW that you can now follow us on FACEBOOK, INSTAGRAM (@medfieldhs) and on TWITTER (@MedfieldHS)? If you are a fan of social media, you can keep up with the latest news from MHS by following us on any of these platforms.
To submit items to the WEEKLY NEWS UPDATE, please email MJ Ingram at mingram@email.medfield.net by 8:00 AM on Monday mornings.