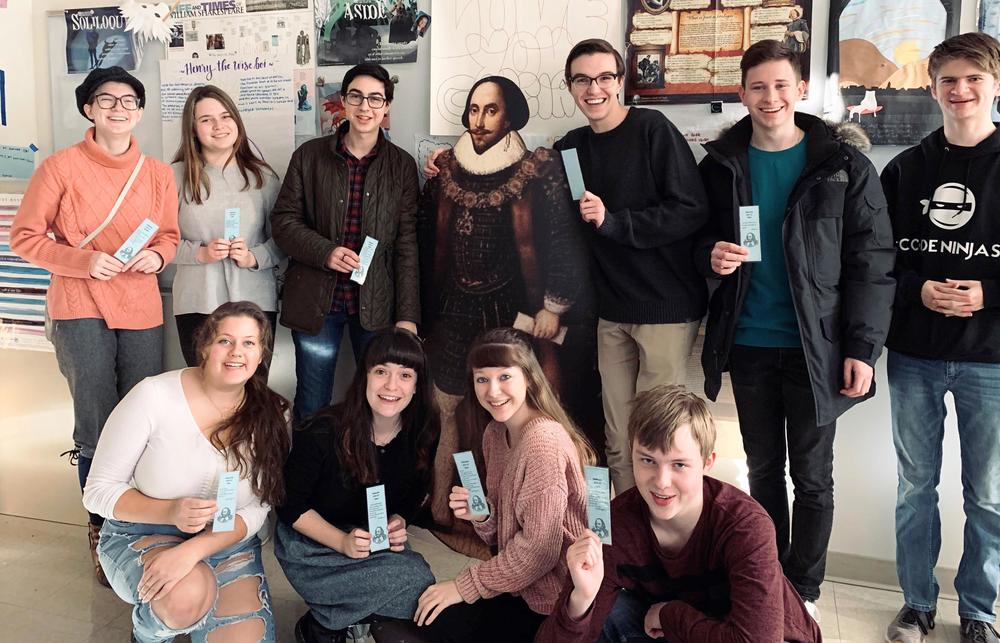 Weekly News Update - February 3, 2020
Medfield High School
Monday, February 03, 2020
COMING UP:
TUESDAY, February 4th - Teacher Professional Day - EARLY DISMISSAL @ 11:10 am
WEDNESDAY, February 5th - MHS PTO mtg @ 6:30 pm, HS Library
THURSDAY, February 6th - 2021 Students & Parents College Rep. Panel (See guidance section below for details.)
---
2020 SCHOLASTIC ART AWARDS ANNOUNCED!
The talent of our MHS students never ceases to amaze. Please join us in congratulating the following MHS artists, who have been recognized for their excellence in the visual arts. GO WARRIORS!
SENIORS
Luca Leger - 2 Honorable Mentions (Painting & Art Portfolio)
Reilly Mulock - Silver Key & Honorable Mention (Painting)
Amanda O'Grady - 2 Honorable Mentions (Sculpture & Painting)
Jennifer O'Grady - Silver Key (Sculpture) - (At left below, "Hubba Bubba")
JUNIORS
Nigel Lau - Honorable Mention (Painting)
Noelle Lindgren - Honorable Mention (Photography)
Grace O'Donnell - 2 Honorable Mentions (Ceramics & Glass)
Emery Swirbalus - Silver Key (At right below, "The Solipsist") & Honorable Mention (Painting)
SOPHOMORES
Jack Hauptman - Honorable Mention (Photography)
---

FEBRUARY ADVISORY
For the month of February, students will review and reflect on the Medfield High School Vision of the Graduate.
Medfield High School envisions a graduate who is an active and reflective member of their community. Students will graduate with the ability to think critically and communicate effectively using technology skillfully and ethically. They will pair these academic skills with empathy and resilience in order to be prepared for adulthood. Students will be able to balance responsibilities with their physical and social-emotional well-being. Students will also show a willingness to take risks, and understand mistakes are part of the journey of a lifelong learner.
Values are the secret from Tech Talk Tuesday
Q to consider
What are some of your core values?

Are there ways you can name that you lead your life with integrity?

Which of these values would you want to spend more time cultivating? Creativity, Competence or Connection?
---
FROM THE GUIDANCE OFFICE
Attention Class of 2021!
COLLEGE REPRESENTATIVE PANEL to visit MHS on
THURSDAY, FEBRUARY 6th, 2020 from 6:30 - 8:00 pm in the MHS auditorium
MHS guidance counselors are inviting all students ('21) AND parents to attend our college representative panel. Representatives from the following colleges will be in attendance:
NORTHEASTERN UNIVERSITY, UMASS AMHERST, PROVIDENCE COLLEGE,
BOSTON COLLEGE, WESTFIELD STATE, HOBART COLLEGE
---
AP EXAM INFORMATION
All students enrolled in an AP course(s) will be receiving invoices for AP exam beginning on January 21st. The invoices will explain the format/instructions for payment.
COST FOR EACH EXAM: $100 LATE FEE $15 per test
PAYMENT WINDOW: January 21st--March 1st, 2020
As we get closer to the May exam dates we will be meeting with students to explain:
-The AP exam schedule
-Sending scores to colleges
-Eligibility for extended time
-Potential conflicts with exam and/or field trips
-Financial Aid
If paying for AP exams presents a hardship of any kind, please speak to your child's guidance counselor. For students taking a high volume of exams we can set up monthly payment plans if necessary. If you have any questions regarding the AP exams, please contact the guidance office. For more information please see the AP Bulletin for Students & Parents here:
https://apstudents.collegeboard.org/ap/2019-10/ap-student-parent-bulletin-2019-20.pdf
---
A5 CLUB presents a PANEL DISCUSSION ON HUMAN TRAFFICKING
The MHS A5 Club, supported by the Amilia's Light organization, will host a panel discussion on February 12, 2020 from 7:00-9:00 pm at the United Church of Christ. The panel will be comprised of experts in the field of anti-trafficking. The event is free and open to all. To find out more, click HERE.
A5 is a club at Medfield High School, with a mission to spread awareness about human trafficking. The club works on an annual project to highlight the dark world of commercial sex trafficking and exploitation, with a focus on what is happening locally in our towns, throughout Massachusetts, New England, and the United States.
---
CRADLES TO CRAYONS CLUB
Recently, Mrs. Holbrook from the United Church of Christ in Medfield reached out to MHS Cradles to Crayons Club Co-Presidents, Nicolina Farmer and Catherine Lynch. She mentioned that lots of clothes were recently dropped off to her and needed to be organized for Cradles to Crayons. Nicolina picked up the 11 bags, and noted, "We had about a dozen people come Saturday morning! It was really fun and pretty easy with all of us to sort and package it all for Cradles to Crayons." Catherine Lynch added, "One of the club members even said that since helping Cradles to Crayons is this easy and fun, that we should do it every week!"
---
MHS THEATRE SOCIETY PROGRAM NOTES
The Medfield High School Theatre Society will soon present Into the Woods with music and lyrics by Stephen Sondheim. The show was originally directed on Broadway by James Lapine, with orchestrations by Jonathan Tunick. Into the Woods is presented through special arrangement with Music Theatre International (MTI). All authorized performances are also supplied by MTI. www.MTIShows.com
Join beloved fairy tale favorites such as Cinderella, Rapunzel, and Little Red Riding Hood as they, too, travel Into the Woods in search of their hearts' desires. Will they find what they seek? How far will they go to achieve their goals? And what will happen when you find yourself lost in the woods?
Please join us on Friday, March 13th at 7:00 pm, Saturday, March 14th at 7:00 pm or Sunday, March 15th at 2:00 pm at Medfield High School's Lowell Mason Auditorium at 88 South Street, Medfield, MA. You can purchase tickets here https://medfielddrama.weebly.com/ordering-tickets.html
---
CLAY CLUB PRESENTS EMPTY BOWLS
Clay Club presents Empty Bowls, a collaborative community dinner of soup and bread to raise money for Medfield Food Cupboard. A $25 ticket bought in advance gets you dinner along with two pottery classes to create a bowl to eat dinner out of and bring home with you. No time to make your own bowl? Choose a bowl, handmade by local artisans, fill it with delicious soup donated by local restaurants, and take your bowl home with you! All ages welcome!
---
MHS YEARBOOK
If you haven't yet designed/purchased a recognition ad (otherwise known as a baby ad) for a graduating senior, please do so! It has become a special tradition for families to acknowledge their soon-to-be graduates via baby ads. That deadline is February 13. Here is the link: https://www.jostens.com/apps/shop/yrbk_ra_flash.asp?CID=270741&PFID=20190619041521990169. We really appreciate your interest and support!
---
CLICK HERE to view the MHS DAILY ANNOUNCEMENTS

---
MHS PTO NEWS
Please join us the evening of Wednesday, February 5th. MPS Wellness Department Chair,
Susan Cowell, will be discussing the results of the MetroWest Health Study immediately following our 6:30 pm PTO meeting in the MHS Library. All MHS parents/guardians are welcome to attend!
---
ALL NIGHT GRAD PARTY 2020 UPDATES
All Night Grad Party Design Teams - Please join us on Tuesday, February 4th at 7:00 pm in the HS Library to share your design ideas with the rest of the teams and discuss helpful hints about decorating your space. http://www.medfieldangp.com
ANGP SENIOR FASHION TICKETS ON SALE NOW!
Tickets are currently on sale for the MHS Fashion Show 2020! Come support our seniors in the biggest fundraiser for the All Night Graduation Party. Follow the LINK on the ANGP website to get your tickets before they sell out!
---
SENIOR PARENTS NIGHT OUT - a night of fun for our CLASS OF 2020 PARENTS hosted by Jennifer O'Connor to support the All Night Grad Party 2020.
TIME: Saturday, March 28th from 7:00-11:30 pm
PLACE: Dover Legion, 32 Dedham Street
The cost is $25 per person. You can VENMO @jennifer-oconnor-77402 or mail a check to 6 Juniper Lane. There are only 250 tickets available. Get yours NOW! Contact Jennifer O'Connor at Jennoconnor2000@hotmail.com or 508-479-0561 with any questions. Click HERE to view flyer.
---
MEDFIELD COALITION FOR PUBLIC EDUCATION
MCPE's Treasured Experiences Online Auction is OPEN for bidding! There's something for everyone from VIP seats at graduation, to dance and icecream parties with teachers to student principal for a day! Go to medfieldcoalition.org to start bidding!
---
MEDFIELD MUSIC ASSOCIATION NEWS
Borchers Trust Law presents the third annual Medfield A Cappella Night on Feb. 28 at 7:00 pm in the HS auditorium! Come hear Medfield's own MHS Soundwaves, the Junior Jazz Choir, and groups from Newton North, Xaverian Brothers, and Montrose High Schools at last count. Tickets can be purchased at medfieldmusicassociation.com or will be sold at the door.
---
MASSACHUSETTS MISS AMAZING!
Save the date! Massachusetts Miss Amazing is coming to Medfield High School for its seventh annual event! Miss Amazing's mission statement reads, "Miss Amazing provides opportunities for girls and women with disabilities to build confidence and self-esteem in a supportive environment." Join us in supporting this goal and giving these girls and young women an opportunity to shine. This full-day event is Saturday, March 28th, 2020 and will be held in the Medfield High School Auditorium at 6:00 pm. Ticket sales are open to the public beginning on March 14th at ma.missamazing.org. If you would like to donate, visit https://missamazing.org/donate/. If you want to volunteer with the event, you can sign up to be a buddy, half day volunteer (helping hand), or a right hand man online at https://missamazing.org/volunteer/. If you know a girl or young woman who might want to participate in this event, refer them to the Miss Amazing website so they can learn more! Sign up a participant at https://missamazing.org/participate/. See you there!
---
DID YOU KNOW that you can now follow us on FACEBOOK, INSTAGRAM (@medfieldhs) and on TWITTER (@MedfieldHS)? If you are a fan of social media, you can keep up with the latest news from MHS by following us on any of these platforms.
To submit items to the WEEKLY NEWS UPDATE, please email MJ Ingram at mingram@email.medfield.net by 8:00 AM on Monday mornings.