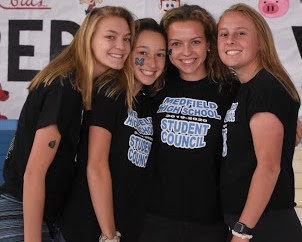 Weekly News Update - January 21, 2020
Medfield High School
Tuesday, January 21, 2020
COMING UP:
TUESDAY, January 21st @ 3:15 pm - MHS SITE COUNCIL meeting
MONDAY, January 27th, end of day - Term 2 report cards available via Aspen portal
---
FROM THE GUIDANCE OFFICE
REMINDER FOR SOPHOMORES
Medfield High School will be offering the ACT & Pre ACT test on February 8th. LATE registration deadline is January 17th. Students can register online at act.org.
AP EXAM INFORMATION
All students enrolled in an AP course(s) will be receiving invoices for AP exam beginning on January 21st. The invoices will explain the format/instructions for payment.
COST FOR EACH EXAM: $100 LATE FEE $15 per test
PAYMENT WINDOW: January 21st--March 1st, 2020
As we get closer to the May exam dates we will be meeting with students to explain:
-The AP exam schedule
-Sending scores to colleges
-Eligibility for extended time
-Potential conflicts with exam and/or field trips
-Financial Aid
If paying for AP exams presents a hardship of any kind, please speak to your child's guidance counselor. For students taking a high volume of exams we can set up monthly payment plans if necessary. If you have any questions regarding the AP exams, please contact the guidance office. For more information please see the AP Bulletin for Students & Parents here:
https://apstudents.collegeboard.org/ap/2019-10/ap-student-parent-bulletin-2019-20.pdf
---
MHS YEARBOOK
Happy New Year! The yearbook staff has been hard at work for months, creating and submitting pages in batches to Jostens. This process will continue until everything is ready in mid May. If you haven't yet pre-ordered your copy of the yearbook, please do so! It is available at a discounted rate of $95 until the end of January, at which point the cost will go up to $100. Here is the link: http://www.jostensyearbooks.com/. If you haven't yet designed/purchased a recognition ad (otherwise known as a baby ad) for a graduating senior, please do so! It has become a special tradition for families to acknowledge their soon-to-be graduates via baby ads. That deadline is February 13. Here is the link: https://www.jostens.com/apps/shop/yrbk_ra_flash.asp?CID=270741&PFID=20190619041521990169. We really appreciate your interest and support!
CLICK HERE to view the MHS DAILY ANNOUNCEMENTS.
---
ANGP 2020 SENIOR FASHION SHOW
PARENT VOLUNTEER MEETING
Tuesday, January 21st
7:00 to 8:00 pm
HS Cafeteria
Please join us to learn more about this incredible MHS tradition and fundraiser! We need volunteers from all grades to help us make this night special for our seniors and their families.
Any questions: email Maryanne Sullivan (maryannesullivan5@gmail.com) or Jesse Pezzullo (jessepezzullo@yahoo.com).

---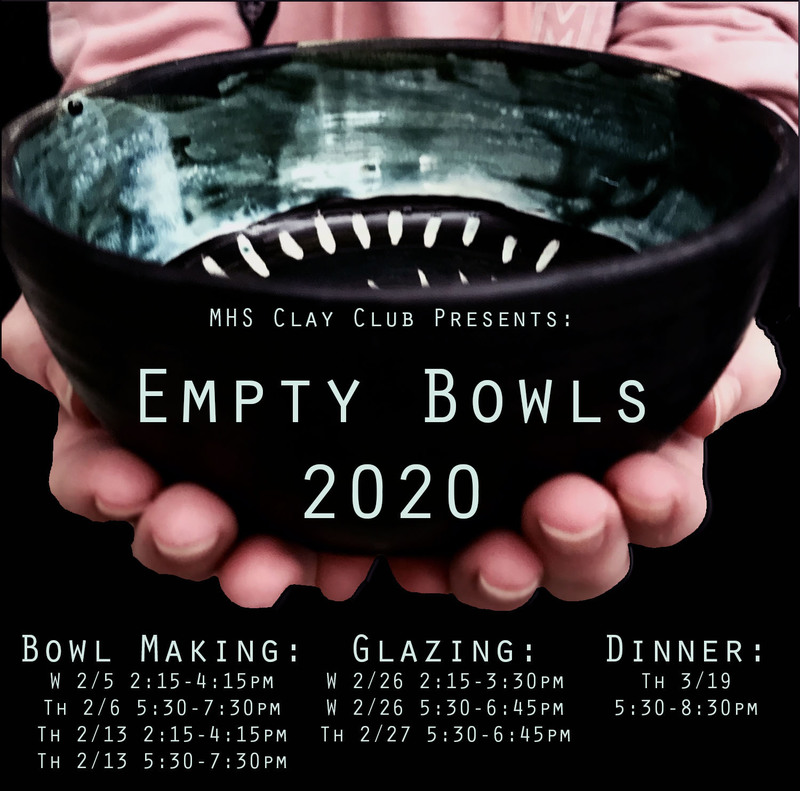 Clay Club presents Empty Bowls, a collaborative community dinner of soup and bread to raise money for Medfield Food Cupboard. A $25 ticket bought in advance gets you dinner along with two pottery classes to create a bowl to eat dinner out of and bring home with you. No time to make your own bowl? Choose a bowl, handmade by local artisans, fill it with delicious soup donated by local restaurants, and take your bowl home with you! All ages welcome!

---
BOX TOPS for Education
Please keep sending in your box tops. Although the program is changing over to individuals scanning receipts there are still some box tops on products that can be clipped and sent in. You can drop them off at the HS front office box, Blake front office box, the window sill box at Shaws or the magazine room box at the library.
All the money collected from these collection boxes benefits Blake Middle School as high schools are not able to receive the money. Thank you very much.
Any questions contact LizSandeman@gmail.com

---
MEDFIELD COALITION FOR PUBLIC EDUCATION UPDATE
Have you registered yet for MCPE's 7th annual Trivia Night? There are still a few spots left for our Trivia Night on FRIDAY, January 31! Grab your friends and register for this fun event at medfieldcoalition.org. Teams of up to 8 adult players (21 and over) will compete for prizes on January 31! This promises to be fast-paced and humor-filled, testing your knowledge in geography, sports, history, and more. All proceeds from this event will support the Medfield Public Schools.

---
MASSACHUSETTS MISS AMAZING!
Save the date! Massachusetts Miss Amazing is coming to Medfield High School for its seventh annual event! Miss Amazing's mission statement reads, "Miss Amazing provides opportunities for girls and women with disabilities to build confidence and self-esteem in a supportive environment." Join us in supporting this goal and giving these girls and young women an opportunity to shine. This full-day event is Saturday, March 28th, 2020 and will be held in the Medfield High School Auditorium at 6 PM. Ticket sales are open to the public beginning on March 14th at ma.missamazing.org. If you would like to donate, visit https://missamazing.org/donate/. If you want to volunteer with the event, you can sign up to be a buddy, half day volunteer (helping hand), or a right hand man online at https://missamazing.org/volunteer/. If you know a girl or young woman who might want to participate in this event, refer them to the Miss Amazing website so they can learn more! Sign up a participant at https://missamazing.org/participate/. See you there!
---
DID YOU KNOW that you can now follow us on FACEBOOK, INSTAGRAM (@medfieldhs) and on TWITTER (@MedfieldHS)? If you are a fan of social media, you can keep up with the latest news from MHS by following us on any of these platforms.
To submit items to the WEEKLY NEWS UPDATE, please email MJ Ingram at mingram@email.medfield.net by 8:00 AM on Monday mornings.