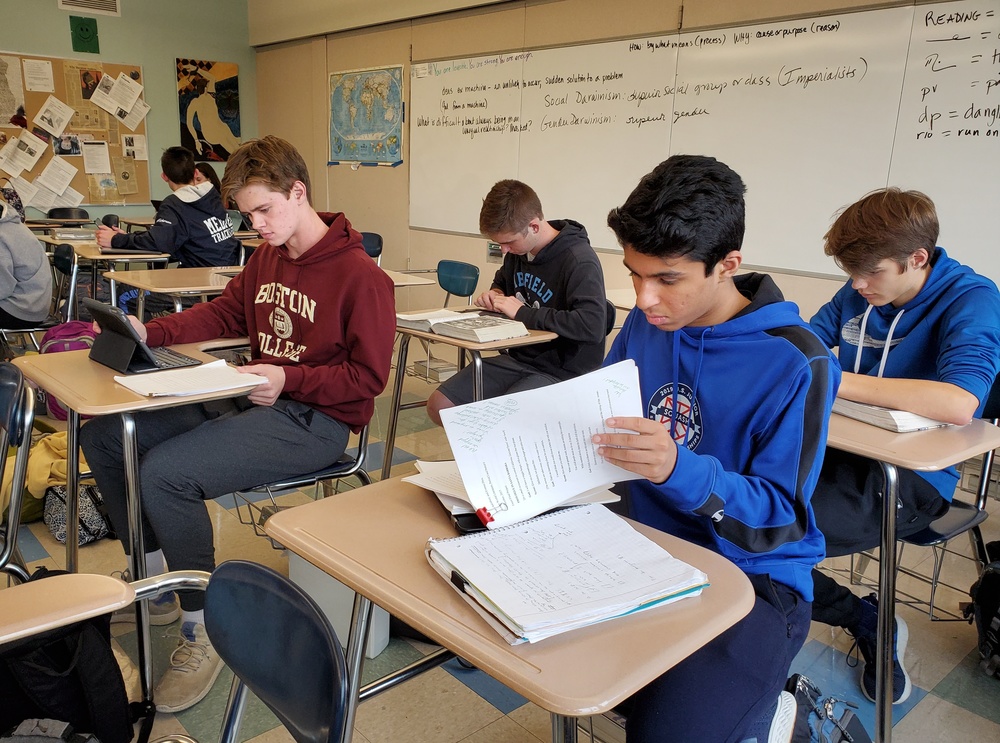 Weekly News Update - November 18, 2019
Medfield High School
Monday, November 18, 2019
CONGRATULATIONS and a round of applause to the cast, crew and director, Andrea McCoy, for MHS Theatre Society's production of "The Curious Savage". Audiences were treated to wonderful performances by many of our talented thespians and experienced the incredible sets that were months in the making. Well done and GO WARRIORS!
---
CLICK HERE to view the MHS DAILY ANNOUNCEMENTS
---
MEDFIELD COALITION FOR PUBLIC EDUCATION UPDATE
Thank you to everyone who helped make Fall Fest a success! From those that donated items and gave their time, to those who bought items and tickets and came out last Friday night for a fun evening, we are grateful as always for the community's support! Together we raised almost $35,000 for our schools!
Our next event is coming up this week! Join us in the MHS auditorium on Thursday, November 21st from 7:00-8:30 pm for a talk on Raising a Resilient Child! To RSVP click HERE

---
LOOKING AHEAD:
Just a reminder...WEDNESDAY, November 27th is a HALF DAY. MHS students will have an EARLY DISMISSAL time of 11:10 am. ALL Medfield Public Schools will be CLOSED November 28 & 29. Classes resume on MONDAY, December 2nd.
---
FROM THE GUIDANCE OFFICE...SAVE THE DATE!
Parents and guardians of the Class of 2021 are invited to join the guidance counselors on Thursday, December 5 from 6:30 - 8:30 pm for our Junior Parent Future Planning Night. We will share information with parents/guardians about college admission timelines and factors, utilizing Naviance in the college search, the Common Application, standardized testing, and mental health resources at the college level. We hope you can join us!
---
UPCOMING COMMUNITY EVENTS
SPAGHETTI WITH SANTA
Tickets are available for the festive annual MMA fundraiser "Spaghetti with Santa and Friends," which will take place on Tuesday, Dec. 10th, in the MHS Cafeteria with 5:15 and 6:30 pm seatings! Young families won't want to miss this cherished winter tradition featuring MHS student musicians, photos with Santa, raffles, bake sale, and more fun surprises. Tickets can be purchased at medfieldmusicassociation.com. More details will be coming soon for those who wish to volunteer at this event.
THE ANNUAL MEDFIELD HOLIDAY STROLL RETURNS!
The Holiday Stroll returns for the fifth year on Dec. 6th from 4:00 pm – 9:00 pm with its juried marketplace of makers, artists and designers in this free, festive, family event. You'll find beautiful handcrafted gifts at the Medfield Public Library, United Church of Christ and Zullo Gallery; and MEMO's tree lighting and "Joy to the World" singing contest at Baxter Park. The Holiday Stroll draws 2,000 people to Medfield's downtown each December and includes food trucks, a decorated fire truck, carolers, and photos with Santa. Businesses open their doors and serve hot chocolate or cider including Be Charmed, Berkshire Hathaway Home Services, Brothers Marketplace, Butterfly Tree, Capsule Lifestyle, Chop Shop (shave Santa's beard!), Holistic Wellness, Hurley-Testa, Mitchell Construction Group, and Needham Bank.
There are two new events to visit. Medfield TV will transform their studio into a beautiful winter wonderland scene set up for fun photo ops, video tricks and unique activities only Medfield TV can provide. Masary Studios of Boston will bring their large-scale, interactive video projection "Figuration" to the front of Town Hall where your silhouette becomes part of the show. Come see what you can create.
All sites offer FREE admission. For complete details and a list of participating artists and businesses, visit www.MedfieldCulture.org.
---
The ANGEL RUN is SUNDAY, Dec. 8th!
Each year the Medfield Foundation Inc (MFi) donates over $35,000 yearly to Medfield families in need, plus supports a variety of other initiatives like the Camp Fund throughout the town. At the high school, MFi sponsors and supports the MFi Youth Leadership to help students develop as philanthropists. You can find more information at
https://www.medfieldfoundation.org/mfi-angel-run
---
DID YOU KNOW that you can now follow us on FACEBOOK, INSTAGRAM (@medfieldhs) and on TWITTER (@MedfieldHS)? If you are a fan of social media, you can keep up with the latest news from MHS by following us on any of these platforms.
To submit items to the WEEKLY NEWS UPDATE, please email MJ Ingram at mingram@email.medfield.net by 8:00 AM on Monday mornings.