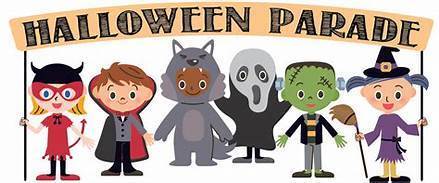 ​Halloween Parade & Party Information
Missy Bilsborough
Thursday, October 17, 2019
Thursday, October 31st
If you are planning to come to the Halloween Parade (and we hope that you are!), the parade times are listed below along with more information regarding the route, costumes and classroom parties.
Parade Times
10:00am - Dardia, DeGeorge, Drew (AMK)
1:15pm - Drew (PMK), Full Day K, Grade 1
Parade Route
The children will exit out the main entrance, walk around the building past the library, through the playground, and into the bus loop. They will walk in front of the Memorial School and enter the building through the main doors, at which time they will return to their classrooms. Guests are invited to find a spot along the route to enjoy the parade.
Costumes

All children are asked to bring their costumes to school in a well-labeled bag. Children will be given time to change into their costumes. If part of a costume can be worn to school and reduce changing needs, such as black tights, white shirt, sports jersey, that is fine. NO weapons are allowed, nor should children wear masks that cover their faces. We encourage you to help your child choose a costume that is appropriate for school. We have many young children who can be easily scared and we want this time to be enjoyed by all.
Parties
To remain sensitive to food allergies and health regulations, we strongly encourage healthy options for the celebrations. No sugary drinks are permitted and only one "sweet" treat will be allowed among other offerings. The following is a recommended list of appropriate snacks; apples, bananas, oranges, berries, or other fruits, carrot sticks, celery, sliced veggies, small serving of pretzels or popcorn, etc. Please keep in mind that no candy is permitted at any school sponsored celebration held during regular school hours. Parents are asked to please not send in snacks unless contacted to do so.
Thank you in advance.
We hope to see you on October 31st!